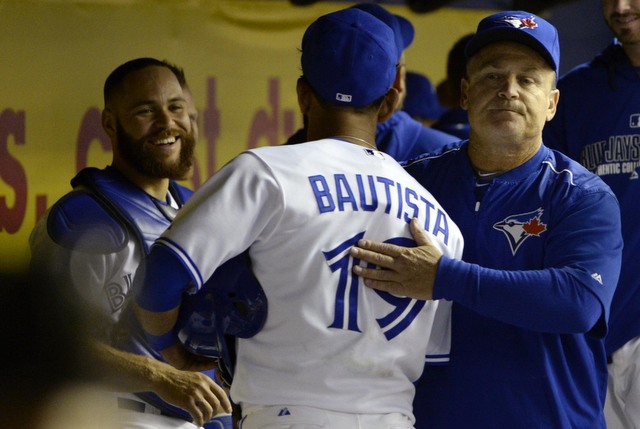 The 2015 season is finally upon us. The Yankees open the new season at home at Yankee Stadium this afternoon against the Blue Jays. These two clubs were separated by one game in the standings last season and then had busy offseasons — the Yankees made a series of smaller moves while the Jays made two really big moves. Now they're both in that cluster of mediocrity vying for the AL East title, so head-to-head meetings are important. New York and Toronto open a four-day, three-game series this afternoon.
What Have The Blue Jays Done Lately?
Well, nothing important since this is the first series of the year. I'm not even going to bother to look up Toronto's record during Grapefruit League play because it's so meaningless. Way too many innings and at-bats go to players who won't sniff the MLB roster this summer. If you're curious, the projecting standings at FanGraphs have these two clubs finishing with identical 82-80 records. So the season has been decided. Fast forward to 2016!
Offense & Defense
The Blue Jays figure to be scary good offensively thanks to the 3-4-5 combination of Jose Bautista, Edwin Encarnacion, and Josh Donaldson. There is no 3-4-5 combo in the game that I'd rather have over that group right now. Here's a quick run down of Toronto's started lineup with their 2014 stats and 2015 ZiPS projections, just for reference:
| | 2014 Performance | 2015 ZiPS Projection |
| --- | --- | --- |
| SS Jose Reyes | .287/.328/.398 (102 wRC+), 30 SB | .285/.333/.412 (107 wRC+) |
| C Russell Martin | .290/.402/.430 (140 wRC+), 11 HR | .237/.337/.407 (110 wRC+) |
| RF Jose Bautista | .286/.403/.524 (159 wRC+), 35 HR | .267/.384/.515 (151 wRC+) |
| 1B Edwin Encarnacion | .268/.354/.547 (150 wRC+), 34 HR | .270/.358/.514 (142 wRC+) |
| 3B Josh Donaldson | .255/.342/.456 (129 wRC+), 29 HR | .265/.338/.468 (125 wRC+) |
| DH Dioner Navarro | .274/.317/.395 (98 wRC+), 12 HR | .266/.314/.395 (96 wRC+) |
| LF Kevin Pillar | .323/.359/.509 (136 wRC+) in AAA | .266/.297/.398 (91 wRC+) |
| 2B Devon Travis | .298/.358/.460 (126 wRC+) in AA | .244/.290/.392 (85 wRC+) |
| CF Dalton Pompey | .309/.387/.456 (140 wRC+) in MiLB | .239/.298/.348 (81 wRC+) |
Like I said, the 3-4-5 guys are terrifying and the top five of the lineup in general is very dangerous even considering the likelihood Martin won't be a .400+ OBP guy again. The bottom third of the lineup is … untested. Travis, who is skipping right over Triple-A following a strong spring, and Pompey are being thrown into the fire as rookies at up-the-middle positions. Pillar is filling in for OF Michael Saunders, who is working his way back from a spring knee injury.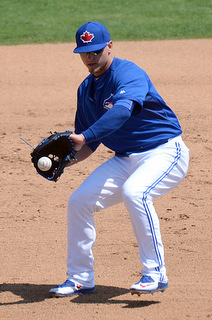 The Jays are carrying eight relievers, so they only have three players on the bench: 1B Justin Smoak, UTIL Steve Tolleson, and UTIL Danny Valencia. Navarro is the backup catcher and I'm sure Smoak will see plenty of at-bats at DH (or first base with Encarnacion at DH) on the days Martin sits. It's not the most usable bench in the world. Manager John Gibbons is going to ride or die with his nine starters. Those are the guys who will lead the Blue Jays.
Defensively, Toronto upgraded at third base and behind the plate with Donaldson and Martin, moreso by going from Navarro to Martin. Reyes remains a good defender and Travis was described as a "steady" defender capable of "making the routine play" at second base by Baseball America (subs. req'd) this winter., when they ranked him as the Tigers' top prospect. The Jays got him from Detroit straight up for Anthony Gose.
Pompey and Bautista are above-average in center and right — Bautista's defensive value comes more from his rocket arm than his range — and Pillar is sound in left. All told, this is a sneaky good defensive club. Encarnacion at first base is the only unquestionably below-average gloveman. And if you fully buy into the numbers, going from Navarro to Martin at catcher is a multi-win upgrade on pitch-framing alone.
Pitching Matchups
Monday: RHP Masahiro Tanaka (Career vs. TOR) vs. RHP Drew Hutchison (Career vs. NYY)
Hutchison will be Toronto's youngest Opening Day starter since Todd Stottlemyre got the ball on Opening Day in 1990. (Tanaka, by the way, will be New York's youngest Opening Starter since Andy Pettitte in 1998). The 24-year-old Hutchison had a 4.48 ERA (3.85 FIP) in 32 starts and 184.2 innings last season with nice strikeout (23.4 K%) and walk (7.6 BB%) rates. He didn't get many ground balls (36.1%) and was a bit homer prone (1.12 HR/9). ZiPS sees a slight step back (4.22 ERA and 4.17 FIP), for what it's worth. Hutchison is a three-pitch pitcher, using a low-to-mid-90s heater to set up mid-80s sliders and changeups. He uses the slider twice as often as the changeup. The Yankees saw a whole bunch of Hutchison last season — he threw 31 innings across six starts in 2014 and had a 5.17 ERA.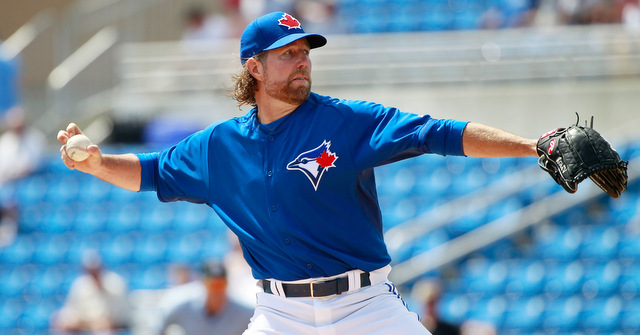 Wednesday: RHP Michael Pineda (Career vs. TOR) vs. RHP. R.A. Dickey (Career vs. NYY)
It's not surprising Dickey has failed to repeat his out of nowhere 2012 Cy Young Award winning season, though he has settled in a slightly better than average innings eater. Last season he put up a 3.71 ERA (4.32 FIP) with an 18.9 K% and an 8.1 BB% in 34 starts and 215.2 innings. His ground ball rate was basically average (42.0%) and his home run rate (1.09 HR/9) a bit worse than average. ZiPS sees more of the same from the 40-year-old in 2015 (4.04 ERA and 4.43 FIP). Dickey is still a knuckleballer, but unlike when he used two distinct knuckleballs with the Mets, he has just one basic mid-70s floater at this point. He throws the knuckler 85% of the time, give or take. The other 15% is low-80s show-me fastballs and low-70s changeups. The Yankees saw Dickey just twice last year, scoring two runs in a dozen innings. And that means nothing for Wednesday.
Thursday: LHP CC Sabathia (Career vs. TOR) vs. LHP Daniel Norris (Career vs. NYY)
Norris, 21, had one of the best seasons in all of minor league baseball a year ago, pitching to a 2.53 ERA (2.57 FIP) with 32.5 K% and 8.6 BB% in 124.2 innings while climbing from High-A to Triple-A before making his big league debut as a September call-up. His 11.77 K/9 was the very best out of the 551 minor league pitchers to throw 100 innings in 2014, and Baseball America ranked him as the sixth best pitching prospect in baseball (18th best prospect overall) coming into the spring. Norris was used mostly as a reliever with the Jays in September (5.40 ERA and 6.13 FIP in 6.2 innings) but will be a starter this year. ZiPS thinks he'll be serviceable but not dominant (4.35 ERA and 4.46 FIP). Norris has a very deep repertoire, sitting in the low-90s and touching 97 with his fastball while throwing three average or better offspeed pitches: low-80s changeup, low-80s slider, and low-70s curveball. The slider is his best strikeout pitch, but, on his very best days, Norris brings three swing-and-miss secondary pitches out to he mound. The eccentric southpaw (read this) did throw an inning against the Yankees last September, when this happened:
Bullpen Status
Like I said earlier, the Blue Jays are going into the season with an eight-man bullpen partly because they have two rookie starters (Norris and Aaron Sanchez) and want some extra arms in case things go south in April. Long-time end-game reliever Casey Janssen was allowed to leave as a free agent and the bespectacled southpaw Brett Cecil will be the team's new closer. Two of those eight relievers are rookies with zero MLB experience. Here's the 'pen:
| | 2014 Performance | 2015 ZiPS Projection |
| --- | --- | --- |
| RHP Miguel Castro | 2.84 (3.80 FIP), 25.2 K%, 9.2 BB% in MiLB | N/A |
| LHP Brett Cecil | 2.70 ERA (2.34 FIP), 32.5 K%, 11.5 BB% | 3.48 ERA (3.41 FIP), 27.1 K%, 9.7 BB% |
| RHP Marco Estrada | 4.36 ERA (4.88 FIP), 20.4 K%, 7.1 BB% | 4.44 ERA (4.57 FIP), 21.6 K%, 6.3 BB% |
| RHP Liam Hendriks | 5.23 ERA (3.84 FIP), 16.1 K%, 4.9 BB% | 4.69 ERA (4.47 FIP), 16.0 K%, 4.9 BB% |
| LHP Colt Hynes | 3.65 ERA (3.99 FIP), 21.0 K%, 4.4 BB% in AAA | 3.98 ERA (3.85 FIP), 21.1 K%, 4.9 BB% |
| LHP Aaron Loup | 3.15 ERA (3.83 FIP), 19.8 K%, 10.6 BB% | 3.62 ERA (3.93 FIP), 19.4 K%, 8.1 BB% |
| RHP Roberto Osuna | 7.39 ERA (4.05 FIP), 28.5 K%, 7.9 BB% in MiLB | N/A |
| RHP Todd Redmond | 3.24 ERA (3.56 FIP), 19.1 K%, 8.6 BB% | 3.91 ERA (3.75 FIP), 19.4 K%, 8.1 BB% |
Castro and Osuna spend last year at multiple levels of Single-A and are both skipping over Double-A and Triple-A. They made the team thanks to great Spring Training performances, which, uh, might not be the best way to make roster decisions, but to each his own. Osuna turned 20 in February and will probably be the youngest player in MLB this season. ZiPS didn't even bother to spit out a projection for either guy this offseason because they weren't expected to sniff the big league level.
Cecil's going to close and Loup will face a bunch of lefties in setup situations, as he has been for several years now. Other than that, I'm not really sure how Gibbons will use his relievers. Will he throw Castro and Osuna to the wolves right away and give them high-leverage work? Or will Redmond go from multi-inning middle reliever last year to setup man this year? We'll find out soon enough. For the best Jays coverage, head over to Andrew Stoeten's site.