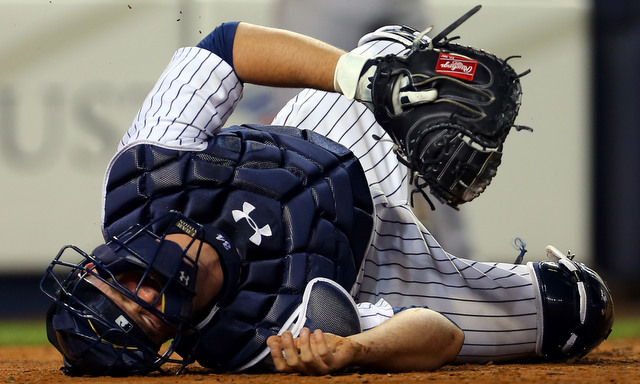 Last night's 19-inning marathon gave me a hangover. That game was all sorts of awful. If you want to blame the offense, you can do that. If you want to blame the pitching, you can do that too. Defense? Base-running? Blame worthy as well. If you're the type that needs to assign blame to everything, last night was the perfect game for you. Lots of options.
Anyway, none of that matters now. It's a new day and a new game and boy would it be nice to see the Yankees pick up a win on Saturday afternoon. Or even just hold a lead. They've had the lead for exactly one half-inning out of the 45.5 innings they've played in 2015. As best I can tell, no team has had a lead for less time this year. Even the 0-4 White Sox held a lead for one full inning at one point the other day. Here's the lineup:
LF Brett Gardner
CF Chris Young
DH Carlos Beltran
1B Alex Rodriguez — yup
3B Chase Headley
RF Garrett Jones
C John Ryan Murphy
SS Didi Gregorius
2B Gregorio Petit
RHP Adam Warren
As expected, the Red Sox activated Joe Kelly (biceps) off the DL so he could make this afternoon's start. He'll be on a 90-pitch limit. Knuckleballer Steven Wright was send down to make room on the roster. Here is Boston's lineup.
It's a nice clear day in New York but windy as hell. Nearly lost my hat when I went out to get breakfast this morning. This afternoon's game will begin just after 1pm ET and you can watch on YES locally and Fox Sports 1 nationally. Enjoy.
Roster Move: The Yankees have called up lefty Matt Tracy to bolster their worn out bullpen, the team announced. Tracy was scheduled to start for Triple-A Scranton today, so he's good for 80+ pitches if needed. I hope they aren't. Ivan Nova was transferred to the 60-day DL to clear a 40-man roster spot and Chasen Shreve was optioned to Triple-A to clear a 25-man roster spot. Shreve was awesome last night. Unfair game, this baseball.