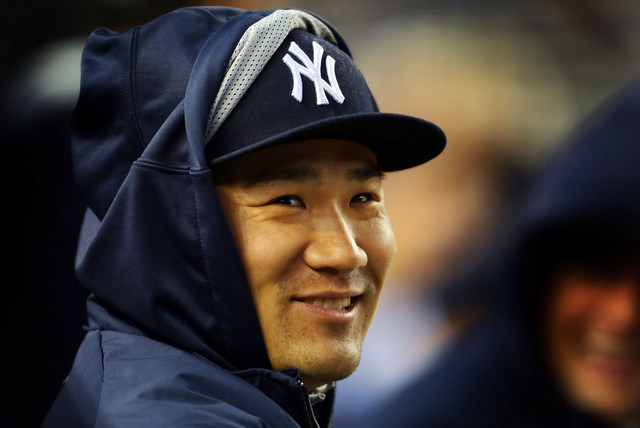 So the first five games of the season have been pretty awful for the Yankees. I'm struggling to remember another five-game stretch when they looked this inept in just about all phases of the game. Thankfully, teams are never as bad as they look when they're playing their worst (they're also never really as good as they look when they're playing their best), it just feels that way.
Masahiro Tanaka is making his second start of the season tonight, and yesterday he told reporters he watched some video and fixed some mechanical issues between starts. "I think I was able to make some adjustments after my first start up until today … I needed time to settle down and work on what I had to work on. I think the past four days were good for me," he said to Josh Thomson.
Pitchers watch video and make adjustments between starts all the time, so this isn't exactly out of the ordinary. But, because it's Tanaka, it's newsworthy. I just want to see him have some more confidence in his fastball tonight and not rely on his offspeed stuff all the time. Shying away from the fastball is no way to go through life. Also, maybe win? Could be cool. Here's the starting nine:
CF Jacoby Ellsbury
LF Brett Gardner
RF Carlos Beltran
1B Mark Teixeira
C Brian McCann
DH Alex Rodriguez
3B Chase Headley
2B Stephen Drew
SS Didi Gregorius
RHP Masahiro Tanaka
Clay Buchholz will be on the mound for the Red Sox. Here's their lineup.
It was a gorgeous day in New York today and the weather will be just as nice tonight. Tonight's game will begin just after 8pm ET and you can watch on ESPN. Over/under on the number of "he should just have the surgery" comments is set at 19.5. Try to enjoy the game.
Roster Move: The Yankees have designated Matt Tracy for assignment and called up Kyle Davies, the team announced. Davies takes Tracy's place on both the 25-man and 40-man rosters. Davies was scheduled to start for Triple-A Scranton tomorrow and should be good for many innings tonight, which I hope isn't necessary.