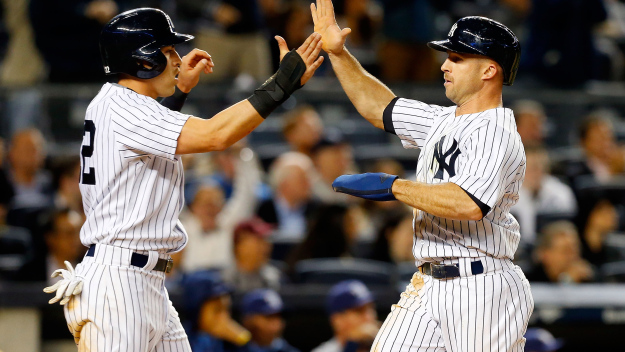 Miller time
After beating the Rays in their series opener, the Yankees claimed sole possession of first place in the AL East for the first time in nearly a year. Good job, guys!
Brian McCann notched the game-winning hit with a tie-breaking solo homer in the sixth inning. It was his 25th homer as a Yankee, with 21 of those coming at Yankee Stadium. He is the first player in franchise history to hit more than 20 of his first 25 homers as a Yankee at home, according to the Elias Sports Bureau.
The bullpen continued to do awesome things, holding the Rays without a run after Adam Warren left in the sixth inning. Dellin Betances pitched a perfect eighth inning, extending his streak of games with no hits allowed and at least two strikeouts to five. That's something no Yankee pitcher has ever done in the last 100 years.
Andrew Miller — the non-closer — notched his eighth save in eight chances, becoming the first Yankee with at least eight saves in the team's first 20 games. The last left-handed reliever on any team to get at least eight saves this early into the season was Eddie Guardado for the Twins in 2002.
Hi Jake, I'm Brian
The Yankees notched their fourth series win a row with a 4-2 victory over the Rays on Tuesday night. It also gave them a 10-2 record in their last 12 games, something they didn't even come close to doing last season. Their best 12-game stretch in 2014 included a mere eight wins.
It was not surprising that McCann again delivered the big hits for the Yankees in this game, with two run-scoring doubles that drove in three of the team's four runs. He continued his absolute ownership of Jake Odorizzi, going 2-for-3 against the Rays starter. That made him 10-for-16 with three doubles, a triple and two homers in his career against Odorizzi, by far his best batting average (.625) and slugging percentage (1.960) against any pitcher he's faced at least 10 times.
Chris Martin subbed in for the non-closer Andrew Miller and closed out the win with a scoreless ninth inning for his first career save. Martin is the 15th player in major-league history at 6-foot-8 or taller to record a save. The Yankees have seemingly cornered the market on these tall relievers — five of those 15 have at least one career save with the franchise. The others are Dellin Betances, Jeff Nelson, Graeme Lloyd and Lee Guetterman.
K-Rod
On Wednesday afternoon the Rays managed to do something they hadn't done all season – beat the Yankees. All good things have to come to an end, right?
Ultimately, the difference in this game was that the Rays had a couple more timely hits than the Yankees, as James Loney singled in the winning run with two men on base in the top of the 13th inning. Prior to that hit, the Rays were 3-for-42 (.071!) with runners in scoring position against the Yankees this season.
Alex Rodriguez might have had his worst day at the plate in his entire career. Not only did he ground into a game-ending double play, but he also struck out four times and was hitless in six at-bats. It was the first time he's ever gone 0-for-6 or worse in a game in his 21 major-league seasons. It also marked the only time he's grounded into a double play and had four strikeouts in the same game.
Michael Pineda wasn't as dominant as he was in his last outing against the Mets, but still ended up with a respectable pitching line (5 2/3 IP, 2 R, 5 K, 0 BB) and kept the Yankees in the game. While his season ERA isn't spectacular (3.73), his peripherals (32 strikeouts, two walks) are simply ridiculous.
He is just the third major-league pitcher in the last 100 years with that many strikeouts (32) and two or fewer walks in the month of April, joining Juan Marichal (1968) and Cliff Lee (2008). The only other Yankee to post those numbers in any calendar month was Hiroki Kuroda in September of last season.