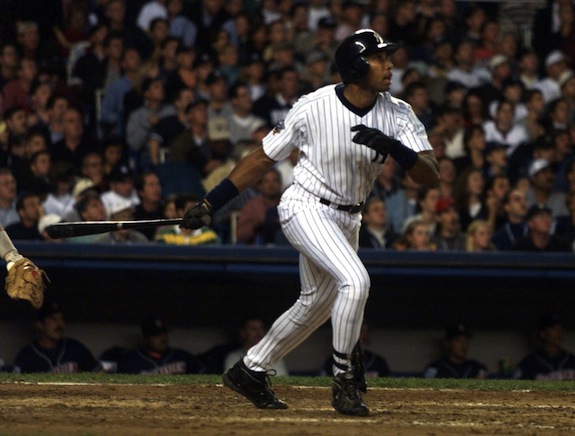 Prior to tonight's series finale with the Rangers, the Yankees will honor and retire No. 51 for Bernie Williams with an on-field ceremony. I guess that makes it Bernie Williams night, not day. Whatever. Either way, this is a long time coming. Williams hasn't played since 2006, but it wasn't until last month that he officially signed his retirement papers.
Bernie was an integral part of the team's most recent dynasty, though he often doesn't get enough respect simply because Core Five doesn't sound as cool as Core Four. He was as much a part of those late-1990s teams as Derek Jeter, Mariano Rivera, Andy Pettitte, Jorge Posada, Paul O'Neill, Tino Martinez, David Cone … anyone. In fact, Bernie was a Yankee long before all those guys, having been called up in 1991.
According to the Yankees, Jeter, Posada, O'Neill, Rivera, Tino, Cone, Willie Randolph, and Joe Torre will be among those in attendance for tonight's ceremony, which is scheduled to start right around 7pm ET. You'll be able to watch the entire thing on YES. I'm not sure if it'll be broadcast online anywhere though.
Following the ceremony, the Yankees will wrap up their ugly series with Texas and try to avoid getting swept for the second straight series. If you're looking for some good news, I can offer this: the Yankees are 3-0 and have outscored their opponents 28-13 in Sunday night games this year. Here is the Rangers' lineup and here is the Yanks' lineup:
LF Brett Gardner
3B Chase Headley
DH Alex Rodriguez
1B Mark Teixeira
C Brian McCann
RF Garrett Jones
CF Chris Young
SS Didi Gregorius
2B Jose Pirela
LHP Chris Capuano
It's a nice day in New York, a little cloudy but warm. Weather will be fine tonight. Tonight's game will begin at 8pm ET and you catch watch on ESPN. Enjoy the Bernie ceremony and the game.
Roster Move: As expected, the Yankees have called up Jacob Lindgren from Triple-A. Branden Pinder was send down to clear a 25-man roster spot and Brendan Ryan (calf, hamstring) was transferred to the 60-day DL to clear a 40-man roster spot. Ryan's already been on the DL for 50 days and isn't close to returning, so the move to the 60-day doesn't really change anything.
Injury Update: Masahiro Tanaka (wrist, forearm) threw a 31-pitch bullpen session this afternoon and felt great. He's scheduled to make his second Triple-A rehab start on Wednesday … Carlos Beltran is out of the lineup with flu-like symptoms and could miss more than just today.