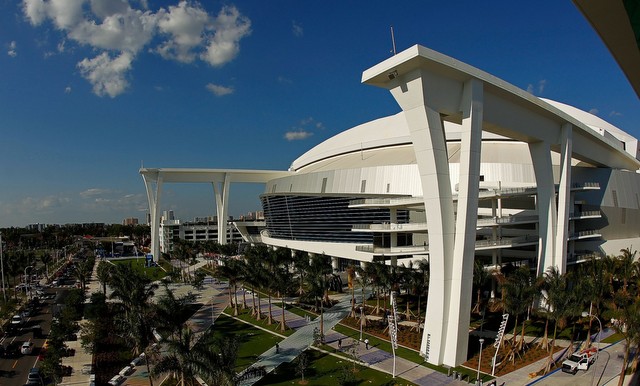 Time for another interleague series, though this is really two series. The Yankees and Marlins are playing a four-game home-and-home series — the first two games are at Marlins Park and the last two are in Yankee Stadium. This is the first Yankees-Marlins series since 2009, when they were still the Florida Marlins.
What Have The Marlins Done Lately?
Miami won yesterday but lost three straight immediately prior to that. They've really underachieved this year. I thought they'd be in the wildcard mix, but instead they are 27-37 with a -22 run differential overall. The Marlins are a distant fourth in the NL East.
Offense & Defense
A few weeks ago the Marlins fired manager Mike Redmond and replaced him with GM Dan Jennings, who moved from the front office to the dugout. It was … weird. Regardless of who is managing, Miami has a below-average offense with an average of 3.83 runs per game with a team 97 wRC+. They're currently without 1B Mike Morse and UTIL Don Kelly, both of whom have finger injuries and are not due back this series.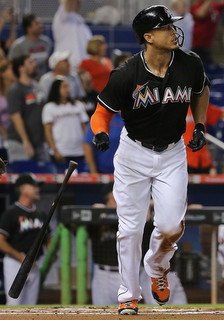 Offensively, the Marlins are led by OF Giancarlo Stanton (154 wRC+), who leads baseball in homers (23), RBI (59), and strikeouts (84). You can get him out with quality breaking stuff, but man, if you miss your spot, he'll hit the ball a mile. Stanton leads MLB with a 98.6 mph average exit velocity, nearly five (!) miles an hour better than any other hitter in baseball. Good gravy. The man is a monster at the dish. The Yankees will be lucky if he hits just one home run in this series.
2B Dee Gordon (118 wRC+) was been an excellent table-setter from the leadoff spot and 1B Justin Bour (125 wRC+) has done a nice job filling in for Morse. The Marlins got him from the Cubs in the minor league phase of the Rule 5 Draft a few years ago. OF Marcell Ozuna (97 wRC+) has been average and while OF Christian Yelich (68 wRC+) has been bad overall, he's warmed up of late and will be a tough out. He's one of my favorite random players in the league. The Stanton/Ozuna/Yelich trio is a really impressive young outfield, at least when everyone is playing up to expectations.
Ex-Yankee 3B Martin Prado (88 wRC+) hasn't done much this year and he left yesterday's game with a shoulder sprain after taking a tumble when he ran through first base awkwardly. He's day-to-day for the time being. SS Adeiny Hechavarria (98 wRC+) and C J.T. Realmuto (75 wRC+) are the regular shortstop and catcher, respectively. C Jeff Mathis (13 wRC+), IF Derek Dietrich (-100 wRC+), UTIL Jeff Baker (130 wRC+), IF Donovan Solano (-52 wRC+), and OF Ichiro Suzuki (86 wRC+) fill out the team's bench. All those guys have very limited plate appearances aside from Ichiro.
The Marlins are a very good defensive team, especially up the middle, where Gordon, Hechavarria, and Ozuna are all above-average glove men. Yelich and Stanton are above-average in the outfield corners as well. Realmuto has thrown out attempted base-stealers at an average rate but has graded out as a below-average pitch-framer in his limited MLB time. Prado and Bour are rough on the infield corners. The outfield and middle infield are very good defensively.
Pitching Matchups
Monday: RHP Masahiro Tanaka (No vs. MIA) vs. RHP Tom Koehler (Career vs. NYY)
The 28-year-old Koehler was briefly demoted to the bullpen earlier this year, but returned to the rotation when Henderson Alvarez landed on the DL. Koehler has a 4.13 ERA (4.67 FIP) in 72 innings across 12 starts and one relief appearance, and nothing stands out about his underlying performance (17.2 K%, 9.3 BB%, 45.0 GB%, 1.25 HR/9). Lefties (.377 wOBA) have done a lot more damage against him than righties (.276 wOBA). Koehler throws low-90s two and four-seam fastballs at almost an equal rate, and he features mid-80s sliders and upper-70s curveballs. He has a mid-80s changeup but rarely throws it. Koehler is the very definition of a generic back-end starter. Not replacement level! But nothing that will wow you. The kind of guy who is nice to have during his cheap pre-arbitration years.
Tuesday: RHP Nathan Eovaldi (Career vs. MIA) vs. RHP David Phelps (Career vs. NYY)
Hey, look at that, it's a matchup between the two guys who were traded for each other. Or at least traded as part of packages for each other. Phelps has a 4.11 ERA (3.59 FIP) in 65.2 innings spanning eleven starts and a pair of early-season relief appearances. The Marlins actually sent Koehler to the bullpen and kept Phelps in the rotation a few weeks ago. Phelps, 28, has a career low strikeout rate (16.0 K%), a career low walk rate (6.1%), a career high ground ball rate (43.2%), and a career low home run rate (0.69 HR/9). Career highs and lows all over the place. Righties (.313 wOBA) have hurt him more than lefties (.291 wOBA), but for his career he has close to no platoon split. As you know, Phelps is a five-pitch pitcher, using low-90s two and four-seamers to set up his mid-80s slider, low-80s changeup, and upper-70s curveball. He uses the slider against righties and the curve against lefties.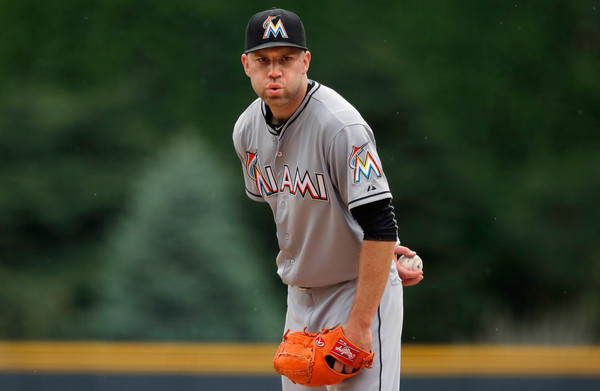 Wednesday: RHP Michael Pineda (No vs. MIA) vs. RHP Jose Urena (No vs. NYY)
Urena, 23, has been up twice this season, the first time to work in relief and the second time to help out the rotation. He's made two relief appearances and four starts and has a 4.44 ERA (4.47 FIP) in 26.1 big league innings. Urena hasn't missed many bats thus far (11.3%) but he has limited walks (5.7%) and gotten ground balls (55.8%). Homers (1.03 HR/9) haven't been a huge problem, nor has his platoon split (.330 vs. .322 wOBA in favor of righties). Urena has a big fastball, sitting in the low-to-mid-90s, and he also throws mid-80s sliders and changeups. From what I've read, the general consensus is Urena isn't quite MLB ready and was rushed to the big leagues because of injuries. Baseball America (subs. req'd) ranked him as Miami's fourth best prospect before the season and said his future may lie in the bullpen because his slider is below-average.
Thursday: LHP CC Sabathia (Career vs. MIA) vs. RHP Mat Latos (Career vs. NYY)
This has not been a good season for the 27-year-old Latos, who has a 5.44 ERA (3.08 FIP) in ten starts and 49.1 innings around knee and hamstring problems. His strikeout (21.5%) and walk (8.2%) rates have been about average while his ground ball (38.4%) and homer (0.54 HR/9) rates are lower than the league average. One of those is a good thing, the other a bad thing. Latos has been hit harder by lefties (.368 wOBA) than righties (.312 wOBA). A low-90s four-seamer is his main fastball, though he also throws a low-90s cutter. Latos uses his low-80s slider as his primary out pitch but will also throw low-80s changeups and upper-70s curves. It's worth noting Latos has been much better from the windup (2.47 FIP) than out of the stretch (3.81 FIP) this year. Get men on and he unravels a bit.
Bullpen Status
The Marlins have had a surprisingly bad bullpen this year (3.71 ERA and 3.07 FIP) thanks in large part to ex-closer RHP Steve Cishek (4.25 FIP), who melted down spectacularly earlier this season. He didn't just lose his closer's job, he was demoted to Double-A at one point. Not Triple-A, Double-A. RHP A.J. Ramos (1.80 FIP) has taken over in the ninth inning with RHP Carter Capps (1.53 wRC+) seeing most of the setup time. This is Capps' delivery (via @MLBGIFs):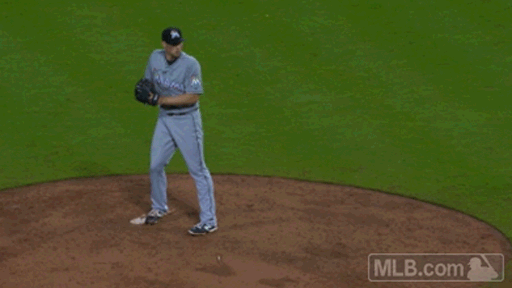 Also in the bullpen are RHP Sam Dyson (2.90 FIP), RHP Vin Mazzaro (4.49 FIP), LHP Mike Dunn (3.42 FIP), and LHP Brad Hand (2.42 FIP). Neither Dunn, a former Yankee, nor Hand is a left-on-left specialist. Dunn will throw full innings and Hand is the long reliever. Mazzaro (19 pitches), Cishek (13 pitches), and Hand (24 pitches) all pitched yesterday. Check out our Bullpen Workload page for the status of New York's bullpen, then check out Fish Stripes for everything you need to know about the Marlins.