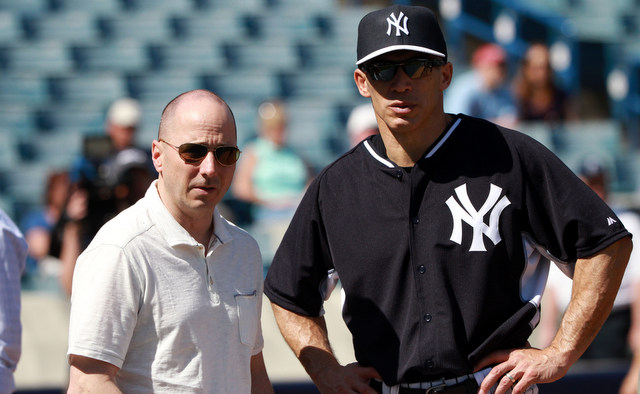 The 2015 season is roughly one-third of the way complete right now, and it it plainly obvious the Yankees are a flawed team. The bottom of the lineup has too many black holes, a few of the starting pitchers have been below-average, and the middle relief crew is generally underwhelming. And then there's a injury risk on top of that. A few key players have had trouble staying healthy in recent years.
The Yankees are a flawed team, yeah, and they happen to play in a division full of flawed teams. The Blue Jays can't pitch, the Orioles don't seem to do any one thing particularly well, the Rays have a patchwork rotation and a top heavy lineup, and the Red Sox have a super shaky rotation and a disappointing offense. It's impossible to look at this division and come away thinking any one of the five teams is the favorite. It's the most mediocre division in baseball.
And yet, the Yankees currently sit atop this mediocre division despite losing 13 of their last 19 games. That's how bad the division is this year. Six wins in 19 games and they aren't buried in the standings. At the same time, the team with the worst record in the AL East (Red Sox) is only games 4.5 out, so all five clubs are bunched together. It doesn't look like anyone will run away with the division nor get buried and finish something like 20 games out.
FanGraphs projects all five clubs to finish within six games of each other, and while that doesn't mean it will necessarily play out that way, it goes to show how even the talent level is in the AL East. Because of this, I think the division is going to come down to two things. One, which team gets the best and most unexpected contributions? Logan Forsythe has a 139 wRC+ for the Rays, for example. Jimmy Paredes has a 136 wRC+ for the O's. That sort of stuff.
I also think it's going to come down to the club that most aggressively seeks upgrades prior to the trade deadline. Not necessarily the most moves, but the earliest moves too. Get a player on July 31st and he helps you for two months. Pay a little extra and get him on June 30th, and well, he helps you that much more. In a division this tight, that extra month can make a big difference. And since all five clubs have obvious needs, expect plenty of trade rumors these next few weeks.
With that in mind, the Yankees have to find a balance between going for it and planning for the future moreso this year than at any point in the last, I dunno, 25 years or so. The division is there for the taking! That can't be ignored! Win the division, get to the postseason, and anything can happen. Two wildcard teams went to the World Series last year, remember. Get in and you can win, and the Yankees should absolutely try to win the AL East this summer. That's why they play.
The Yankees also have several older players on the roster they'll need to replace in the next year or two. All those big contracts are starting to come off the books, starting next year with Mark Teixeira and Carlos Beltran, and continuing the following year with Alex Rodriguez and CC Sabathia. The Yankees actually have prospects to maybe replace those guys too. I say maybe because prospects are prospects and who knows, but these guys are at Double-A and Triple-A now. That's exciting.
No player should be untouchable in a trade, but right now it makes more sense for the Yankees to hold on to their top young players rather than give them up at the deadline to make a push. There has to be a balance between now and later, and you know what? I'm confident Brian Cashman & Co. can strike that balance because they did it last year. They acquired Brandon McCarthy, Chase Headley, and Martin Prado at the deadline year while giving up nothing they really miss.
Last year's deadline was a bit of an anomaly — all three of those moves worked out exceptional well. That usually isn't the case. Make three moves at any given trade deadline and chances are one will be a dud. That's just baseball and it's true for trades of every magnitude. Minor deals, mid-range deals like last year, or blockbusters. Going small — but not too small — mitigates some of the risk while still bringing potential reward.
The Yankees can win the division this year. I know this because I've seen the rest of the AL East play and holy moly is it bad. Winning the AL East should be the priority because what the hell else is the point of playing? The next few years shouldn't be cast aside for the sake of winning this year either. The Yankees do need to develop a new core — they have some pieces in place, namely Michael Pineda, Masahiro Tanaka, Dellin Betances, and (gasp!) maybe even Didi Gregorius — and that can't be ignored.
Going for it in 2015 and building for 2016 and beyond is possible. Not easy! But possible, and that has to be the mentality this summer. Don't sacrifice one for the other.