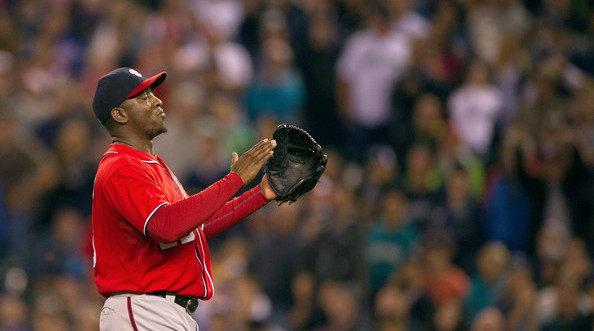 A right-handed bullpen option has come off the board. The Cubs signed Rafael Soriano to a minor league contract earlier today, the team announced. James Wagner says Soriano will get the pro-rated portion of a $4.1M base salary plus $4M in bonuses based on appearances and games finished. I'm guessing he'll pitch in a few minor league games before joining Chicago's bullpen, where they've had a bit of a revolving door at closer of late.
Soriano fired Scott Boras a week or two ago and was scheduled to throw for scouts later this week, but apparently the Cubs were aggressive and decided to make an offer before other teams got a look at him. Every team would take Soriano on a minor league contract, but Soriano has a say too, and he presumably felt Chicago was his best opportunity. Plus he played for manager Joe Maddon with the Rays, so there's some familiarity there.
Late last week Brian Cashman said the Yankees want to add a right-handed reliever — "I do need to find a right-handed arm for the bullpen here at some point," said the GM — to their five-lefty bullpen, and earlier today they signed righty Sergio Santos to a minor league contract, basically just to see if he has anything left. I expect them to cycle through internal options (Nick Rumbelow? Branden Pinder? Jose Ramirez?) and scrap heap guys like Santos before making any sort of trade.
The lack of right-handed relievers isn't a major problem right now because those lefties can get righties out. Still, it would be nice to add some balance down the road. The Yankees were never connected to Soriano, but he was speculated as a bullpen target simply because he's a righty and was available for nothing but money. Then again, the Yankees know him firsthand and might not have been interest in a reunion. Either way, expect the search for the righty reliever to continue.