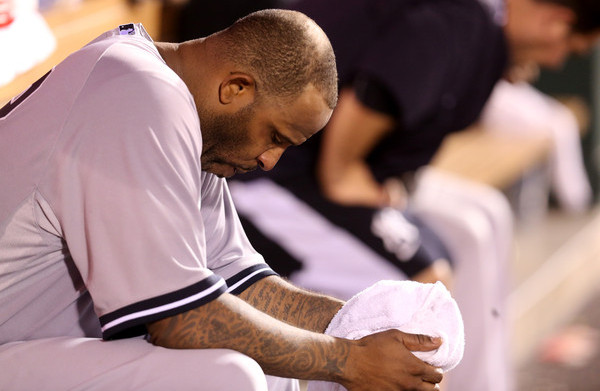 2:41pm: Sabathia left the game with right knee pain and will have an MRI, the Yankees announced. That's the knee with the degenerative condition Sabathia has had surgically repaired three times — including a season-ending clean out procedure last summer — and drained twice already this season. Not good news.
2:12pm: CC Sabathia left Sunday afternoon's start with an unknown injury in the third inning. He struck out Yan Gomes, walked around the mound slowly, then Joe Girardi and trainer Steve Donohue came out to talk to him. Sabathia didn't lobby to stay in the game or throw any test pitches. He went right to the clubhouse. Here's the video.
One thing we've learned about Sabathia in recent years is that he will pitch hurt. He pitched with a bone spur in his elbow a few years ago, has pitched through on and off knee trouble throughout his career, and even pitched through a Grade II hamstring strain two years ago. For Sabathia to leave like that, he must really be hurt.
The Yankees have not yet announced any sort of update on Sabathia, so stay tuned. Michael Pineda (forearm) is due to come off the DL on Wednesday and Bryan Mitchell is making progress after being hit in the face by a line drive, so the team can fill the rotation spot. Hopefully it's nothing serious. We'll see.