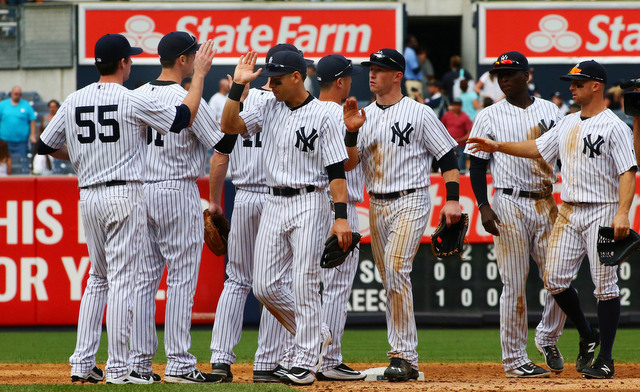 As a franchise, the Yankees are currently sitting on 9,999 wins. Tonight is their first chance to join the 10,000 win club, which includes the Giants, Cubs, Dodgers, Cardinals, Braves, Reds, and Pirates. Those seven clubs have all been around since the 1880s though. The Yankees didn't come along until the early-1900s. At .569, the Yankees have by far the best winning percentage in baseball history. The Giants are a distant second at .538.
Getting that 10,000th win tonight would be pretty cool, but, more importantly, it would whittle the magic number for a postseason spot down to two. There was some fancy math going around earlier today saying the Yankees can clinch a spot tonight, but that's not actually the case. The scenario presented– Yankees win and Astros or Angels lose — completely ignored the Twins and failed to take into account how the tiebreaker games for the AL West would fudge things up. Whatever. Just win, baby. Here is the Red Sox's lineup and here is the Yankees' lineup:
CF Jacoby Ellsbury
LF Brett Gardner
DH Alex Rodriguez
RF Carlos Beltran
3B Chase Headley
1B Greg Bird
C John Ryan Murphy
SS Didi Gregorius
2B Rob Refsnyder
RHP Ivan Nova
It has been pretty cloudy in New York all day but there is no rain in the forecast tonight, so that's good. Later in the week? Eh, rain might be an issue then. Hope not. Tonight's game is set to begin at 7:05pm ET and you can watch on YES. Enjoy the game.
Injury Update: Masahiro Tanaka (hamstring) ran and performed fielding drills for the first time since getting hurt … Nathan Eovaldi (elbow) played catch again but will not be ready for the wildcard game. He could rejoin the team for the ALDS should they advance, however … Stephen Drew, who has played eight innings in the last two weeks, has been dealing with dizziness and went for concussion tests. There's no timetable for his return just yet.
Rotation Update: Tanaka apparently came through all his workouts well, because the Yankees announced he is starting Wednesday. That allows him to start the wildcard game with an extra day of rest next week. Michael Pineda will start tomorrow and CC Sabathia goes Thursday. Sabathia would be able to start the wildcard game on regular rest if Tanaka can't go. They could also go with Pineda on two extra days of rest (that would require a spot starter in Game 162). Hopefully that's not necessary.