Got eleven questions for you in the mailbag this week. Send any and all questions to us at RABmailbag (at) gmail (dot) com throughout the week.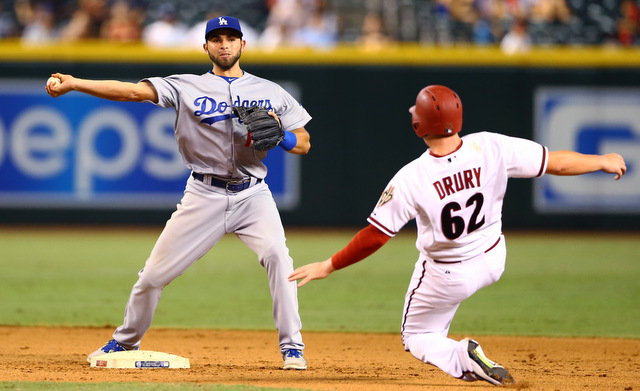 Michael asks: What would it take to acquire Jose Peraza? Are their any similar 2b prospects that might be available this offseason?
Peraza was traded from the Braves to the Dodgers at the trade deadline, but we can't use that to estimate his trade value because it was a massive 13-player, three-team trade involving established big leaguers (Matt Latos, Alex Wood, Jim Johnson, Mike Morse), a big money Cuban player (Hector Olivera), and other prospects. Peraza is only 21 and he didn't hit much in Triple-A this summer (94 wRC+), though he's still young with a ton of speed and legitimate middle infield defensive chops, meaning he's a top 100 caliber prospect.
The Dodgers are a win now team, and even with Corey Seager looking like a future superstar, they'll still have a middle infield opening next season because Jimmy Rollins, Howie Kendrick, and Chase Utley are all set to become free agents. Peraza could be penciled as the starting second baseman. I doubt Los Angeles would be interested in a prospect for prospect swap. They'll want an actual big leaguer. One year of Ivan Nova doesn't seem like enough — I'd want more if I were the Dodgers — but what about two years of Michael Pineda for Peraza plus more? I'm not saying I'd do it, but that is probably the kind of deal we're talking about.
As far as similar second base prospects … there really aren't any. There are very few actual second base prospects in baseball to begin with. The vast majority of big league second basemen are ex-shortstops. MLB.com's top 100 prospects list includes only four second basemen: Peraza, Red Sox 2B Yoan Moncada, Pirates 2B Alen Hansen, and Rockies 2B Forrest Wall. That's it. It might be a while until the Yankees are able to find a long-term solution at second. Not many exist.
Dan asks: In a one game playoff against the Astros, how well do you think the Yankees would do against Dallas Keuchel? Seems like a nearly impossible task.
The impossible task is predicting what will happen in a random baseball game. Keuchel has been incredible this season (2.51 ERA and 2.90 FIP) and yes, he has destroyed the Yankees in his two starts against New York (16 scoreless innings), but that means nothing come the wildcard game. Anything can happen in any given game. That doesn't make me feel any better about the Yankees possibly facing Keuchel, I'd rather them not face one of the ten best pitchers in baseball in a winner-take-all game, but it's not a guaranteed loss either. Masahiro Tanaka is pretty good too, you know. Keuchel's excellent and there are many reasons to believe runs would be at a premium should the Yankees face him in the wildcard game. How you or I feel doesn't really matter.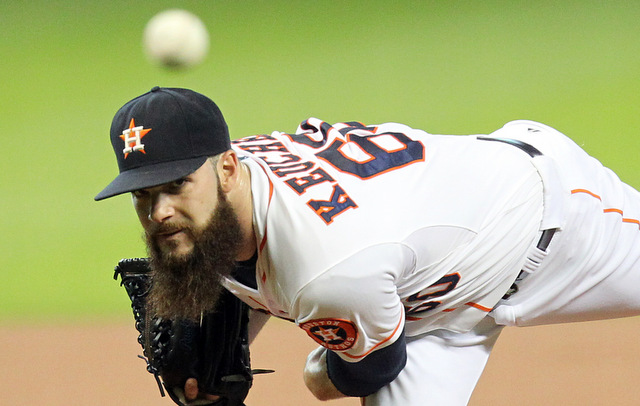 Brad asks: Say the Yankees wrap up the first wild card berth, but there is a multiple team tie behind them for the second wild card. Houston, Minnesota, Cleveland and LA are all within 3 games of each other in the loss column. How would a 3 or 4 team tie in that scenario play out?
As long as the Yankees aren't involved, I'm rooting for the second wildcard spot to come down to total chaos. Give me a big three or four-team tie and lots of tired players and pitchers down the stretch. Here's what the rules say about three and four-team tiebreaker scenarios for the wildcard spot:
Three-Club Tie for One Wild Card Spot:
After Clubs have been assigned their A, B and C designations, Club A would host Club B. The winner of the game would then host Club C to determine the Wild Card Club.

Four-Club Tie for One Wild Card Spot:
After Clubs have been assigned their A, B, C and D designations, Club A would host Club B and Club C would host Club D. The winners of each of those games would then meet, hosted by the winner of the game between Club A and Club B, to determine the Wild Card Club.
The Team A, B, C, and D designations are based on head-to-head records and intradivision records and stuff like that. Click the link for the full explanation if you're interested. It's rather complicated. In the three-team scenario, you want to be Team C because you only have to win one tiebreaker game to win the wildcard spot. In the four-team scenario, it doesn't matter. You have to win two tiebreaker games to win the wildcard spot no matter what. The Yankees are in great shape to claim the first wildcard spot, so feel free to join me in rooting for a massive tie for the second spot. I am forever on Team Chaos.
Bob asks: I read where Jorge Mateo will be playing in the Instructional League this fall as a second baseman. A few weeks ago, the Yankees named several of their top prospects for the Arizona Fall League. What is the difference between the Instructional League and the Arizona Fall League and what determines which prospects are assigned to these fall leagues?
The caliber of competition is much greater in the AzFL. It is mostly Double-A and Triple-A players there. Also some rehabbing big leaguers too. Instructional League is for players newest to pro ball like recent draftees and international signees. The youngest prospects, basically. Also, the coaching staffs in the AzFL are pieced together from different organizations. Instructional League is run by your coaches. The Yankees could have sent Mateo to the AzFL if they wanted — each organization can send one player who's yet to play above Single-A — but then he'd be working on a new position with coaches from other organizations in actual games. Instructs are much more informal. He could get as much help as he needs from people working for the Yankees.
Ram asks: Is Jim Hendry still with the organization? If not, do you think Ben Cherington would ever be interested in that type of position? I know he doesn't want to be a GM next year and the man's incredibly well respected.
Hendry is still in the organization as a special advisor to Brian Cashman. He's been with the Yankees since February 2012, a few months after being fired as Cubs GM. Hendry's time as Cubs GM didn't go well, but he's very well-respected for his scouting acumen and is definitely a front office asset. In fact, he reportedly led negotiations with Scott Boras for first round pick James Kaprielian this summer.
Jon Heyman recently reported Cherington turned down an opportunity to interview for the Mariners GM job and is looking to spend time away from full-time GM work, so a special advisor role could suit him well. The Red Sox have been a disaster the last two years and most of the last five years, but Cherington's a very bright dude who was a huge part of Boston's success from 2004-13. (He was there before Theo Epstein). If he's open to an advisory role, the Yankees should try to scoop him up. The more smart people in the front office, the better. (Especially with assistant GM Billy Eppler possibly on his way out this winter.)
Mike asks: Can you guys explain the playoff seeding? If the Yankees don't overtake the Blue Jays and wind up having to play the Astros or Rangers in a play-in game, let's pretend for a second that they win that game. The Yanks will still likely have a better record than whoever comes out of the AL West. So, in that case, who do they draw for the ALDS?
The winner of the wildcard game will play the team with the best record in the AL no matter what. Right now that's the Royals but the Blue Jays are within striking distance and could pass them before the end of the season. It wouldn't matter if the Yankees have a better record than the AL West division champ. Wildcard game winner plays the team with the best record in the league. Even if they're in the same division. (The Yankees and Orioles played in the 2012 ALDS after the O's won the wildcard game, remember.) Toronto is firing on all cylinders right now and I'd rather not see the Yankees face them in a best-of-five ALDS. Go Royals, I guess.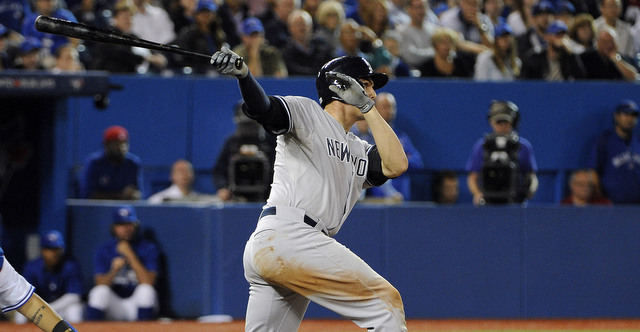 Samuel asks: After Tuesday's game winning blast, can we reasonably say that Greg Bird has equaled or possibly even surpassed the production that we would have expected from Tex? (Offensively)
I think that's fair. Bird went into last night's game hitting .256/.333/.552 (139 wRC+) with ten homers in 35 games for the Yankees since being called up. Mark Teixeira hit .255/.357/.548 (143 wRC+) with 31 homers in 111 games before getting hurt, including .295/.378/.610 (169 wRC+) with nine homers in 29 games after the All-Star break. I don't think Teixeira would have put up a 169 wRC+ for the entire second half, but I suppose it's possible. Bird's production has come mighty close to what we could have realistically expected from Teixeira down the stretch — Teixeira almost certainly would have walked more and struck out less — though I wouldn't say he's exceeded it. Defensively there's no comparison, obviously. Teixeira has few peers in the field. Bird has been very good since coming up. The Yankees haven't suffered much if at all offensively at first base following Teixeira's injury.
Frank asks: Ian Clarkin. Did the Yanks somewhat deliberately not activate him this year so to not add to his time accumulation for team control?  If so, was it possible his injury may have been significantly less severe?
No. There's no benefit to sitting out the year. It changes nothing. Clarkin will still be Rule 5 Draft eligible (2017-18 offseason) and minor league free agency eligible (2019-20 offseason) at the same time regardless of the injury. It also has no bearing on his big league arbitration or free agency eligibility either. There's zero benefit to Clarkin sitting out the season, on the field or otherwise. Players that age and that stage of their development need innings. There's no conspiracy there based on years of team control or anything. The injury doesn't change that at all.
R.J. asks: If the Yankees end up in the wildcard, would you consider  (if you were manager) using your pitchers like an all-star game where Tanaka pitches 2 innings, Pineda 1 or 2, Sevy 1, CC 1 and bridge it to Dellin and Miller? Tanaka wouldn't throw 80-100 pitches and he'll be able to pitch say game 2 or 3 rather than game 4. Plus if throws a managers lineup off when CC comes in.
No, definitely not. I'm not a fan of using a "bullpen game" in a winner-take-all wildcard game at all. The more pitchers you use, the more likely you are to run into someone who just doesn't have it that day, and that's especially true when you're talking about bringing starters out of the bullpen. Pineda, Luis Severino, and CC Sabathia have basically zero bullpen experience in their careers, remember. (They have 18 combined relief appearances in their careers, 13 from Pineda in rookie ball.) Give me a full start from Tanaka. I trust him implicitly. He just needs to get them through five innings in the wildcard game before Justin Wilson, Dellin Betances, and Andrew Miller come into play, and Tanaka is capable of doing that and much more.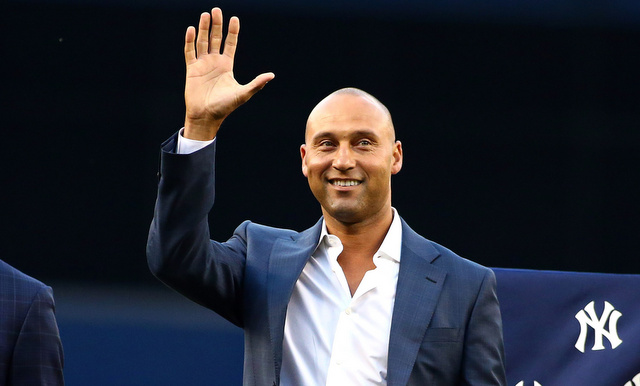 Adam asks: Now that Yogi is gone, who is the Greatest Living Yankee? I guess it's Jeter, with honorable mention to Whitey Ford.
Derek Jeter for me. Jeter followed by Ford followed by Mariano Rivera. After that you have Andy Pettitte, Jorge Posada, Bernie Williams, Alex Rodriguez, Willie Randolph, and Ron Guidry in some order. You could do this the boring way with WAR — based on bWAR, it would be Jeter (71.8) followed by Rivera (56.6), A-Rod (55.8), Ford (53.6), and Pettitte (51.6) — but anytime you're talking about the "greatest living" player, I think there's an unquantifiable "star" factor that has to be considered. Jeter wasn't just a great player on the field, he was a mega-star in New York and at the center of a Yankees dynasty. Ford was part of a long-running dynasty too — he has six World Series rings, you know — and while I wasn't alive in his era, I have a hard time believing he was popular as Jeter. Jeter is on the short list of the most popular athletes in New York sports history. That combined with his on-field production makes him the Great Living Yankee in my opinion.
Tom asks: Would you be in favor of a rule, that is reviewable, if a ground rule double is hit with a man on first and the runner has touched 3rd base before the ball goes over the fence the runner scores?
Yes, absolutely. We see ground-rule doubles cost teams run all the time — especially when there are two outs and the runner is going on contact — and it would be nice to have a way to correct that. The umpires are actually allowed to let the runner score if they feel he would have scored on the play, but they never call it. I don't remember seeing it once. These types of plays could be tricky but the third base bag gives you a very nice back-and-white reference point. Did he touch the bag before the ball goes over the wall? If yes, then he scores. If not, he doesn't score. Nice and easy. No judgement involved, just the hard yes or no answer based on visual evidence.