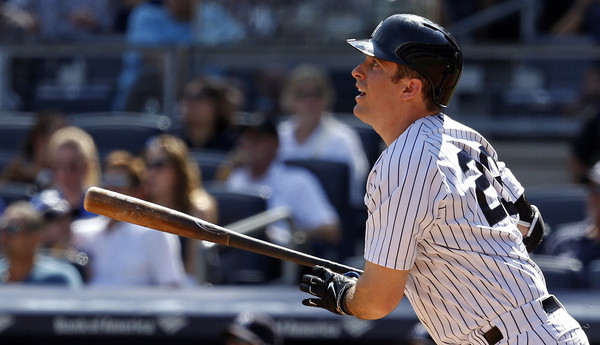 For much of the summer, we couldn't help but focus on second base. The Yankees are locked into their starters at every other position and Stephen Drew was unproductive for long stretches at a time, so finding an upgrade was a reasonable idea. Whether that upgrade was Rob Refsnyder or Jose Pirela or a trade target, it made sense to look for a new second baseman.
Instead, the Yankees stuck with Drew all summer and he's put up a .201/.271/.381 (76 wRC+) batting line in 428 plate appearances. That's a long leash. Drew platooned with Brendan Ryan for much of the second half, and while Drew's production ticked up later in the summer, the No. 9 spot in the lineup was still an eyesore. For the most part the rest of the offense picked up the slack, allowing the Yankees to carry the Drew/Ryan platoon and their defense.
The second base picture has changed over the last two weeks or so. Trade deadline pickup Dustin Ackley, who got hurt almost immediately after being acquired, returned from the DL and hit his way into a regular lineup spot. Ackley has been really awesome in an extremely limited number of at-bats. He's holding his own in the field — to be fair, he is being lifted for a defensive replacement on the regular — and taking aim for the short porch. It's working.
Ackley has wrestled the starting job away from Drew, and lately Joe Girardi has been using Refsnyder against lefties. Refsnyder started against the three White Sox lefties over the weekend, started against Eduardo Rodriguez last night, and will probably start against Wade Miley and Rich Hill in the coming days as well. Refsnyder has hit in his recent limited action — 5-for-12 (.417) with a double — even though the Yankees aren't scoring a ton of runs.
"It's a kid that in the past has swung pretty good against left-handers and since we're seeing so many of them, I put him in there. He's done a decent job," said Girardi to Ryan Hatch. Outside of a four-game cameo back in July, the Yankees didn't Refsnyder much of a chance this season, not even earlier this month, but they're doing it now and it's better late than never. Ackley? He took the job from Drew almost immediately after getting healthy. That happened even before Drew's bout with dizziness and a possible concussion.
The Yankees have gone from six games up in the AL East on August 1st to five games down today, and a tumble down the standings like that wouldn't have been prevented by changing second baseman earlier this season. Too much other stuff has gone wrong. The new second base platoon can help the Yankees going forward though, and at this point of the season that means October. The Yankees will clinch a wildcard spot in the coming days in all likelihood.
"I think it's too early (to talk about the postseason second base situation). We've liked the way (Refsnyder)'s swung the bat and defensively he's done a good job, so I'll continue to give him more opportunities," said Girardi to Chad Jennings over the weekend. My guess is lefty or righty, Ackley will start the wildcard game at second base because Girardi will simply go with his best players. It would be a real shock to me if the kid with 30-something big league at-bats started a winner-take-all game.
The offense has been stumbling of late and, for once, it's not because of second base. The unproductive Drew/Ryan platoon has been replaced by Ackley/Refsnyder, who've both hit. Will it last? Who knows. It's working right now and that's all that matters. The season ends Sunday and the postseason is right around the corner. It only has to work for a few more weeks. The Yankees finally have a new second base platoon, and it's better late than never.