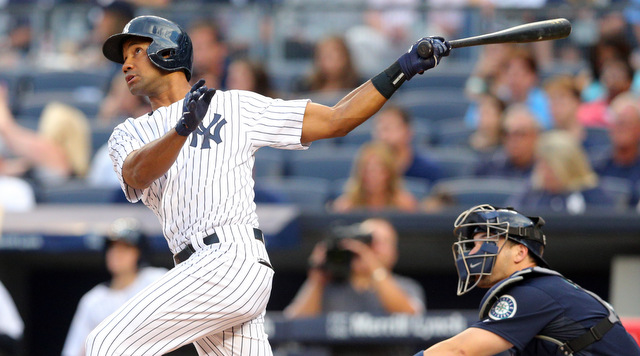 Over the last few seasons the Yankees have cycled through many fourth outfielders, some good (Andruw Jones) and some not so good (Brennan Boesch, etc.). Others like Zoilo Almonte and Ben Francisco came and went as well. Good bench players are hard to find and it's pretty common to have a different fourth outfielder every season.
This year the Yankees had one of the best fourth outfielders in baseball in Chris Young, who they first scooped up off the scrap heap late last year. He made some adjustments with then hitting coach Kevin Long, had a strong September last season, and agreed to return in a reserve role. The move worked out well for everyone.
The Quick Return
The Mets released Young last year after he hit .205/.283/.346 (81 wRC+) in 88 games. The Yankees signed him to a minor league deal, gave him a few games in Triple-A, then called him up in September. Young put up a .282/.354/.521 (147 wRC+) batting line in 23 games and even hit a walk-off homer. Pretty great for a guy the Yankees signed off the scrap heap at midseason, no?
The Yankees were impressed enough with Young — and vice versa! — that they quickly re-signed him last offseason. He signed a one-year deal worth $2.5M with a bunch of incentives on November 9th. It was the team's first transaction of the winter and one of the very first offseason moves in all of baseball. Neither side wanted to wait around, I guess. The Yankees had their fourth outfielder and Young had a home for the season.
Destroyer of Lefties
With two left-handed hitting starting outfielders plus another who is a switch-hitter that is better against righties, Young's role as a platoon bat was pretty obvious. It wasn't going to be a straight platoon with another player, but instead something of a rotation, with Young starting against lefties while any one of the other three guys sat. His ability to play all three outfield spots gave Joe Girardi some flexibility.
But, first and foremost, Young had to hit lefties, and boy, he crushed southpaws this season. The 32-year-old put up a .327/.397/.575 (162 wRC+) batting line with seven home runs in 175 plate appearances against left-handers this summer. He was better against southpaws in the first half than the second half, sure, but that overall production? Hard to complain about that.
Young hit five home runs in April, and the most notable was this game-tying solo shot against Drew Smyly and the Rays, which came when the Yankees were in a middle of a run-scoring funk:
More than anything, Young seemed to have a knack for breaking games open and driving in insurance runs. Four of his first eight homers came with the Yankees already ahead, though he also had one go-ahead homer and two game-tying homers.
Through the first half of the season Young hit .354/.411/.646 against lefties and was a must-have in the lineup any time the Yankees faced a southpaw. His second half wasn't as good (.296/.381/.493) but it was still pretty damn awesome. Young spoiled us early. When he didn't hit as well late, it made it seem like he fell off a cliff. That wasn't really the case, at least not against lefties.
The Yankees brought Young back because they believed he could be a force against left-handed pitchers and that's exactly what he was. He hit them hard all year and especially so in the first half. By platoon bat standards, Young was as good as anyone in the game.
Destroyed by Righties
On the other side of the coin, Young didn't do much of anything against right-handed pitchers this season. He actually faced more righties (181 plate appearances) than lefties (175), and put up a .182/.246/.339 (58 wRC+) line against northpaws. Yikes. Young did hit seven homers against righties, the same number he hit against lefties, but two were against the extremely homer prone Alexi Ogando (1.65 HR/9!) and two were against position players (Josh Wilson, Jonny Gomes).
That said, some of the homers Young hit against righties were pretty important. This game-winner against Will Harris of the Astros stands out the most:
Young actually improved against righties in the second half of the season, but that's relatively speaking. He had a .180/.228/.328 batting line against righties in the first half and .189/.302/.378 against them in the second half. Of course, that's because Girardi stopped playing him against righties. Young had 138 plate appearances against same-side pitchers in the first half and only 43 in the second half.
One thing that really stood out about Young this season was his streakiness. You can see it in his day-by-day wOBA graph below. There are some crazy peaks and valleys: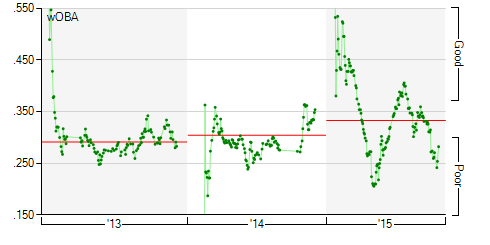 Part of that had to do with getting a little too much playing time while Jacoby Ellsbury was on the DL. Young played against righties more than he should have those few weeks — even with Slade Heathcott and Mason Williams getting opportunities — and that exposed him a bit. But still, the streakiness was there. Young would crush the ball for a few weeks then totally disappear.
Late Inning Defense
Believe it or not, Young played in 140 games this season. He only started 77 though. The other 63 came off the bench as either a pinch-hitter (12 times), pinch-runner (three times), or defensive replacement (48 times) for Carlos Beltran. I thought Young's defense was good from a "catch the ball" perspective, but boy, he can't throw at all. That was a problem at times with runners taking the extra base. Young played all three outfield spots — he played center in midseason, but at some point Girardi decided he was better off with Young in a corner and Brett Gardner in center — and was fine. Not great, not awful, but fine.
Sometimes with bench players there's a give and take. You trade bad defense for offense and vice versa. That wasn't the case with Young this season. He hammered lefties, occasionally took a righty deep, and made all the catches he was supposed to make. All things considered, Young was one of the best fourth outfielders in baseball in 2015, if not the best. He finished with a .252/.320/.453 (109 wRC+) batting line and 14 homers in only 356 plate appearances, and he ranked 71st among all outfielders with 1.1 bWAR and 80th with 1.2 fWAR. Remember there are 90 starting outfield spots in MLB. Pretty great for a fourth outfielder.
Looking Ahead to 2016
Thanks to those 356 plate appearances, Young earned an extra $1.375M in incentives this year, so the Yankees paid him $3.875M to be arguably the best extra outfielder in baseball. That works. Young will be a free agent again this winter, and while a reunion is certainly possible, he could try to turn his strong season into a two-year contract. He's already said it's "too soon" to know whether he'll be back. Even with their need for a righty hitting fourth outfielder, I would be surprised if the Yankees gave Young multiple years. This marriage might not last beyond 2015.