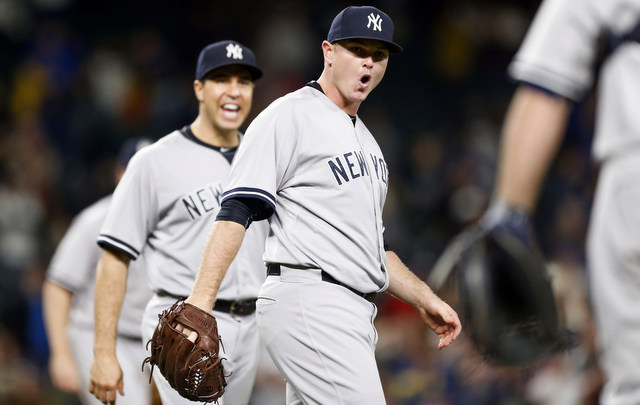 Over the last year or so, the Yankees have changed the way they've gone about building their roster, focusing on trades for younger players rather than signing free agents. They've traded away players on their Major League roster too, not just prospects.
Last November, when something had to be done about the backup catcher logjam, the Yankees shipped Francisco Cervelli to the Pirates for hard-throwing lefty reliever Justin Wilson in a straight one-for-one deal. Brian Cashman told reporters he first proposed the trade two years ago. The deal cleared a roster spot for John Ryan Murphy and added another power arm to the bullpen.
A Quiet Spring
The offseason makes you think weird things, man. There was a time last winter when I was convinced Wilson, who has two minor league options remaining, wasn't a lock for the Opening Day roster. The Yankees had a ton of young relievers in the organization and Wilson could have been squeezed out as part of the numbers crunch. How silly of me.
From the start of Spring Training, it was obvious Wilson was going to be on the Opening Day roster. The Yankees treated him like a veteran reliever with a spot locked up. He came out of the bullpen early in Grapefruit League games so he could a) face big league hitters before wholesale changes, and b) get his work in and head home. Wilson threw nine innings in Spring Training. He allowed two runs on three hits in two walks in nine innings, striking out eleven. Pretty much no one talked about him. Too much other stuff was going on.
Early Control Problems
Like most other relievers, Wilson doesn't have the greatest control in the world. He'd probably be a starter — which he was his entire minor league career — if he could throw strikes more consistently. Wilson had an 11.7% walk rate last year and an 11.6% walk rate in his minor league career. Walks have been an issue.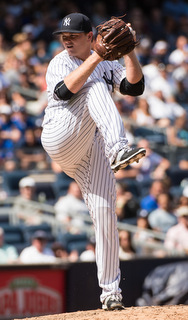 Wilson made his Yankees debut on Opening Day. He entered the top of the ninth with the Yankees down five, and his outing went walk, strikeout, walk, ground out, walk before being pulled with the bases loaded and two outs. Only eleven of his 24 pitches were strikes. It was not a good first impression. Bullpen roles outside the eighth and ninth inning were still unsettled and Wilson didn't endear himself with that outing.
Four days later Wilson retired all five batters he faced, but the next day he allowed a run in two-thirds of an inning, walking a batter and throwing only five of 13 pitches for strikes. In his next appearance, he inherited runners on second and third with one out in the sixth inning of a tie game against the Orioles. Wilson allowed both runners to score on a Delmon Young single and a Chris Davis double. (He was later charged with two runs of his own.)
Understandably, Girardi lost some confidence in Wilson. Actually, since it was so early in the season, he probably didn't have any confidence in him yet, and Wilson wasn't helping his case. Four of Wilson's next five appearances were true left-on-left matchups situations. He faced exactly one batter all four times, and, to his credit, he retired all four. In the one non-matchup outing, Wilson got four outs in a game the Yankees were leading by six.
May was a struggle for Wilson as well. He made a dozen appearances, allowed multiple runs in three of them, and opponents hit .294/.368/.412 against him in 8.2 innings. Wilson struck out six and walked three. On May 24th, Wilson was sitting on a 5.79 ERA (3.21 FIP) in 14 innings. His strikeout rate was good (21.7%) but he walked too many batters (13.3%). A 50.0% ground ball rate and no homers allowed led to that shiny FIP.
The first seven weeks of Wilson's tenure in pinstripes did not go too well. He had not settled into any kind of role aside from "guy we try to stay away from in close games" and he wasn't pitching all that well. The Yankees had Dellin Betances and Andrew Miller dominating the late innings, and Chasen Shreve helped picked up the slack, so Wilson's struggles weren't a huge blow to the team. They needed him to be better though.
The New Eighth Inning Guy
After allowing two runs on three hits in one-third of an inning on May 24th, Girardi stayed away from Wilson in close games. Five of his next seven appearances came with the score separated by at least three runs, and the other two were a quick lefty specialist appearance and an extra innings outing, an extra innings outing in which this happened:
Wilson pitched well, allowed three hits and and a walk in six scoreless innings during those seven appearances. It was a step in the right direction, if nothing else.
The Yankees placed Miller on the DL on June 11th, which threw a wrench into the bullpen. Betances moved into the closer's role and suddenly Girardi didn't have a set eighth inning guy, something he values very highly. Wilson got his Big Chance three days later, when he entered a game with a runner on first and no outs in the seventh inning. The Yankees were up 5-3 against the Orioles and Wilson retired all six batters he faced, three with strikeouts.
That outing — of which no video exists, sadly — didn't quite put Wilson in the Circle of Trust™, but it earned him some more opportunities. Five more scoreless outings followed and Wilson settled in as the eighth inning guy. Shreve was pitching the seventh, Wilson the eighth, and Betances the ninth. While Miller was sidelined, Wilson allowed one run on four hits and three walks in 9.1 innings. He struck out 14. (The one run was a Mike Trout solo homer. It happens.)
The Seventh Inning Guy
Most relievers gradually work their way towards the back of the bullpen. Wilson did the opposite. Miller's return meant Wilson went from eighth inning guy in June to seventh inning guy the rest of the season. Miller returned on July 8th, and from that point through the end of the season, Wilson pitched to a 3.23 ERA (2.16 FIP) in 30.2 innings. He struck out 37 and walked six. The guy who walked three batters in his first two-thirds of an inning of the season walked only six in his final 30.2 innings of the season.
Wilson's best — or at least his subjectively most important — outing of the season came on September 19th against the Mets. The Yankees were barely hanging on in the AL East race and they still needed to clinch a wildcard spot, so every win was crucial. The Yankees led 5-0 but the Mets loaded the bases for the middle of the lineup with one out in the sixth. Wilson came in and struck out two to end the inning. He struck out the first two batters in the seventh as well.
Between the shaky start and the strong finish, Wilson posted a 3.10 ERA (2.69 FIP) in 61 innings across a team leading 74 appearances in 2015. (Well, he tied for Betances for the team lead in appearances, anyway.) His 27.1% strikeout rate was a career high and his 8.2% walk rate was a career low. Wilson also managed career low ground ball (43.8%) and homer (0.44 HR/9) rates even though his HR/GB% rate (6.8%) was in line with his career average (6.7%). The trick: don't allow the ball to be put in play. Strikeouts are cool.
Also, Wilson was much more than a lefty specialist. He was a full inning pitcher for much of the season, especially after Miller landed on the DL. Wilson held lefties to a .236/.337/.292 (.290 wOBA) batting line with a 22.9% strikeout rate. Righties? They hit .213/.270/.318 (.261 wOBA) with a 29.2% strikeout rate. Pretty great. It's pretty easy for managers to shoehorn a guy into a left-on-left role, but Wilson isn't Clay Rapada or someone like that. He's a capable reliever against all hitters.
Wilson faced four batters in the wildcard game and got four outs. He walked the first man he faced but erased the runner with a double play. Wilson entered in the sixth, an inning earlier than usual, which was Girardi's plan. He wanted 12 outs from his big three relievers in the win or go home game. Wilson did his part. Too bad the offense didn't do anything.
The Cervelli-for-Wilson trade is one of those rare deals where both sides got what they wanted out of it. The Pirates probably got more than what they wanted, really. Cervelli stepped in as their everyday catcher and had a great season. Wilson emerged as a late-inning reliever for the Yankees while Murphy played well as the backup catcher. All trades should work out this well.
Lefty Heat
Miller throws a mid-90s fastball and a ton of sliders. Wilson is very different. He threw a fastball roughly 93% of the time last season (93.48%, to be exact). His fastball averaged 95.2 mph — PitchFX says he topped out at 98.63 mph in 2015 — this past season, which was the second highest average fastball velocity among lefties (starters or relievers). Only the inhuman Aroldis Chapman (99.4 mph) threw harder among southpaws.
Wilson does not throw just one fastball, however. He throws three different types, and that's what allows him to be successful. He's not just out there pumping four-seamer after four-seamer. Wilson throws a sinker and cutter in addition to his four-seamer, so he has something that goes down, something that cuts in to righties/away from lefties, and something that stays true. Flip a few breaking balls and that's enough to keep hitters off balance.
It's weird to see a pitcher throw fastball after fastball, even a reliever, but Wilson did it this season and had a lot of success. They were different types of fastballs though, and when you throw that hard and are only throwing one inning at a time, you don't need much else.
Looking Ahead to 2016
Wilson is arbitration-eligible for the first time this winter — MLBTR projects a $1.3M salary in 2016 — and by now we know no player is exempt from trade discussions. Murphy was traded earlier this week and Miller's name has popped up in rumors the last few days. Right now, Wilson is again penciled in as the seventh inning guy next season, and the caveat is there is still a lot of offseason remaining.