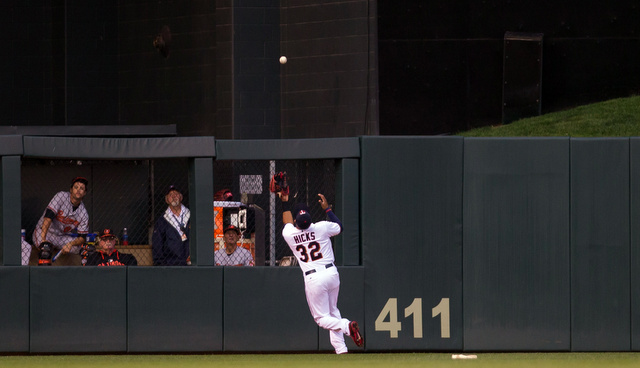 The Yankee outfield was given more shape on Wednesday when the team acquired Aaron Hicks from the Twins for John Ryan Murphy. Ironically enough, that shape is a little more amorphous now than it was before the trade. The term "amorphous" generally carries a negative connotation, the implication for the Yankees going forward is one of flexibility, not shapelessness.
It's most likely that Hicks will slot in as the team's fourth outfielder to start the year, but that alone could carry a great deal of playing time, as Chris Young appeared in 140 games for the Yankees last season. That much playing time is easy to envision for Hicks. Given his defensive reputation, he'll likely be replacing Carlos Beltran on a daily/nightly basis, which will give the Yankees a strong defensive outfield in the late innings, something any team would gladly sign up for.
Nominally, Hicks will be the fourth outfielder, but there's potential for him to play an even bigger role. He'll definitely swap out for Beltran in the late innings, but given Joe Giradi's tendency to platoon and his desire to rest players, Hicks will get plenty of burn in the starting lineup. Brett Gardner (fairly or unfairly) already gets his fair share of platooning as he sits semi-frequently against lefties. That's a trend that'll probably continue, given that Hicks hit lefties very well last year–.375 wOBA; 139 wRC+; .188 ISO–and has done similarly over the course of his (short) career–.354; 125; .175. Gardner was also, apparently, playing through injury in the second half and it's a certainty we'll see Hicks start in place of Gardner when Brett starts to slow down a bit after playing for long stretches. The same could be said for Jacoby Ellsbury, who probably wasn't healthy for more than a month and a half of last season; he also had his fair share of struggles against left-handed pitchers and the fact that Hicks can play center–88 games there last year–means the Yankees will still be able to run out a mostly strong defensive outfield, even if one of Gardner or Ellsbury is sitting.
One knock on Hicks, a switch hitter, is that he doesn't hit right handed pitching well. That rang true in 2015 as he racked up just a .292 wOBA/82 wRC+ against them. His career numbers against non-southpaws are just as ugly: .269/66. In this way, he's definitely similar to Chris Young, who also couldn't hit right handed pitching. However, for his career, Hicks does have a 9.2% walk rate against right handed pitchers, something slightly encouraging that the team could build on. And, taking it with a shaker of salt, Hicks did hit right handed pitchers fairly well in the minor leagues, posting a .371 OBP against them. It's not the most reliable data, but it shows that, at some point, Hicks did something well against righties.
Despite those struggles, though, it's easy to see why Hicks could be an upgrade over Young. His ability to play center field–and play it well–means that the Yankees can feel fully confident when they match up for platoons or have to rest someone. Hicks will also play the entire 2016 as a 26 year old, which in and of itself means there's potential for more growth and development. Trading for Hicks was certainly a surprise, but it's something that gives the Yankees a lot of flexibility in one spot on the field. Given the way the team looks, that's a welcome sign.