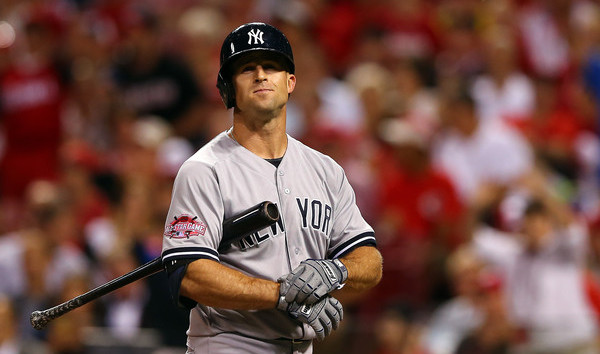 Things have slowed down of late, but Brett Gardner has been a popular name on the trade rumor circuit this offseason. He's one of the few Yankee veterans with positive trade value, so it's not a surprise the team is at least listening to offers as they aim to get younger. The Mariners and Cubs both checked in, possibly the Indians as well.
"I think it'd be more likely that we keep them than move them," said Brian Cashman to Bryan Hoch at the Winter Meetings, referring to Gardner and Andrew Miller. "I say that recognizing that if somebody wants to ring a bell that I've put out there, then that could happen as early as tomorrow. But if I'm predicting anything, I'd predict that they would be here, not somewhere else."
It's easy to say clubs looking for outfield help can simply turn to the free agent market, where quality players like Adam Gordon and Yoenis Cespedes and Justin Upton remain unsigned, but not every team can afford them. Gardner is owed $37.5M over the next three years. That might buy you a year and a half of Cespedes or Upton. Gardner also has the advantage of being a legitimate center fielder.
I don't necessarily want the Yankees to move Gardner, but there are reasons to do so. There are still plenty of teams that need outfield help at this point of the offseason. Some teams are more realistic candidates than others — for example, no rebuilding club wants Gardner, so it's contenders only — especially if the Yankees stick to their demand of a young starter under control beyond 2017. Let's run down the possible suitors.
Arizona Diamondbacks
Outfielders? A.J. Pollock, David Peralta, Yasmany Tomas.
Young Starters? Robbie Ray and Chase Anderson. I assume Archie Bradley is off-limits.
Cash? Lots, apparently. Their massive new television deal just kicked in, as Zack Greinke found out.
The D'Backs had enough outfield depth to include Ender Inciarte in the Shelby Miller trade, and it stands to reason they're committed to Tomas after giving him $68.5M last offseason. If so, they're not a fit for Gardner. Pollock and Peralta aren't going anywhere. They're way too good. Arizona may have a young starter to spare and chances are they can afford Gardner, but the outfield is currently too crowded. A Fit? No.
Baltimore Orioles
Outfielders? Adam Jones, Hyun-Soo Kim, and, uh, Nolan Reimold? Egads.
Young Starters? Outside of Kevin Gausman, no one worthwhile.
Cash? Yeah. They just offered Chris Davis $150M or so.
Man, is Gardner not a perfect fit for the O's? He gives them a solid left fielder and leadoff hitter, allowing them to put Manny Machado in the middle of the lineup. Gardner's also affordable, he knows the ballpark, knows the division, and his lefty bat would help balance their righty heavy lineup. It's such a great fit.
Of course, Orioles owner Peter Angelos would sooner play with a 24-man roster than make a significant trade with the Yankees. He had a contentious relationship with George Steinbrenner and he still holds the grudge to this day. Never say never, but it's hard to see Angelos signing off on a significant trade with New York. That they lack a suitable non-Gausman young starter to send back also complicates things. A Fit? No.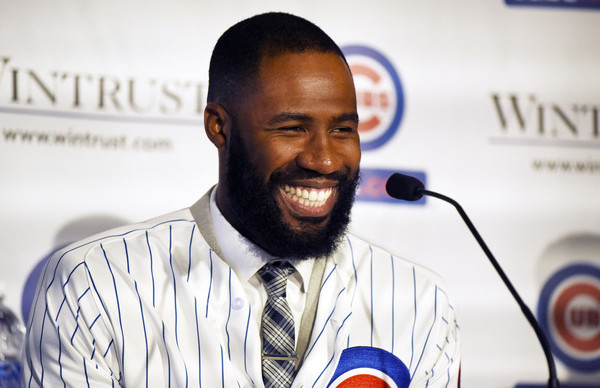 Chicago Cubs
Outfielders? Jason Heyward and Jorge Soler. Kyle Schwarber plays an outfielder on TV.
Young Starters? Adam Warren! But seriously folks, no.
Cash? Oh indeed.
The Cubbies are no longer up-and-coming. They're all-in. That much is clear. Right now the plan is to play Heyward in center field with Soler and Schwarber in the corners, though there's talk they may move Soler for a young starter, which would push Heyward to right and free up center. Gardner would fill that center field hole perfectly. The problem? The Cubbies don't have a young starter to send back to New York. That's why they signed John Lackey and are open to flipping Soler for an arm. I mean, I guess Kyle Hendricks counts, but I'm not a fan. A Fit? Maybe.
Cleveland Indians
Outfielders? Michael Brantley will be out until May following shoulder surgery, leaving only Rajai Davis, Abe Almonte, Collin Cowgill, and Lonnie Chisenhall. (Chisenhall's an outfielder now.)
Young Starters? Plenty. Carlos Carrasco or Danny Salazar would be ideal, Cody Anderson or Josh Tomlin are more likely.
Cash? Unlikely. Payroll has hovered around $85M for a few years now, and they have $64.5M on the books plus another $15.1M in projected arbitration salaries.
The payroll situation is a significant obstacle. The Yankees could always eat salary to facilitate a trade, but I can't imagine they'd pay Gardner to play for another team, especially another AL contender. The Indians just went on a mini-spending spree (Davis, Mike Napoli) and the front office indicated they won't be spending any more money. The Yankees have an outfielder to spare and the Indians appear to have a starter to spare. The finances are messing things up. A Fit? Maybe.
Detroit Tigers
Outfielders? Anthony Gose, Cameron Maybin, J.D. Martinez.
Young Starters? I assume Daniel Norris is off-limits, leaving Shane Greene and Matt Boyd.
Cash? For shizzle.
The Tigers are going for it next season. They've added Maybin, Justin Wilson, Jordan Zimmermann, and Francisco Rodriguez so far this offseason. There's an obvious opening in left field — Gose and Maybin would platoon in center, ideally — and Gardner would fill that spot well. He plays strong defense for spacious Comerica Park and gives them a nice leadoff option.
As for the young starters Detroit has to offer … eh. Boyd is an extreme fly ball guy who is as generic as generic lefties get. Greene? I know more than a few people out there would be cool with the idea of bringing him back, except I'm sure no one would think that if he wasn't an ex-Yankee. If Greene came up and debuted with any team other than the Yankees, no one would love the idea of acquiring him after the season he just had. A Fit? Maybe.
Kansas City Royals
Outfielders? Lorenzo Cain is currently flanked by Jarrod Dyson and Paulo Orlando. Yeah.
Young Starters? Yordano Ventura is presumably off-limits. Danny Duffy might not be. That's it.
Cash? Seems likely. They had a $113M payroll last year and are currently at $108M for 2016, including arbitration projections. They just won the World Series and I assume payroll will increase. Payroll increased $10M following their 2014 postseason run, after all.
The Royals have a clear need for outfield help. They wisely let the unproductive Alex Rios walk as a free agent and will likely lose Alex Gordon to a club with a larger payroll. GM Dayton Moore has said they're willing to give Dyson a chance as a starting outfielder, but Orlando? He was a nice story as a 29-year-old rookie in 2015, but he didn't hit at all. Starting him should be a non-option.
Assuming the money works out, the only really issue is finding a suitable return. Duffy is interesting, though the Yankees are looking for guys they can control beyond 2017, and he doesn't fit. He'll be a free agent after 2017. That's pretty much all the young pitching the Royals have to offer. They're been scouring the market for an extra arm this offseason just like New York. A Fit? Maybe.
Los Angeles Angels
Outfielders? Woo Mike Trout! Kole Calhoun's good too. Then there's Daniel Nava and Craig Gentry.
Young Starters? Andrew Heaney ain't happening. Nick Tropeano and the not-so-young Matt Shoemaker might.
Cash? Indubitably.
GM Billy Eppler told reporters he's ready to roll with the Nava/Gentry platoon in left field, which sounds so unappealing. That would have been a good idea from, like, 2012-13. In 2015? Nah. The Angels also could use a left-handed bat to balance their lineup. Gardner would slot right in as the leadoff hitter and allow them to use Calhoun in a run-producing spot.
Furthermore, the Angels have some young pitching to offer, specifically Tropeano. I wrote about him in last week's mailbag. Heaney would be ideal but it's just not going to happen. It's not realistic. The Gardner for Tropeano framework could make sense for both clubs. Eppler and Cashman certainly have a good relationship, which could help expedite things. A Fit? Yes.
St. Louis Cardinals
Outfielders? Matt Holliday, Stephen Piscotty, Randal Grichuk, Tommy Pham.
Young Starters? Yes. Carlos Martinez and Michael Wacha ain't happening. Think Tyler Lyons, Tim Cooney, or maybe personal fave Marco Gonzales instead.
Cash? Yeah. They offered Heyward $200M and David Price $180M, reportedly.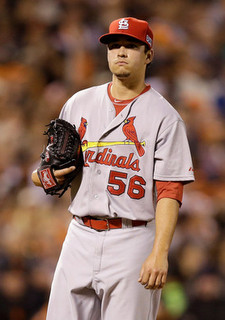 This has been a tough offseason for the Cardinals. By bWAR, they lost their best pitcher (John Lackey) and position player (Heyward) to the rival Cubs. They made runs at Price and Heyward but fell short. Yesterday they added Mike Leake, who will probably end up throwing 230 innings with a sub-3.00 ERA in 2015 because of Cardinals Devil Magic™.
Even with all those outfield bodies, the Cardinals lack a true center fielder. Grichuk is the center fielder by default and he's no better than average out there. Gardner would give them a real center fielder and allow Matt Carpenter to move into a run-producing lineup spot — did you know Carpenter hit 28 homers in 2015 after hitting 25 total from 2011-14? Like I said, Cardinals Devil Magic™ — plus they have some young arms to spare. Gardner for Cooney or Gonzales could be a thing. A Fit? Yes.
San Francisco Giants
Outfielders? Angel Pagan, Hunter Pence, Gregor Blanco.
Young Starters? No. That's why they had to sign Johnny Cueto and Jeff Samardzija.
Cash? Yes. They had a $173.2M payroll in 2015 and are currently at $160M right now, counting arbitration projections.
The Giants do have some young outfielders they could try in left field, specifically Mac Williamson and Jarrett Parker, but I can't imagine they'd commit $220M to Cueto and Samardzija only to cheap out on the outfield. Pagan is declining and has missed a lot of time to injuries in recent years. They can't count on him to contribute much.
Gardner fits their roster perfectly as the everyday left fielder, part-time center fielder, and leadoff hitter. They can also afford his salary, it appears. (They're shedding Pagan's contract next offseason too.) They just don't have any young pitching to offer, and no, Chris Heston doesn't count. I explained why in last week's mailbag. The Giants didn't sign Cueto and Samardzija because they had nothing better to do. They needed pitching in a big way. A Fit? Maybe.
Washington Nationals
Outfielders? Bryce Harper, Jayson Werth, Michael Taylor.
Young Starters? A few. Joe Ross and A.J. Cole are the most notable.
Cash? Yep. They reportedly offered Heyward $200M.
The Nationals are in a weird place. They had a very disappointing 2015 season, then lost several key players to free agency, yet they're still in position to contend in 2016. Harper, Anthony Rendon, Stephen Strasburg, Gio Gonzalez, and Max Scherzer is a pretty strong core. They do need help though, especially with Werth and Ryan Zimmerman showing their age.
Gardner would step in to replace Denard Span as the center fielder and leadoff hitter, two obvious needs for Washington. The Nationals also have some young pitching to offer — Ross and Cole are the most notable (here's my Scouting The Market post on Ross), but I guess Tanner Roark counts too — money to spend and incentive to win. Last year's performance was embarrassing and they want to turn things around in a hurry. These two teams seem to match up awfully well for a trade. Whether they can agree to the particulars is another matter, but the puzzle pieces fit. A Fit? Yes.
* * *
So after all of that, I count three yeses (Angels, Cardinals, Nationals), two nos (D'Backs, Orioles), and five maybes (Cubs, Indians, Tigers, Royals, Giants). In the case of the Cubs, I think it's worth noting Cashman and Theo Epstein are both pretty smart dudes with a willingness to be creative, so I wouldn't rule out a three-team trade that sends Gardner to the Cubs and a young pitcher from the third team to the Yankees.
For now, it appears there are several possible suitors for Gardner, though I'm not really sure whether time is on the Yankees' side. On one hand, if they hang onto him until after the top free agent outfielders sign, teams won't have anywhere else to turn for outfield help. On the other hand, once the top free agents are off the board, there might not be any teams looking for outfield help. Quite the pickle, that is. The Yankees say they're not shopping Gardner, but my guess is they would move him quickly if the right offer comes along. These ten teams stood out as the best possible suitors.