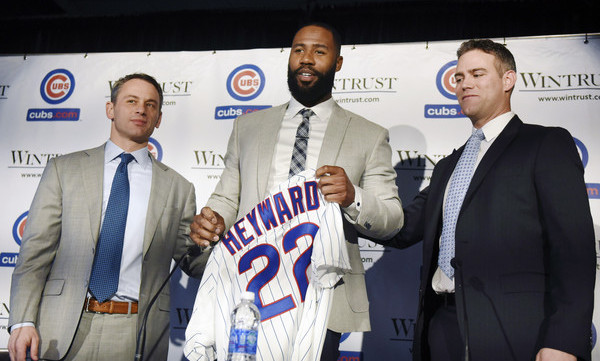 Yesterday afternoon, the Cubs officially introduced outfielder Jason Heyward with a press conference at Wrigley Field. His eight-year, $184M contract is now official. The brain trust gave Heyward a jersey, both sides said they're excited … you know the press conference drill. There were many smiles. A good time was had by all.
At one point during the press conference Heyward was inevitably asked about the Cardinals, his former team, who tried desperately to re-sign him. Here's what Heyward had to say about St. Louis, according to Jesse Rogers:
"Being 26 years old and knowing that my contract would put me in any clubhouse for longer than most people there, you have to look at age, how fast the team is changing and how soon those changes will come about."

…

"The St. Louis Cardinals are always going to be a great organization, and I don't think anyone would ever be surprised if they win a World Series any year," Heyward said. "[But] if I were to look up in three years and saw a completely different team, that would be kind of different for me."
Rogers says Heyward then rattled off a list of Cardinals veterans who either won't be around in a few years, or will no longer be significant contributors. Adam Wainwright, Matt Holliday, Yadier Molina … guys like that. Players who have formed the core of the Cardinals teams that have gone to the playoffs six times in the last seven years, winning one World Series (2011) and going to another (2013).
In a nutshell, Heyward said he didn't want to go somewhere where a bunch of roster turnover would soon take place. "I don't want to take the highest dollar amount when my gut is telling me to go somewhere else," he added. The Cubs will pay Heyward handsomely, and yet Jeff Passan reports he turned down three larger offers to go to Chicago, including two $200M+ offers. Other teams can not offer the kind of young core the Cubbies boast, however.
The Yankees are in a similar situation as the Cardinals. (Yes, the Cardinals have had more recent success, yadda yadda yadda.) They're going to lose a lot of key veterans in the coming years, starting with Mark Teixeira and Carlos Beltran next year. Alex Rodriguez and CC Sabathia (and maybe Masahiro Tanaka) will be gone the next offseason. Eventually Brian McCann's workload as the starting catcher will be scaled back too.
The Yankees are currently making an effort to get younger, and perhaps in two or three years they've have the kind of young core Heyward was looking for this offseason. They don't have it right now though. Heyward's a very good player who would have been a huge addition to the Yankees. The Yankees were not a good fit for Heyward though, not if his comments about looking for a team with a stable young core were sincere.