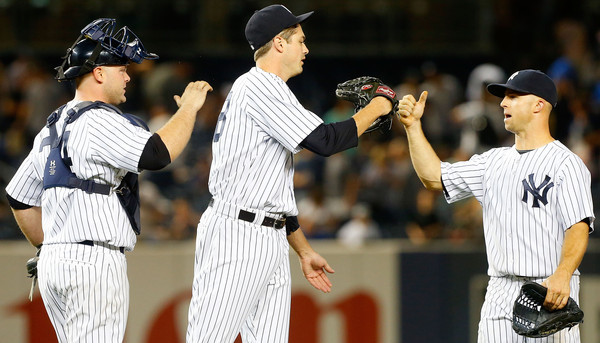 Despite all sorts of rumors, the Yankees are not close to trading Brett Gardner, Andrew Miller, or Ivan Nova according to George King. King says no team has made anything close to an acceptable offer for Gardner or Miller, and there simply isn't a ton of interest in Nova at this point. Obviously this could all change in a hurry.
So far we've heard Gardner connected to the Mariners and Cubs (and possibly the Indians), and Miller connected to the Astros, Diamondbacks, and Tigers. Nova? He hasn't been connected to any teams yet, but I'm sure there's some interest. Teams always need pitching and this is a chance to buy low on a guy who has had some success in the AL East, albeit not recently.
My hunch is a Gardner trade is much more likely than a Miller or Nova trade. The Yankees have a ready made Gardner replacement in Aaron Hicks, plus a bunch of young outfielders in Triple-A. Miller is an elite reliever and not as easily replaced. Nova? He doesn't have a ton of value at the moment and keeping him as the sixth or seventh starter makes more sense than giving him up for meh prospect.
For what it's worth, Gardner's agent told Brendan Kuty his client wants "to be a New York Yankee for his entire career," though he also acknowledged this is a business and a trade is out of his control. (Gardner doesn't have a no-trade clause but he does get a $1M bonus if dealt.) That's not surprising. Pretty much everyone who experiences some success with the Yankees never wants to leave. It's good to be a Yankee.
The Winter Meetings start next week and in recent years the Yankees have handled their major business away from the four-day event. Their last major Winter Meetings transactions were re-signing Derek Jeter and Mariano Rivera in 2010. You have to go back to the three-team Curtis Granderson trade during the 2009 Winter Meetings for their last major deal not involving a legacy Yankee.
That doesn't mean next week will be slow, of course. The Winter Meetings are never slow. It just means the Yankees haven't pulled the trigger on many deals at the Winter Meetings in recent years. With players like Gardner and Miller on the block, the Winter Meetings could be busier than usual for the Yankees. It's not often they're open to dealing players of that caliber.