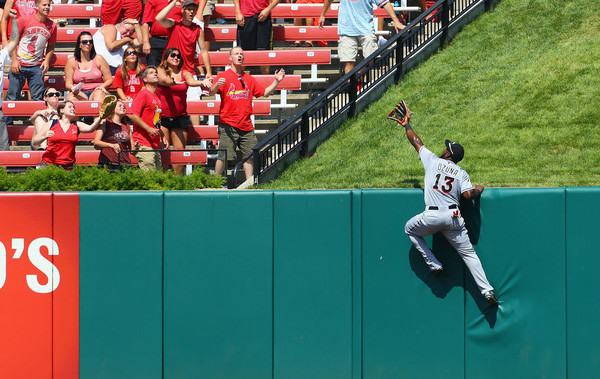 Over the last 14 months or so, the Yankees have made five trades in an effort to get younger and add more athleticism to the roster. The trend started with Didi Gregorius, then continued with Nathan Eovaldi, Dustin Ackley, Aaron Hicks, and Starlin Castro. Each time the Yankees targeted a talented young player who needed a change of scenery.
Another young and talented player in need of a change of scenery is currently on the trade market: Marlins outfielder Marcell Ozuna. He's been mentioned in all sorts of trade rumors this offseason, and since owner Jeffrey Loria wants him gone, it feels like only a matter of time until he's traded. It was reported during the Winter Meetings last week that the Yankees have interest in Ozuna. Is he a fit for the Bombers? Let's take a look.
The Offense
Ozuna, 25, has spent parts of three seasons in the big leagues already. In 2013 he played four games at High Class-A, ten games at Double-A, then was summoned to the big leagues. The Marlins skipped him right over Triple-A, and given his lack of time at Double-A, they basically brought him to the show straight from Single-A. Here are Ozuna's career offensive stats:
| | PA | AVG/OBP/SLG | wRC+ | HR | K% | BB% | wRC+ vs. RHP | wRC+ vs. LHP |
| --- | --- | --- | --- | --- | --- | --- | --- | --- |
| 2013 | 291 | .265/.303/.389 | 91 | 3 | 19.6% | 4.5% | 79 | 131 |
| 2014 | 612 | .269/.317/.455 | 115 | 23 | 26.8% | 6.7% | 118 | 102 |
| 2015 | 494 | .259/.308/.383 | 89 | 10 | 22.3% | 6.1% | 76 | 145 |
| Total | 1,397 | .265/.311/.416 | 101 | 36 | 23.7% | 6.0% | 95 | 123 |
Ozuna is a right-handed hitter, which explains why he's been quite a bit better against southpaws so far in his young career. He does have power — 23 homers in 612 plate appearances while playing your home games is Marlins Park is nothing to sneeze at — but he doesn't draw very many walks, so his OBPs won't be anything great.
As you'd expect given those strikeout and walk rates, Ozuna has swung at 34.3% of the pitches he's seen outside the strike zone the last three years, a bit above the 31.3% league average but not insanely so. Ozuna's chase rate is on par with guys like Robinson Cano (35.3%) and Eric Hosmer (34.8%), and they're quality hitters despite taking some bad swings.
Ozuna's contact rate (73.2%) is much lower than Cano's (85.4%) and Hosmer's (81.7%) though, and lower than the league average in general (79.3%). So while he's not a total hacker who swings at everything like, say, Pablo Sandoval (44.6% chase rate) or Adam Jones (43.3%), Ozuna doesn't have the contact ability to make it work like some other guys.
Here's a snippet off Baseball America's scouting report (subs. req'd) heading into the 2013 season, the last time Ozuna was prospect eligible. They ranked him as Miami's fifth best prospect behind Jose Fernandez, Christian Yelich, Andrew Heaney, and Jake Marisnick.
He has the power to drive the ball well out of any part of the park, though he tends to get pull-happy at times, flying open with his front side instead of staying back and punishing the ball. Plate-discipline issues that plagued him early in his career have eased significantly as he has advanced, though at times he'll revert to guessing and chasing breaking balls down and out of the strike zone. When he swings at strikes, he rarely misses, thanks to excellent hand-eye coordination.
Ozuna's overall contact rate may be below-average, but his career contact rate on pitches in the zone is 85.6%, which is more or less league average (86.7%). So the problem is discipline and not necessarily pitch recognition or bad hitting mechanics. He wouldn't make as much contact in the zone if he couldn't recognize pitches or had an ugly swing.
That is more or less the Alfonso Soriano hitting profile. Ozuna will dive you crazy when he chases sliders off the plate, but man, when he gets something to handle, he does major damage. Soriano is a big time outlier among players with this approach — most guys like this wind up Quad-A types — though Ozuna has over 1,300 big league plate appearances of league average production under his belt. That's not insignificant.
The Baseball America scouting report also praises Ozuna's passion for the game and says he "oozes tools," though his "slightly above-average speed and average instincts" have yet to translate into big stolen totals. He's 10-for-15 in big league stolen base attempts and has only one minor league season with more than eight steals. Ozuna has taken the extra base (first-to-third on a single, etc.) 45% of the time in his career. The league average is 40%.
Ozuna has some serious offensive upside thanks to his power — he has 70 doubles in addition to those 36 career homers, and Marlins Park has done his career .151 ISO no favors — but his lack of plate discipline is a major drawback. It wouldn't be completely unprecedented for a guy like Ozuna to improve his discipline and approach, though it won't be an easy adjustment either. Being a hacker is in his DNA.
The Defense
Ozuna is a pretty big dude — he's listed at 6-foot-1 and 225 lbs. — but he's so athletic that he moves well in the outfield and has rated as an above-average gloveman according to the various defensive metrics. And yes, sample size warnings still apply at this point of his career.
Although he's a natural center fielder, Ozuna has played both right and left field on occasion for the Marlins, so he's familiar with all three outfield spots. Baseball America's scouting report says he also has a "cannon arm," and, well, look:
Oh yeah. That's the good stuff. As much as I love dingers and speed and all that, a rocket arm is the most exciting tool in baseball in by book. Throws like the ones Ozuna is capable of making can be breathtaking at times.
Anyway, Ozuna is a two-way player who offers above-average glovework in addition to his promising power potential and thus far league average offense. The defense is a carrying tool, really. That's the reason Ozuna has contributed 6.5 fWAR in 346 career games, or roughly 3.0 fWAR per 162 games. He's not a guy who needs to hit and hit big to be a positive contributor. His glove alone makes his valuable.
Injury History
Ozuna has suffered three significant injuries in his career and every single one was the result of an aggressive play in the outfield. He broke a bone in his left wrist making a diving catch in the minors in 2010. He then broke the same wrist crashing into the wall in Spring Training 2013. Then, in July 2013, he broke his left thumb and tore ligaments making a diving play.
Hand and wrist injuries are very bad, though the silver lining here is that Ozuna rebounded from the two 2013 injuries to have a stellar 2014 campaign, so there are no lingering effects. It's easy to say these are fluke injuries since they happened on dives and stuff, but Ozuna plays hard, and when you dive in the outfield and crash into walls, you're prone to injuries like this. They're the result of his style of play.
Contract Situation
The Marlins really are a weaselly organization. They're the cartoon bad guy twirling his mustache of baseball organizations. Ozuna got off to a slow start this past season, so Miami took advantage and sent him to Triple-A for six weeks, which was juuust long enough to prevent from becoming a Super Two after the season. He fell six days short of the service time cutoff.
Ozuna was hitting .249/.301/.337 (75 wRC+) at the time of the demotion, so it wasn't entirely undeserved, but the Marlins deserve no benefit of the doubt. They did the same thing with Logan Morrison a few years ago, so this is not the first time they've done it. Scott Boras, Ozuna's agent, ripped the Marlins for their service time shenanigans after the season, then there was the whole thing about the racist recording someone apparently tried to use to get team president David Samson fired. I dunno, man. I'm just the messenger.
So anyway, thanks to that well-timed six-week demotion, Ozuna is currently sitting on two years and 124 days of service time. He has four years of control remaining. One as a pre-arbitration player and then the usual three years of arbitration eligibility. His eventual new team can thank the Marlins for saving them some cash by preventing Ozuna from becoming a Super Two.
What Would It Take?
For what it's worth, Jayson Stark hears the Marlins have put an Ozuna trade on the back-burner for the time being. They're still willing to listen but are no longer actively shopping him. Miami was said to be seeking young pitching for Ozuna, and Jerry Crasnick reports they asked the Mariners for Taijuan Walker, the Royals for Yordano Ventura, and the Indians for Danny Salazar, so yeah.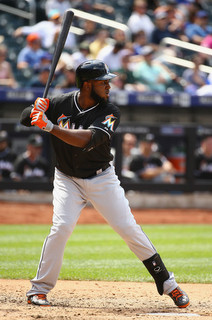 Regardless of what the Marlins are asking, four years of a young two-way outfielder with power potential is pretty valuable, even though the plate discipline issues are a significant red flag. Guys like that don't get traded very often. I've found one comparable trade: Carlos Gomez. During the 2009-10 offseason the Twins traded four years of Gomez to the Brewers for two years of J.J. Hardy, straight up.
In a way, Ozuna now is similar to Gomez then. Both had incredible tools but struggled with plate discipline, and they were both very good center fielders. At the time Gomez was a better defender, but Ozuna has put up much better offensive numbers in his career than Gomez did back then. Gomez is one of those hacky hitters who learned just enough plate discipline to become a very good everyday player. Ozuna has similar upside.
Unfortunately, the Gomez trade doesn't really help us determine Ozuna's trade value. If the Marlins are sticking to their guns about young pitching, the Yankees simply don't have any to offer outside Luis Severino, and that's just not happening. I don't think two years of Michael Pineda would entice Miami given his injury history, not without a really nice second piece.
Wrapping Up
The Yankees have been targeting these young, talented, out of favor players over the last year or so and Ozuna fits the bill perfectly. The only real issue is that they're already loaded with outfielders, both at the MLB and Triple-A levels. Acquiring Ozuna means the Yankees almost would have to trade Brett Gardner just to make the roster work.
I do like Ozuna's tools — how could you not? — and I think he could do some real damage in Yankee Stadium. Add in the strong defense and you've got a nice player on your hands. That he hits right-handed and would balance New York's lineup is a bonus. The plate discipline problem is real though, and it creates a lot of risk. Ozuna's pretty boom-or-busty.
On paper, Ozuna is the type of player the Yankees have been acquiring of late. He's very much available — Loria is said to hate Ozuna, and if the owner hates you, you're pretty much a goner — but finding a deal that works with the Marlins won't be easy, especially if they stick to their young pitcher demand. I get the feeling we'll hear the Yankees connected to Ozuna again in the coming weeks.