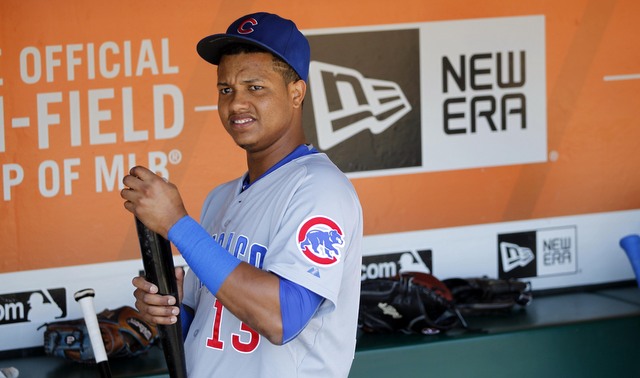 For the second time this offseason and the fifth time in the last 13 months, the Yankees have brought in a change-of-scenery player to add youth to the roster. New York acquired Starlin Castro from the Cubs on Tuesday night, sending Adam Warren and a player to be named later to Chicago. Both teams have announced the trade, so it's official. Officially official.
Castro, 25, joins Didi Gregorius, Nathan Eovaldi, Dustin Ackley, and Aaron Hicks as young players the Yankees have acquired in trades since last November. All five are talented — they've all appeared on at least one Baseball America top 100 prospects list, for what it's worth — and all five fell out of favor with their former teams. The Yankees swooped in and picked them up as part of their on-the-fly rebuild.
This past season Castro hit .265/.296/.375 (80 wRC+) with eleven home runs in 578 plate appearances. He started the season as Chicago's shortstop and stayed there for 109 games before being moved to second base. Castro hit .353/.373/.588 (161 wRC+) with six home runs in 42 games after changing positions. Obviously the Yankees are hoping to get that guy going forward.
"He looked like a different player after the position change," said Brian Cashman to reporters Tuesday evening, after the trade was announced. "I like that he's athletic. I like his age. (I like that he) can play multiple positions and adds balance to lineup. He's a contact-oriented player. He's a free swinger, but a contact (freak) … (Castro) checks a lot of boxes — youth, flexibility."
The various defensive stats consistently rated Castro as a below-average defender at short. He only played 258 innings at second base, so looking at numbers would be useless at this point. I reckon his second base defense can't be any worse than what the Yankees were looking at from the Ackley/Rob Refsnyder platoon. Castro is signed through 2019 for $41.4M with a 2020 club option worth $16M. That's pretty affordable by today's standards.
Castro's a former tippy top prospect with big upside, so the appeal is obvious. There's also major downside too: he's been one of the worst players in baseball two of the last three years by WAR. His good years have been good but not great (117 wRC+ and 2.8 fWAR in 2014) and his down years have been abysmal (74 wRC+ and 0.1 fWAR in 2013). Special assistant Jim Hendry was the Cubs GM when they signed, developed, and summoned Castro to MLB, so he surely had input into this move.
In Warren, the Yankees are giving up a valuable and a versatile arm capable of doing pretty much anything. Start, long relief, middle relief, setup … Warren's done it all for the Yankees the last few seasons. The 28-year-old had a 3.29 ERA (3.59 FIP) in 131.1 innings spread across 17 starts and 26 relief appearances in 2015. He was arbitration-eligible for the first time this offseason and is projected to earn $1.5M in 2015. Warren is three years from free agency.
Although the Yankees were planning to bring Warren to Spring Training as a starting pitcher, he was likely no higher than sixth on their rotation depth chart behind Masahiro Tanaka, CC Sabathia, Michael Pineda, Luis Severino, and Eovaldi in whatever order. Still, Warren's shown he can succeed in pretty much any role, so he was going to have a important place on the roster in 2016. He'll be missed.
At this time of the year, a player to be named is usually a non-40-man roster player who is eligible for the Rule 5 Draft. That's not the case here though. Joel Sherman says Brendan Ryan will be the player to be named. They're holding off because the Cubs don't want to fill another 40-man spot before Thursday's Rule 5 Draft. Once the draft passes, Ryan will go to Chicago. The Yankees will have two open 40-man spots when it's all said and done.
Ryan, 33, hit a weak .229/.275/.333 (64 wRC+) in 47 games and 103 plate appearances around a variety of injuries in 2015. He makes his money in the field with his glove, not at the plate. Castro will be the starting second baseman but also figures to double as Gregorius' backup at short. That would make Ackley and/or Refsnyder the backup plan at second base. We'll see how that shakes out.
An Ackley/Refsnyder platoon was somewhat intriguing, but I also think it was one of those things that sounds okay in December and leaves you pulling your hair out in May. There's a lot of risk here. Warren's going to be tougher to replace than I think many realize, and Castro has been more down than up in recent years. There's also some crazy high upside. Castro's a high-level talent and is about to enter what should be his prime years.