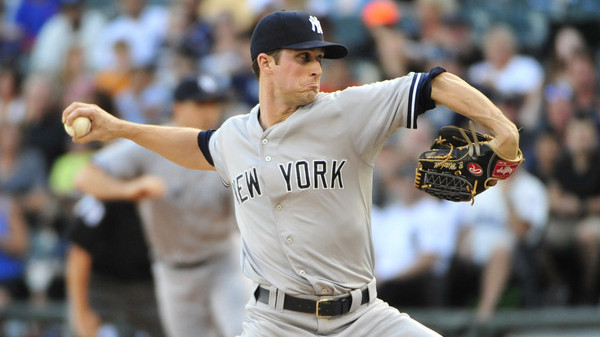 Somewhat surprisingly, the Yankees traded away both Adam Warren and Justin Wilson on back-to-back days last week. I say somewhat surprisingly because although Warren and Wilson never felt untouchable, at least not to me, it didn't seem like they would be moved given their effectiveness and years of cheap control. Both were valuable members of the staff in 2015.
The Yankees did trade both though, and regardless of how you feel about the trades, you don't have to try too hard to understand them. Warren was traded for 25-year-old middle infielder who has already gone to three All-Star Games and is signed affordably for another four years. Wilson was dealt for two Triple-A starting pitcher prospects to rebuild depth.
I understand the trades, though that doesn't change the fact the Yankees traded away two pretty good pitchers who were expected to throw important innings next season. There was always a chance Warren could have ended up in the rotation, but, at the very least, he and Wilson were two of the team's four best relievers. They'd be two of the three best on many teams.
"You lost two really important pieces," said Joe Girardi to Ryan Hatch. "Wilson did a tremendous job in the seventh inning and Adam went between starter and bullpen, and was the guy that we could turn to in the bullpen and either be a seventh, eighth, or ninth if we didn't have that guy … Obviously I'm going to miss Adam. There's a relationship there. But to get something good we had to give up something good."
Soon after the trades, Nick Ashbourne pointed out Warren and Wilson combined to be Francisco Liriano this past season, and that kind of production is not easy to replace. Are the Yankees good at building bullpens? Oh yes, absolutely. They've been very good at it in recent years. I'm pretty confident they can adequately replace Warren and Wilson. I'm just really curious to see how they do it.
Internal options are plentiful and lately Plan A has been trying to find help from within. To me, the trades represent big opportunities for Bryan Mitchell and Jacob Lindgren. Mitchell will have a chance to step right into that swingman role Warren filled so capably. Lindgren is the obvious candidate to replace Wilson as the lefty setup guy who can throw full innings. The Warren and Wilson trades can be viewed as votes of confidence for Mitchell and Lindgren.
At the same time, it is only December 15th, so the Yankees still have several weeks to look outside the organization for help, and I'm sure they will. At this time last year I don't think any Yankees fans even knew Chasen Shreve existed. I know I didn't. The Yankees picked him up in early-January and he had five really good months in pinstripes. I would honestly be stunned if they don't bring in some sort of big league pitching help between now and Spring Training.
Will that soon-to-be-acquired pitching depth plus internal options like Mitchell, Lindgren, and all the other relievers on the 40-man roster adequately replace Warren and Wilson? Maybe! Who knows though. Heck, 2016 Warren and Wilson might not replace 2015 Warren and Wilson. Relievers are notoriously unpredictable. The Yankees believe they can replace those two though. The trades wouldn't have been made otherwise.
Losing Warren and Wilson is pretty scary, especially since none of the shuttle relievers impressed this summer and no one in the rotation seems capable of going 6+ innings consistently. I'd be lying if I said I was comfortable with the bullpen as is, even with Dellin Betances and Andrew Miller holding down the late innings. Lots of games are lost in the middle innings. We're not going to know whether the Yankees adequately replaced Warren and Wilson until the season starts, but, right now, it's clear there's work that needs to be done to replace two high-leverage arms.
"Are those guys in place yet? No," said Girardi when asked about replacing Warren and Wilson, "but I think they will be by the time we start the season."