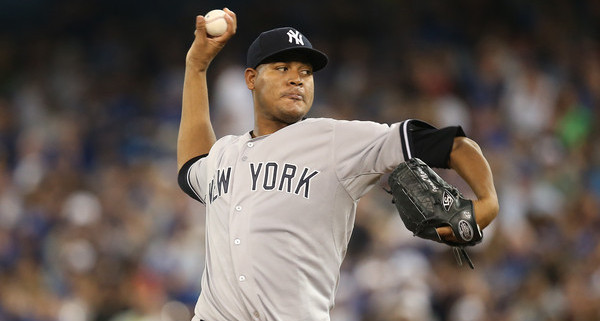 Do you know who led the Yankees in innings this past season? CC Sabathia. He threw 167.1 of them. That's the fewest innings thrown by the team leader in a non-strike season in franchise history. Masahiro Tanaka led the Yankees by averaging 6.42 innings per start with Michael Pineda a distant second at 5.95. No other Yankee was over the 5.85 AL average.
Length from the rotation was a big problem last season. We saw it daily and talked about it nearly as often. The bullpen was being asked to get 10-12 outs a night, it seemed. Even if the Yankees do manage to add another starter this offseason, they'll head into next season with largely the same starting staff, only a year older and with somehow with more health concerns thanks to Nathan Eovaldi's season-ending elbow issue.
Getting more innings and length from the rotation is necessary but probably unrealistic. Even when healthy, Eovaldi struggled to complete six innings. Joe Girardi was quick to pull Sabathia after two times through the lineup, and you can be sure Luis Severino will be handled with kid gloves. A few weeks ago Brian Cashman said Ivan Nova was the starter most likely to give the team 200 innings in 2016, which made me laugh until I realized it was true.
The Yankees were able to alleviate the heavy bullpen workload last season with the Scranton shuttle. They always had a fresh reliever or two available because they were swapping out arms almost daily. The Yankees could use the same plan of attack next season — in fact, I'm pretty sure they will — but that only helps so much. Those guys only fill the last bullpen spot or two. They aren't the core relievers.
Going forward, the best approach may be to load up on potential multi-inning relievers, guys who can go three innings or 50 pitches every three days or so. A long man, but someone good enough to pitch with a small lead (or deficit). The Yankees had the perfect guy for this job in Adam Warren, but he's gone now. In fact, his new team, the Cubs, now have Warren, Trevor Cahill, and Travis Wood in the bullpen. All three can go multiple innings.
Either the Cubs are ahead of the curve — starters in general are throwing fewer innings each year, so a bullpen of one-inning relievers won't cut it much longer — or it's just a coincidence. (It's the former. Theo Epstein & Co. are pretty smart.) Finding relievers who can throw multiple innings and are good enough to see high-leverage work is really hard. Warren was crazy valuable. Find two or three guys like him will be damn near impossible.
Among players currently in the organization, Nova and Bryan Mitchell stand out as the best candidates for a multi-inning relief role in 2016. Nova has good stuff and rather than stick him in a one-inning role, why not let him face 9-12 batters each time out? That may be the best way to maximize his production. Plus it would keep him stretched out a bit in case he's needed in the rotation. Same applies to Mitchell.
Looking at free agent possibilities … yeesh. First of all, you have to find guys who probably aren't good enough to start — if they are good enough to start, they'll get jobs as starters — but are good enough to throw two or three innings at a time in relief. Tim Lincecum stands out as a candidate for that role, though he's coming off hip surgery and may not be ready for Spring Training. Joe Blanton? Don't laugh, he had a 2.04 ERA (2.56 FIP) in 57.1 innings across 32 relief appearances in 2015. Justin Masterson? Carlos Villanueva?
In a perfect world, the bullpen would be something like Dellin Betances and Andrew Miller, three guys who can give you two or three innings at a clip and 100-110 innings over the full season, a shuttle reliever, and a mop-up guy for games that get out of hand. That's not going to happen though. It doesn't change the fact the Yankees probably won't get many innings from the rotation next season.
The one-inning middle reliever model is slowly dying. Relievers who can throw multiple innings are no longer luxuries. They're becoming necessities.