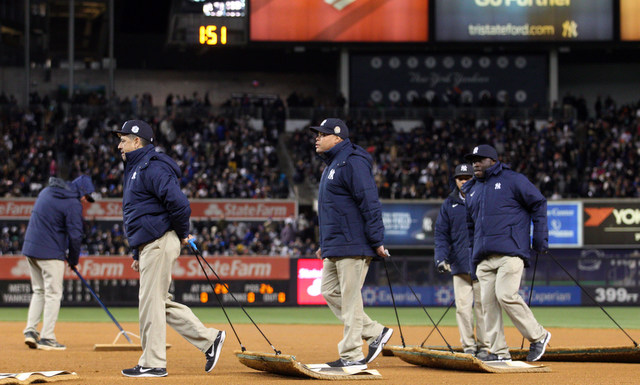 With Spring Training approaching and negotiations for the next Collective Bargaining Agreement soon to commence, we're going to start hearing about a lot of league-wide issues in the coming weeks. Last week we learned the trade deadline has been moved back (one day) and that there is some momentum for the DH being adopted in the NL. Here are some more league notes.
More pace-of-play changes coming
According to Joel Sherman, more rule changes to improve pace-of-play are in the works. Nothing is final but MLB and the MLBPA are working towards an agreement. The two sides are discussing two items in particular: speeding up pitching changes and reducing the time between innings. The latter is kind of a big deal because it cuts into commercial time.
In a nutshell, MLB wants managers to walk to the mound and signal for a pitching change more quickly. It's possible there will be a time limit for making a pitching change. They want to cut down on stall tactics, basically. As for the time between innings, Sherman says the between-innings clock will be reduced from 2:25 to 2:05 for non-nationally televised games. Kinda surprised the league and owners are okay with that.
The average time of game dropped from three hours and two minutes in 2014 to two hours and 56 minutes in 2015 thanks to the new pace-of-play measures. The between-innings clock was installed and batters were forced to keep one foot in the batter's box between pitches. I don't think pace-of-play is a huge problem, but it can be improved. The goal is to reduce downtime within games and I'm all for it.
MLB investigating whether to raise the strike zone
In an effort to combat the continually dropping strike zone, MLB is investigating whether to raise the bottom of the zone from the bottom of the kneecap to the top of the kneecap, reports Ronald Blum. Jon Roegele's done some great work in recent years studying the strike zone. The bottom of the zone dropped each year from 2009-14 before leveling off in 2015.
"I'm not in a position to predict whether it's going to happen or not," said commissioner Rob Manfred to Blum. "I think that the interest in the topic is really driven by the fact that if you look over time there has been a movement down of the strike zone, largely as a result of the way we evaluate the strike zone with umpires."
Offense has been declining for years — it did tick up ever so slightly in 2015 — and raising the bottom of the zone slightly could help change that. Not only are more low pitches being called strikes, but hitters have to protect against those pitches now, and it's really tough to drive a low pitch with authority. Any change in the zone has to be collectively bargained, so if they do makes adjustments, we probably won't see them until 2017 at the earliest.
MLB looking to play games in London in 2017
The league is currently looking at the possibility of playing regular season games in London during the 2017 season, reports Blum. "We are very interested in playing there, and we're working hard on that one. I don't think it will be an opener because of the weather issues. It would be later in the season," said Manfred. "We haven't really settled on teams, and I don't want to speculate about that. Obviously, we want to make as good a first impression in Europe as we possibly can."
Olympic Stadium, which was built for the 2012 London Olympics, would be the site of potential MLB games. The facility is currently being renovated and will have a seating capacity of 54,000 when it re-opens later this year. In recent years MLB has played regular season games in Japan, Puerto Rico, and Australia, and Manfred has made globalizing the game a priority. And anytime there is talk of playing overseas, there's the potential for the Yankees to be involved given their immense popularity.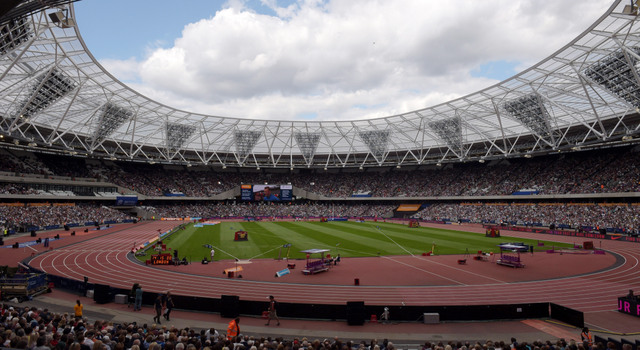 Revenue sharing a contentious topic in CBA talks
The current CBA expires December 1st, and, at the owners' meetings last week, MLB spent time preparing a bargaining strategy for the revenue sharing system, reports Blum. It's said to be a contentious issue because several big market teams are not happy with the way small market teams appear to be using their revenue sharing dollars. Negotiations between MLB and the MLBPA about the new CBA have not yet begun. They're expected to start during Spring Training.
"You try to be creative about how you address their concerns, and you re-emphasize to people that we have a democratic process and we have to move forward as a whole at the end of the day," said Manfred. "(Revenue sharing) helped produce tremendous competitive balance in our sport, and I think as of a result of those two realizations, it's less controversial among the clubs than it probably was 20 years ago."
The Yankees are among the largest contributors to revenue sharing — Forbes says they paid $95M into the system in 2014 — and while the team hasn't been vocal about their unhappiness with the system, they are trying to get under the luxury tax threshold, which would trigger some revenue sharing rebates. The Marlins are most often cited as a club that receives revenue sharing payments but doesn't put all the money back into the team.
Homeland Security meets with MLB over safety concerns
During the owners' meetings last week, Homeland Security Secretary Jeh Johnson met with the owners to discuss ways they can make ballparks even safer, reports Blum. MLB mandated metal detectors at all 30 ballparks last year, which made getting inside a total pain in the ass. "Our space outside the stadium is pretty cramped, but we're going to do what we're asked to do," said Hal Steinbrenner.
Marlins president David Samson told Blum that Johnson informed the owners they could drastically improve security by not allowing fans to bring in bags, eliminating concession workers, checking cars parked in nearby lots, and limiting traffic around the ballpark, all of which is hilariously unrealistic. I understand the concern, I do, but man, I've never felt unsafe at a stadium. I don't want to go to games and feel like I'm at an airport. Thankfully, it doesn't sound as though any additional security measures will be put in place this coming season.