Got 13 questions in the mailbag this week. Remember to use the RABmailbag (at) gmail (dot) com email address to send us anything at any time.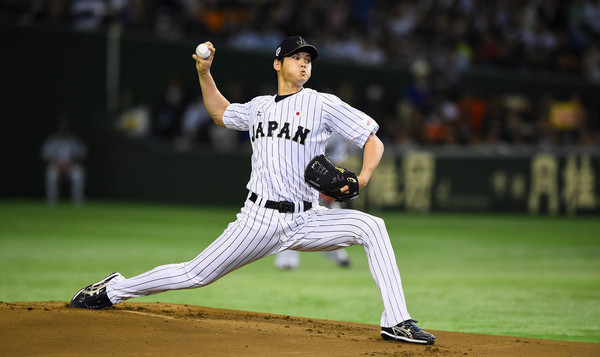 Toshiki asks: I'm Japanese and the Japanese media this week reported that Yankees are prepared to commit around $300m for Shohei Otani. I'm not concerned about the authenticity of the report but my questions are: 1. do you think the Yankees would be interested in signing him (depends on when he'll get posted) and 2. if he does sign, do you think Yankees would spend THAT much money on him?
Yes, I do think the Yankees would be interested in signing Otani. Like you said though, he has to be posted, and I don't think that will happen anytime soon. Otani is only 21 and he is still six years from international free agency. Thanks to the posting system, the Nippon Ham Fighters are getting the same $20M release fee regardless of whether they post him next offseason or four offseasons from now. Might as well hang onto him a little longer.
As for the $300M question, no way. I don't think any team would go that high. We're just now getting the point of $200M contracts for pitchers, and those are going to Cy Young winners in the prime of their careers. Otani is very young and that's very appealing, but man, I don't think we're at the point of $300M for pitchers yet. Would, say, Noah Syndergaard get $300M if he became a free agent tomorrow? I doubt it.
Otani is a two-way player for the (Ham) Fighters, often playing the outfield on the days he doesn't pitch. He does own a career .245/.300/.429 batting line with 18 homers in 557 plate appearances, but his future clearly lies on the mound. Otani's a potential MLB ace with a triple digit fastball and a dizzying array of offseason stuff. To the action footage:
By all accounts Otani is the best pitcher in the world not under contract with an MLB team. He had a 2.25 ERA with 196 strikeouts and only 33 unintentional walks in 160.2 innings last season. Whenever he gets posted, I expect the bidding to be fierce, and it's very possible he will end up with a $200M+ contract. I would be floored if he broke the $300M barrier though. I feel like we're still a good eight or ten years from that happening. Maybe longer.
Keith asks: You've mentioned the Yanks adding two new minor league affiliates recently. Is there a cap on how many minor league teams an MLB club can own or use? Could the yanks have a dozen or more minor league teams in their stable?
Technically, no, there is no cap on the number of minor league affiliates an MLB team can have. (MLB teams don't own all of their affiliates. They usually form player a development partnerships with independent minor league franchises.) The issue is minor league baseball is a zero sum game. There are only so many affiliates to go around. Adding an affiliate means another team loses an affiliate, and teams usually don't shortchange themselves in the minors.
The Yankees were able to pick up their second Gulf Coast League team a few years ago because the Mets shut down their GCL affiliate in a cost cutting move. (Not joking.) They added their Pulaski affiliate last year because the Mariners pulled out of the Appalachian League. The Yankees had to wait for another team to drop one of their affiliates before they could add another. Player development contracts are usually long multi-year deals, so it's not like a bunch expire each winter either.
Right now the Yankees have ten minor league affiliates (Triple-A Scranton, Double-A Trenton, High-A Tampa, Low-A Charleston. Short Season Staten Island, Rookie Pulaski, two GCL teams, two Dominican Summer League teams) and that's a ton. Most teams have six or seven. I'm not sure if adding any more is practical.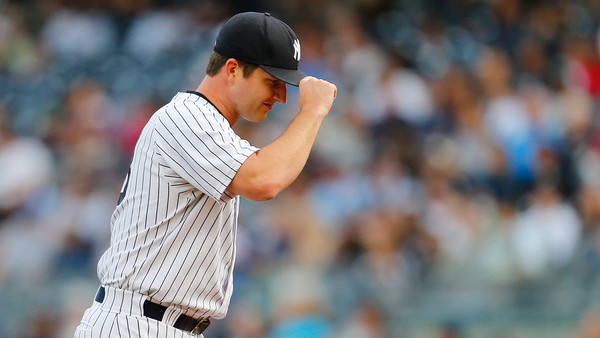 Ross asks: Knowing that the Cubs were just as interested in trading for Brett Gardner as they were for Adam Warren in the Castro trade, which player would you have rather traded at that time? Has your opinion changed with the way the rest of the offseason played out?
This is an interesting question. Gardner is the more valuable player in my opinion, but the Yankees have a greater need for a Warren type. They have plenty of outfielders. The Yankees could have plugged Aaron Hicks into left field, or Dustin Ackley, or some combination of Slade Heathcott and Mason Williams and Ben Gamel. At the same time, the Yankees also have a ton of bullpen arms they can stick in Warren's spot, but not all of those guys can start. Bryan Mitchell, Brady Lail, and Luis Cessa are the only true rotation candidates of the bunch. At the time I much preferred trading Warren to trading Gardner. Now I wonder if sending Gardner would have been the better move from an organizational depth standpoint. (Of course, I didn't love the idea of trading either for Starlin Castro, but it is what it is.)
Alex asks: Assuming that none of the presumed starters get hurt in spring training, could/should the Yankees send Nova to Scranton for the dual purpose of keeping him stretched out and also manipulating his service time? His service time is 5.024 (according to Cots) so it's close enough where the team could delay free agency for a year if he stayed in the minors for a month plus.
They can't. Ivan Nova is out of options, so they'd have to pass him through waivers to send him to Triple-A, and I don't think they'd do that. There's a decent chance Nova would get claimed even with his $4.1M salary, and they couldn't risk losing the depth. Also, players with more than five years of service time can decline minor league assignments. So even if Nova had an option, he could refuse the assignment and force the Yankees to keep him in MLB. If possible, yeah, of course it would be worth it to send Nova down for a month (36 days to be exact) to delay free agency. It won't happen though. Nova would refuse the assignment.
Tom asks: You did not have Ty Hensley in your top 30. Do you think there is any hope to regain his status as a prospect and what should we look for in 2016 to consider it a success?
Hensley has thrown 42.1 innings since being the 30th overall pick in the 2012 draft, so we're talking about three and a half pro seasons here. That is a ton of missed development at a crucial age. History suggests most pitchers are unable to make it back after a layoff that significant and those who do often come back as much less than what they were before getting hurt. (Steven Matz is the most notable recent exception.) Given his history, simply staying on the field and throwing 80-something innings in 2016 would qualify as a success for Hensley in my book. I like Hensley and I'm rooting like hell for him, but man, it's hard to expect him to develop into a big league pitcher at this point.
Vince asks: Am I misremembering (thanks roger) or did judge's aaa struggles begin after an ankle(?) injury?
It was a lower back issue, apparently. Aaron Judge did not play from July 17th to July 26th last year, and he told Shane Hennigan at the time he wasn't hurt, just "tight." Hennigan said he saw Judge in the clubhouse with his lower back wrapped, for what it's worth. Judge had been in Triple-A for barely a month at the time. He hit .275/.358/.388 (117 wRC+) with an 18.9% strikeout rate in 95 plate appearances with the RailRiders before the injury and .208/.288/.365 (90 wRC+) with a 32.2% strikeout rate in 177 plate appearances after returning. The back injury certainly could have played a role in his Triple-A struggles, though most scouting reports indicate it was an approach issue more than a physical issue.
Adam asks: No one in the minors close or anyone on the current roster that can actually play third and he's signed for 3 more years. Is there anyone Yankee on the current roster that has more job security than Chase Headley?
Yeah, the veteran players with huge contracts, especially those who have been great players in the past. CC Sabathia, Mark Teixeira, Alex Rodriguez, Jacoby Ellsbury, guys like that. The Yankees have shown they'll stick with those guys no matter how poorly they perform, even when they have viable alternatives. That's real job security. When there are potentially better options and the team sticks with you anyway. There's no one to push Headley for playing time at third, but if there were, I think the Yankees would go with their best option.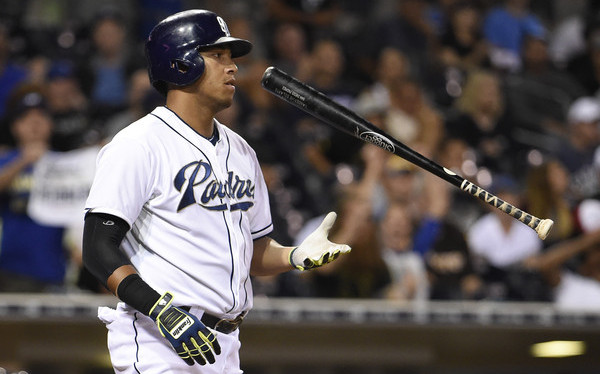 Samuel asks: In 20/20 hindsight, assuming Solarte posted identical stats in pinstripes over the last year and a half as he did with the Padres, would the Yankees have been better off keeping him?
Well yeah, in hindsight they should have kept him, except there was no reason to think Yangervis Solarte was anything more than a fringy Major Leaguer who got hot for a few weeks at the time of the trade. He hit .180/.264/.256 (49 RC+) in the two months leading up to the trade and had to be sent to the minors for a few weeks. Solarte looked like a journeyman who had a few good weeks and reverted back to being a career Triple-A type. He deserves a ton of credit for getting where he is right now. Based on what we knew at the time, I still make that trade every day of the week. Guys like Solarte are found money and you flip them for some more established players every chance you get.
Paul asks: What's the highest uniform number ever worn by a Yankee in the regular or post season? With the revolving door of the bullpen and 25th-man expected this year, do you see that number going higher?
Brian Bruney wore No. 99 for a little while back in 2009. So did Charlie Keller back in 1952. The highest number worn by a Yankee for multiple years is No. 91 by Al Aceves, though he had only one full season in pinstripes (2009) and several partial seasons (2008, 2010, 2014). The highest number worn by a regular player for multiple years are No. 65 (Phil Hughes) and No. 68 (Dellin Betances). It's No. 55 for position players (Hideki Matsui and some others). Here's the team's full uniform number history. Between the shuttle and retired numbers and whatnot, it seems like we're seeing more and more players with numbers in the 60s and above these days. I can't imagine that'll change anytime soon.
Michael asks: The Rangers are exploring the market for Outfielders. Obviously Brett Gardner's name has come up quite a bit during the offseason. Would you trade Gardner for a Texas starter such as Chi Chi Gonzalez? Yes, I know, MTPS.
I don't think the Yankees would do that. Gonzalez is not their type of pitcher. They love their hard-throwing strikeout guys and he's kind of a generic low-90s fastball guy who fanned only 17.5% of batters face in Double-A and Triple-A the last two years. The idea is good, trading Gardner for a young starter, though I don't think Gonzalez is that starter.
Also, I don't think the Rangers would go for Gardner either. They're said to be looking for outfield depth in the wake of Josh Hamilton's latest knee issue — he had knee surgeries in September and October, and reported some discomfort the other day — but are looking at scrap heap guys like Will Venable. Gardner has a hefty contract and I don't get the sense Texas is looking for that kind of commitment. I still think the Angels are the best bet for a Gardner trade.
Travis asks: Since Bird's health cant be counted on for 2017 (or beyond), I was wondering if Yulieski Gurriel could be an option for first base? I don't think he has experience there, but he seems like a good athlete and he has experience at second and third base, which COULD translate to first base.
Gurriel has played mostly second and third bases in his career — he also played some center field years and years ago — so I suppose he has the hands for first base, but there's no real way to know. As we've learned the last few years, first base is tougher than it looks, especially if you've never played it before. I thought Alex Rodriguez was going to pick up first base super quick last year and that didn't happen even though A-Rod is a baseball playing robot. I'm a Gurriel fan and would like to see the Yankees sign him to play … somewhere. Make it work. If that includes first, so be it.
Michael asks: Wouldn't it make sense for the Yankees to look at extending a few of their young players (specifically Gregorius, Pineda and/or Eovaldi), especially given their emphasis on getting under the luxury tax in an upcoming year?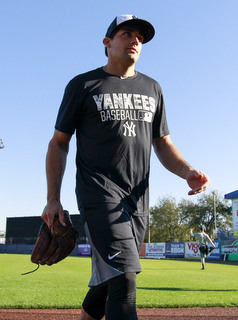 Yes, I think so. I've written about possibly signing Michael Pineda and Nathan Eovaldi long-term because they're young, they're theoretically getting better, and they're only under team control another two years. The Yankees lack controllable pitching beyond 2017 — it's Luis Severino and, uh, James Kaprielian maybe? — and neither of those two are in position to command a huge contract right now. Seems like a good opportunity to lock them in at affordable rates.
As for Gregorius, I think it's a question worth asking, though going year to year with him might not be a terrible idea. Unless his offense really takes off, Didi's not going to get huge arbitration raises because defense still doesn't pay. He's going to make only $2.425M this year, so he might end up pulling down something like $25M total during his four arbitration years. (That's a $2.5M per year raise.) Is it worth the risk to sign Gregorius to, say, a five-year contract worth $30M or so? Doing so actually hurts the luxury tax situation the next two years since the average annual value is higher than his projected salaries.
Given their financial situation, I tend to think the Yankees should only focus on signing their budding stars long-term, like they did with Robinson Cano. He was a young player who had yet to blossom but clearly had big time ability. Does Gregorius have that? I don't think so. Extending Eovaldi or Pineda would make sense because the Yankees are short on pitching. It might be worth waiting another year with Didi to mitigate the risk.
Dan asks: I think it's pretty clear that, aside from Jeter, no additional players deserve retired numbers. What other players do you see the Yankees honoring with plaques. Graig Nettles' name seems to get mentioned a lot as a candidate for a plaque. How about Matsui and Moose?
Nettles is the big one, I think, especially since he's in the "hey maybe this guy's number should be retired" conversation. The problem with the plaques is I feel like if Tino Martinez got one, a lot of people deserve one, including Nettles, Matsui, Mike Mussina, and David Cone. That's not a great way to look at it, I know, but that's the established standard for a plaque. A-Rod should absolutely get one. But will he? I doubt it. Couldn't you make a case for CC Sabathia getting a plaque since he was the ace on a World Series winning team and the club's best pitcher for a half-decade? Nettles definitely deserves one in my opinion. So does A-Rod, and I think Cone as well. After them, I'd be okay with no plaque for Matsui or Moose, even though they were both awesome.