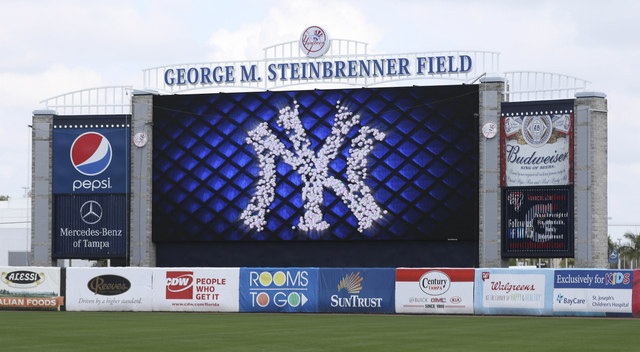 The long marathon that is the 2016 season will begin Thursday, when Yankees pitchers and catchers report to Tampa for Spring Training. Position players will follow next Wednesday. The first Grapefruit League game will be played March 2nd, two weeks from Wednesday. Real live baseball is coming soon.
This spring the Yankees will not have many position battles to follow. Their nine starting position player spots are set, the five rotation spots are pretty much set, the back-end of the bullpen is set, and two of four bench spots are set. It might even be three of four. You could argue as many as seven roster spots are up for grabs. In reality it's probably more like four. Here are the three battles to watch.
The Backup Catcher
The Yankees have had some pretty good backup catchers in recent years, from the defensive-minded Jose Molina to the occasionally great Frankie Cervelli to the solid all-around John Ryan Murphy. Murphy is now a Minnesota Twin, meaning the backup job will go to Gary Sanchez, Austin Romine, or non-roster invitee Carlos Corporan. Sebastian Valle, another non-roster player, is the deep sleeper. He's an outstanding defender and the Yankees value catcher defense highly.
Sanchez had a strong 2015 season in terms of production, development, and maturity, which helped make Murphy expendable. Brian Cashman said he would "like to unleash the Kraken" this year, referring to Sanchez, but there are big picture aspects to consider. Is Sanchez the best backup catcher candidate? The answer is almost certainly yes. Is sending Sanchez to Triple-A for a few weeks a good idea? That answer is almost certainly yes as well.
A total of 35 days in the minors this season will delay Sanchez's free agency another year. Thirty-five days in 2016 equals control of Sanchez's age 29 season in 2022. That's a long time away and who knows whether Sanchez will be worth keeping around in 2022, but 35 days? That's it? Sending him down for five weeks to gain control of his age 29 season is a no-brainer in my opinion. It's a little 2016 pain for potentially a lot of 2022 gain.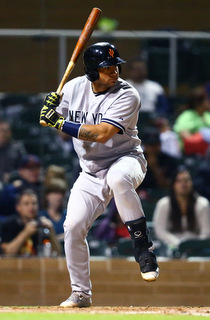 Keep in mind five weeks for a backup catcher equals maybe six or seven starts. The Yankees have a ton of April off-days like they do every year — five in first four weeks! — so keeping Brian McCann in the lineup will be rather easy. Those six or seven starts might actually be more like four or five starts. Is sacrificing four or five Sanchez games in 2016 worth it to gain control of his age 29 season? Hell yes. The system makes this an obvious move.
Romine and Corporan, Sanchez's two chief competitors, are in different situations. Corporan is on a minor league contract and can be easily stashed in Triple-A for depth this season. Romine is on the 40-man roster and out of options, meaning he can't go to the minors without being exposed to waivers. That was the case last year, when Romine did slip through waivers unclaimed, but since this would be his second outright assignment, he could elect free agency.
If he doesn't make the team, Romine in all likelihood would elect free agency and look to join a team that offers a greater big league opportunity. With McCann and Sanchez in tow, it's hard to see how any upper level catcher gets MLB time in the Bronx without an injury. The position is locked down for at least three more seasons (the duration of McCann's contract). I see four possible outcomes for the spring backup catcher competition:
The Best Team: Sanchez in MLB with Corporan in Triple-A and Romine out of the organization.
The Most Depth: Romine in MLB with Sanchez and Corporan in Triple-A.
The Eh I Get It Plan: Corporan in MLB with Sanchez in Triple-A and Romine out of the org.
The WTF Plan: Valle in MLB with Sanchez and Corporan in Triple-A and Romine out of the org.
As best I can tell Corporan does actually have a minor league option remaining, so the Yankees could carry him as the backup catcher for some period of time, then send him down once Sanchez's service time is in a good place. They would still presumably lose Romine, but at least they'd keep Corporan.
Now, if Corporan does not have an option left — that's possible, this stuff can be difficult to pin down — then the Yankees would need to drop him from the 40-man roster when the time comes to promote Sanchez. Going with the Eh I Get It Plan means the team could be faced with the possibility of losing Romine and Corporan once Sanchez is called up.
Maybe that's no big deal. Romine and Corporan aren't great by any means, but I do think you need an extra catcher or two in the organization. The Yankees got really lucky with McCann and Murphy last season — those two combined to catch every inning of every game in 2015 — and I wouldn't count on that kind of health again. It just doesn't happen at catcher. It's a brutal position.
Carrying Sanchez as McCann's backup likely gives the Yankees the best possible team to start the season. The benefit of manipulating his service time — especially since we're only talking about losing him for a handful of actual starts — means sending him to Triple-A to start the season is the best thing for the organization long-term. Rolling with Romine or Corporan for five weeks is the price to pay for Sanchez's age 29 season, and that's not bad at all.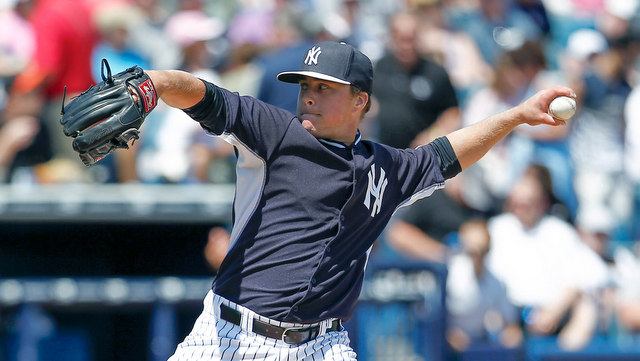 At Least Three, Likely Four, Maybe Five Bullpen Spots
At some point soon we're going to hear something about Aroldis Chapman's seemingly inevitable suspension. Rumor has it commissioner Rob Manfred will hand down the suspension before Spring Training, meaning it could be any day now. Chapman will not be charged with a crime stemming from his October domestic dispute incident but that's irrelevant. The collectively bargained Domestic Violence Policy explicitly says no arrests or charges are necessary for a suspension.
It seems very likely Chapman will be suspended for some length of time. How long? Your guess is as good as mine. (I've seen a few reporters suggest a 15-game ban is coming.) Either way, any sort of suspension opens a bullpen spot come Opening Day. Right now the Yankees have Chapman, Andrew Miller, Dellin Betances, and Ivan Nova locked into spots, leaving three open three bullpen spots. Chapman's suspension would make it four open spots and an injury to a starter would make it five since Nova would have to jump into the rotation.
For the purposes of this post, let's just assume the rotation stays healthy and Nova is indeed the long man come Opening Day. A reach? Eh, maybe. We'll deal with the injuries as they come. Regardless of the number of open bullpen spots, the Yankees have no shortage of relief options this year. Check out the list of bullpen candidates coming to camp this spring:
On the 40-man (12): Johnny Barbato, Vicente Campos, Luis Cessa, Nick Goody, Jacob Lindgren, Bryan Mitchell, Tyler Olson, James Pazos, Branden Pinder, Nick Rumbelow, Chasen Shreve, Kirby Yates
Non-roster players (9): Richard Bleier, Tyler Cloyd, Chad Green, James Kaprielian, Brady Lail, Diego Moreno, Vinnie Pestano, Anthony Swarzak, Tyler Webb
Some of those guys are more likely to land a big league job than others — Kaprielian won't be breaking camp with the Yankees, for example — but they'll all be in Spring Training and therefore theoretically capable of winning a roster spot.
The Yankees have relievers of all shapes and sizes. Righties, lefties, strikeout guys, ground ball guys, guys with big league experience, guys who has yet to pitch above Single-A … you name it and the Yankees will have it in camp this year. And here's the thing: aside from Shreve, who was so excellent the first four and a half months last season, I'm not sure anyone has a leg up on a spot.
It's great the Yankees have so many bullpen options, because they're inevitably going to need them. This is a position battle that won't ever end. The Yankees once again figure to employ a bullpen shuttle this year to ensure Joe Girardi always has a fresh arm or two available, meaning whoever wins a spot on the Opening Day roster may only be there short-term. I can't imagine that's comfortable for the players, but that's life. That's the way the roster is built.
My guess is Shreve will get one of the open bullpen spots barring a catastrophic showing in camp. The other open spots could be decided by Spring Training performance (as silly as that may be) and roster considerations. The Yankees may not want to free up 40-man space just yet, for example. They open the season against the Astros and could opt to carry an extra lefty (for Colby Rasmus, Luis Valbuena, Jason Castro, etc.) before going with an extra righty for the second series of the season against the Tigers (almost their entire lineup is right-handed). We'll see.
Spring Training will be an audition for all of those pitchers. Even Kaprielian, who wants to make a strong impression as he prepares for his first full pro season. If you don't win a bullpen job in camp, you still want to put yourself in position for an early call-up. Make the Yankees remember you. That's what Preston Claiborne did a few years ago. Someone like Campos could do the same this year.
The 25th Man
Cashman is on record saying the Yankees hope to use their 25th roster spot as a revolving door depending on their need at the time. If they need an extra reliever, they'll use that spot for an extra reliever. If they need a position player, they'll call up a position player. So on and so forth. Good idea in theory. How will it work in the real world? We're going to find out soon enough.
The Yankees have three off-days within the first two full weeks of the season, so using that 25th roster spot on an eighth reliever out of Spring Training qualifies as overkill. I understand the starters are still getting stretched all the way out and whatnot, but eight relievers with all those off-days? Nah. Carrying an extra bench player early on makes the most sense, and the Yankees have plenty of infield (Jonathan Diaz, Donovan Solano, Pete Kozma, Ronald Torreyes, Rob Refsnyder) and outfield (Slade Heathcott, Mason Williams, Ben Gamel) options.
The 25th man decision is going to depend entirely on Starlin Castro's ability to play third base, because if he can't do it, the Yankees will need to carry a backup third baseman. So moreso than the backup catcher and bullpen battles, the 25th man competition is going to be influenced by outside factors. Castro's the big one, but health with be a factor too, as will 40-man roster considerations. Is it worth designating someone for assignment to carry Kozma for two weeks? Maybe it is. That's up to the Yankees.