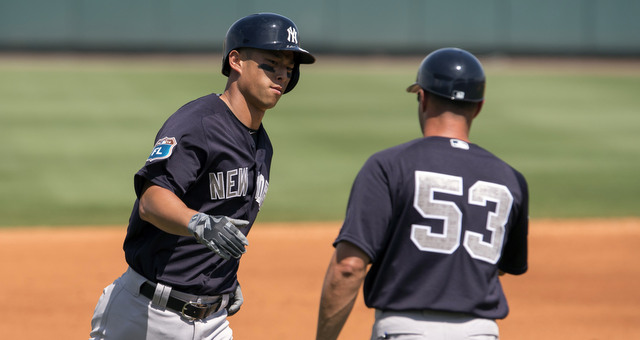 For the seventh time in his 12 Grapefruit League games, Rob Refsnyder is playing third base tonight. He's played more innings at third (29) than second (22) so far, and everything seems to be going well. About as well as the Yankees could have hoped, really. Things can change in an instant, but right now Refsnyder seems like a safe bet for a bench spot.
In other news, both Aaron Hicks (stye) and Brett Gardner (wrist) are back in the lineup tonight, so they're doing well. CC Sabathia is also on the mound looking to shake off the rough outing he had last time out. His first two spring starts were fine though. The Orioles made the trip up from Sarasota for tonight's game. Here is the O's lineup and here is the Yankees' lineup:
CF Jacoby Ellsbury
LF Brett Gardner
C Brian McCann
1B Mark Teixeira
DH Alex Rodriguez
2B Dustin Ackley
RF Aaron Hicks
SS Didi Gregorius
3B Rob Refsnyder
LHP CC Sabathia
Available Pitchers & Position Players: Not sure, sorry. Seems like Andrew Miller and Dellin Betances are lined up to pitch tonight though.
It is cloudy in Tampa tonight, but there's no rain in the forecast, so that's good. Tonight's game will begin a bit after 6:30pm ET. You can watch on YES locally and MLB.tv anywhere. MLB Network will show the game on tape delay beginning at 7pm ET. Enjoy the game, y'all.