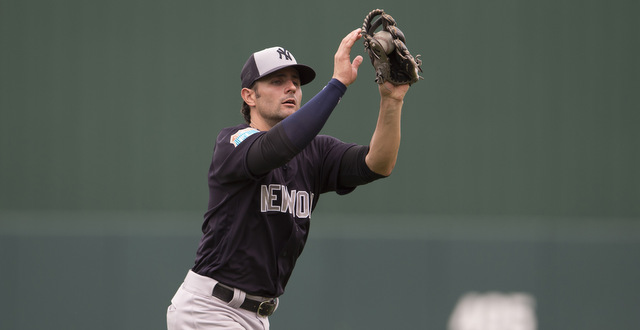 One week from today, the Yankees will open the 2016 regular season at home against the Astros. They have to squeeze in eight exhibition games and an off-day between now and then — hooray split squad games! — so this last week of Spring Training will be pretty busy. Soon though. Soon meaningful baseball will arrive. Anyway, I have thoughts.
1. For whatever reason there seems to be a ton of attention being paid to Spring Training stats and performance this year. Not just by Yankee fans and media folks, but all around the league. I guess it's a function of not having anything else to talk about it. It just seems like the microanalysis of Spring Training numbers has been kicked up a notch this year. I'm guilty of it, no doubt. Just last week I said I was irrationally excited about Dustin Ackley. March is the very worst month to evaluate a baseball player (September is the second worst) and yet it's still so easy to read too much into every little thing. Bryan Mitchell has walked one batter in 14.2 innings; does that mean he's over his career long command issues? Didi Gregorius is hitting .417 against lefties; is he starting to learn how to hit southpaws? Spring Training is a dangerous time of year, man. Baseball will play tricks on you in March. This year spring stats seems to be getting more attention than ever and that's bad news overall.
2. I was already planning to mention this, but Ken Davidoff beat me to it: no one is talking about Dellin Betances this spring, and that's a good thing. Last spring everyone was focusing on his reduced velocity and non-existent control and for good reason. Betances was a huge part of the bullpen and he endured a huge workload in 2014. The missing mph and bad control couldn't be ignored. This spring there are no concerns at all. Dellin looks like Dellin. He's shown an overpowering fastball, a knee-buckling breaking ball, and just enough wildness to make hitters uncomfortable in the box. I forget where I saw it, but I remember reading Betances changed his routine this offseason and gave himself a few extra weeks of rest, so I wonder how much that has helped him. Either way, at this time last year Dellin was a legitimate source of concern. He looked nothing like the guy who carved up the league the year before. This spring, it's business as usual, and that's great news.
3. Once again, I have to revise my Opening Day bullpen prediction. Last time I had Betances, Mitchell, Andrew Miller, Ivan Nova, Chasen Shreve, Branden Pinder, and Nick Rumbelow going north. I'm going to swap out Pinder and Rumbelow for Kirby Yates and Johnny Barbato this time. The other five guys are pretty set in stone at this point, so really it's only those last two spots that are up for grabs. Rumbelow was sent to minor league camp over the weekend, which takes him out of the running. Yates and Barbato have simply pitched better than Pinder in camp, and this feels very much like a "whoever pitches the best this spring will get the job" situation. Remember, this is the bullpen shuttle. Just because Yates and Barbato start the season on the roster doesn't mean they'll stay there all year. In fact, I would be surprised if they remained on the roster the entire month of April. So yeah, I have Yates and Barbato getting the last two spots right now.
4. The more time Rob Refsnyder spent at third base, the worse he looked. The last few days were really rough in particular. Earlier in camp he looked fine at third, mostly because balls were being hit right at him, but lately we've seen the ugly side of Refsnyder's defense. He didn't exactly tear the cover off the ball this spring either, going 8-for-33 (.242) with a .649 OPS in 35 plate appearances. Refsnyder was going to have to do two things to make the team this spring: hit and show he can handle third base defensively. He obviously did neither of those things to the team's liking, hence yesterday's demotion. Some Triple-A time to rebuild confidence might not be such a bad thing for Refsnyder. The likelihood of Pete Kozma making the Yankees as the safe veteran utility man — "You look at Kozma, he's going to battle through his at-bats. He's swung the bat better lately," said Joe Girardi to Chad Jennings over the weekend — is annoyingly high at the moment. The unpopular but probably true opinion says Kozma is the most useful player among the team's backup infielder options, but I am still curious to see what Ronald Torreyes has to offer. I liked the pickup from the start.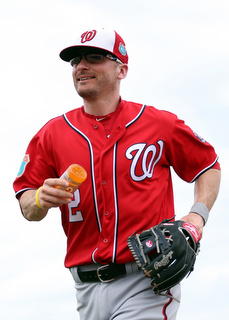 5. That said, I would not at all be surprised if the Yankees went outside the organization to acquire a backup third baseman at some point in the next few days. (For what it's worth, George King says they're "likely" to look for infield help before Opening Day.) The out of options market doesn't offer much help. Perhaps the Yankees can find a backup infielder among the Article XX(B) free agents. Those are the players with at least six years of service time who signed a minor league contract, like Chris Denorfia. Article XX(B) free agents get a $100,000 bonus if they're sent to Triple-A and an automatic opt-out on June 1st. Most of those players end up getting released in the final week of Spring Training once teams decide they won't make their Opening Day roster, again like Denorfia. Casey McGehee, Clint Barmes, Joaquin Arias, and Brendan Ryan are among the Article XX(B) infielders this spring. Who's ready for the Brendan Ryan reunion?
6. I've said this before and it's worth saying again with Opening Day only a week away: I'm really excited about this coming season. I haven't been this excited about an upcoming season since at least 2012. The Yankees have a nice blend of exciting young players and productive veterans, not to mention a bullpen that is must-see television. And they're fun. Even the old guys are fun. The team isn't as bland and business-like as they were for so many years. Will the Yankees win the AL East or even get a wildcard spot? Who knows. Baseball would be boring if it were predictable. I do think the Yankees have as good a chance of winning the AL East as any other team in the division. They'll need some people to stay healthy and some others to break out, just like everyone else. I'm really looking forward to this season. I like the roster and I like where the Yankees are heading long-term, even if I nitpick and complain about the Pete Kozmas of the world.