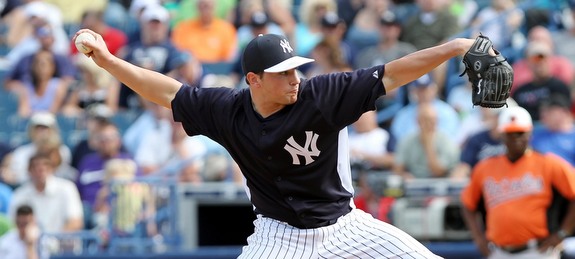 Four years ago right-hander Mark Montgomery looked like a future relief ace the Yankees would one day pair with David Robertson. The team's 11th round pick in the 2011 draft struck out 41.0% of batters faced with a 1.56 ERA (1.62 FIP) in 80.2 innings at High-A Tampa and Double-A Trenton in 2012. He was dominant thanks to his filthy slider.
The 2013 season brought a series of shoulder injuries that limited the now 25-year-old Montgomery to only 45.1 innings with mostly Triple-A Scranton. He never did require surgery, but the injuries sapped Montgomery's velocity and left him sitting in the upper-80s instead of the low-to-mid-90s. His strikeout rate plummeted to 25.4% in 2014-15 because hitters didn't have to respect the slider.
Montgomery became an afterthought in a farm system that has since become overloaded with power relievers. Others like Branden Pinder and Nick Goody and Nick Rumbelow offer mid-90s gas and passed Montgomery on the bullpen depth chart. The Yankees haven't given up on him though. Pitching coach Larry Rothschild told Brendan Kuty he wants to get Montgomery to start leaning on his slider as much as possible.
"He needs to clean up a little bit, but he's got a pitch that's highly efficient, his slider," Rothschild said. "It works really well."

…

"I'm talking about him becoming a slider ball pitcher," the pitching coach said. "Obviously, you always want to locate your fastball, but his slider is so good that you need to take advantage of it and use it."
Montgomery has appeared in three games this spring and all three were broadcast somewhere. In those three games, he threw 23 fastballs (two swings and misses) and 26 sliders (eight swings and misses), though it wasn't until his most recent outing that he really emphasized the slider. Last time out Montgomery threw four fastballs and ten sliders. For what it's worth, the various television guns had his fastball mostly 88-90 mph with one or two 92s.
With the fastball more or less gone at this point, Rothschild wants Montgomery to emphasize his slider and that makes sense. It might be his only ticket to the big leagues at this point. Here's the slidepiece in action: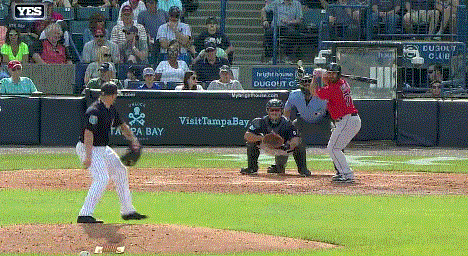 That's pretty dastardly. That pitch is why Montgomery is still around and in big league camp even after back-to-back subpar seasons in 2014 and 2015. If Montgomery manages to reach the big leagues and lock in that affordable health care for life, it'll be because his slider is still so good.
The upper-80s fastball/filthy slider profile is rare but not unprecedented. That's the profile Sergio Romo has used to bank nearly $18M in his career after being a 28th round pick. Last season Romo averaged 87.4 mph with his fastball and threw it only 35.9% of the time. Everything else was sliders. And he had a 30.9% strikeout rate with a 2.98 ERA (1.91 FIP) in 2015, so yeah, it's possible to be successful like that. (Luke Gregerson's another guy with the upper-80s heater/lots of sliders approach.)
That said, there's a big difference between Romo and Montgomery, and that's their control. Romo walked 4.4% of batters faced last season and 5.1% in his MLB career. Montgomery had an 8.4% walk rate last year and a 10.6% walk rate in his minor league career. If you're going to live with a fastball that hardly breaks 90 mph, you've got to throw strikes to make sure hitters respect the slider. Hitters need to think that slider is a fastball in the zone, and they'll never do that if you don't throw the fastball for strikes.
Romo is a dynamite end-game reliever and he represents the very best case scenario for not only Montgomery, but most relief pitcher prospects. He is the model of what the Yankees want Montgomery to become. The fastball doesn't work anymore, so emphasize that killer slider, and use the fastball almost as a show-me pitch. What Montgomery is doing now isn't working. The slider heavy approach may be his best (only?) chance at salvaging his career.