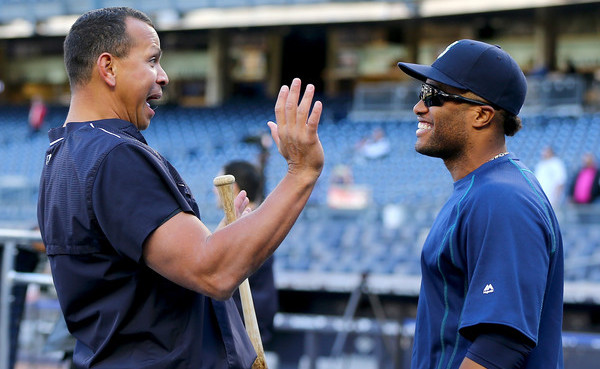 The Yankees did a lot of good offensively last night, namely putting 13 men on base, but the big hit never came and they were held to one stupid little run. After scoring 27 runs in the first three games of 2016, the Bombers have scored only 16 runs in the six games since. Eight of those 16 came in one game.
Felix Hernandez will be on the mound for the Mariners this afternoon, and while he represents a daunting task, the Yankees were in a very similar situation last May. They had been held to 20 runs in a six-game span, then they faced Felix and managed to tag him for seven runs in 4.2 innings. Baseball, man. You can't predict it. Here is today's Mariners' lineup and today's Yankees' lineup:
CF Jacoby Ellsbury
LF Brett Gardner
DH Alex Rodriguez
1B Mark Teixeira
RF Carlos Beltran
2B Starlin Castro
3B Chase Headley
SS Didi Gregorius
C Austin Romine
LHP CC Sabathia
The weather in New York today is pretty fantastic. It's maybe a little on the cool side, but it's sunny as hell and there are no clouds in the sky. Picture perfect. Today's game will begin at 1:05pm ET and you can watch on YES locally and MLB Network if you're out of market. Enjoy.
Shuttle Update: As expected, Tyler Olson was sent back down to Triple-A Scranton following last night's 47-pitch effort. Branden Pinder has been called up for the first of what figures to be many times this season. Pinder last pitched Wednesday, when he threw 48 pitches across three innings.
YES Update: FOX regional sports affiliates, including YES, can now be streamed on Sling TV. It's $20 a month — there's a free seven-day trial — so it's not free, but it's not too pricey either. You will be able to stream Yankees games on YES, even if you're in-market and a currently dealing with the Comcast nonsense. Here's the Sling TV link.