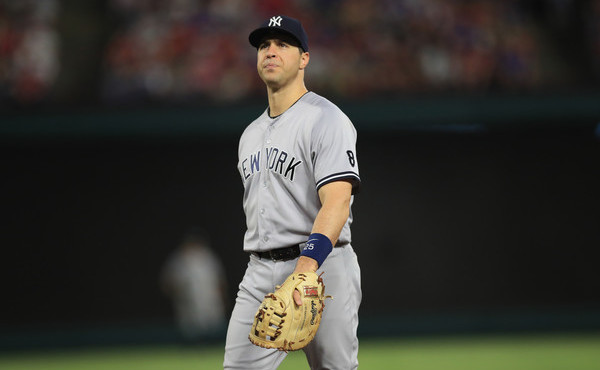 After two days on the bench with neck spasms, Mark Teixeira returns to the lineup tonight for the series finale against the Royals. His defense has been missed, for sure. His bat? That's been a problem this year. It's May 12th and Teixeira is slugging .298. Yikes. The Yankees need him to start hitting some home runs and soon. Hopefully a few days on the bench will recharge the batteries. Here is the Royals' lineup and here is the Yankees' lineup:
LF Brett Gardner
2B Starlin Castro
1B Mark Teixeira
DH Brian McCann
RF Carlos Beltran
CF Aaron Hicks
SS Didi Gregorius
3B Chase Headley
C Austin Romine
RHP Nathan Eovaldi
It's another really nice day in New York. Just a few clouds and a nice breeze. Pretty good night to spend outside. Tonight's game will begin at 7:05pm ET and you can watch on YES locally and MLB Network nationally. Enjoy.
Injury Updates: Alex Rodriguez (hamstring) did some light running and hit off a tee. He's eligible to be activated one week from today … Jacoby Ellsbury (hip) is still on track to return this weekend.
Roster Move: Lefty Tyler Olson was called up and outfielder Ben Gamel was sent down today, the Yankees announced. Olson, who last pitched Saturday (45 pitches), will take over as the long man on a temporary basis following Phil Coke's extended outing last night.