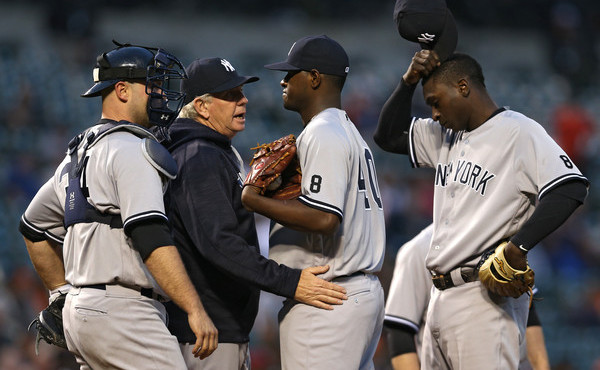 The ten-game homestand has gone about as well as we could have reasonably hoped so far. The Yankees took two of three from the Red Sox and three of four (!) from the Royals, and now they get three with the White Sox, who look totally legit as a contender. Lots of teams get off to hot starts and fizzle. I think the ChiSox are for real. The pitching is great and the infield upgrades they made over the winter are massive, especially defensively.
Tonight the Yankees draw Chris Sale, who is on the very short list of the best pitchers in baseball. They counter with Luis Severino, who has been one of the worst pitchers in baseball this year. It's true. He ranks 109th in ERA (6.12) and 97th in FIP (4.92) among the 117 pitchers to throw at least 30 innings this season. That said, Sale comes into the game 7-0. Severino is 0-5. There's only one way this game can end. This has reverse lock written all over it. Here is the ChiSox's lineup and here is the Yanks' lineup:
CF Aaron Hicks
2B Starlin Castro
RF Carlos Beltran
1B Mark Teixeira
3B Chase Headley
DH Gary Sanchez
LF Brett Gardner
C Austin Romine
SS Ronald Torreyes
RHP Luis Severino
It has been raining in New York for much of the afternoon but it stopped just a few minutes ago. The forecast says there's no more wet stuff coming tonight, so the game will begin on time. The game is scheduled to begin at 7:05pm ET and you can watch on YES locally and MLB Network nationally. Enjoy.
Injury Updates: CC Sabathia (groin) threw a bullpen today. It was his first time throwing off a mound since being placed on the DL … Jacoby Ellsbury (hip) is progressing and remains on track to return sometime this weekend. My guess is Sunday is the earliest we'll see him.
Roster Move: Lefty Tyler Olson was send down to Triple-A to get Sanchez on the roster, the Yankees announced. They're back to a seven-man bullpen and a four-man bench, though it's really a three-man bench with Ellsbury banged up.