We've got 14 questions and 13 answers in this week's mailbag. RABmailbag (at) gmail (dot) com is the email address to use to send us questions throughout the week.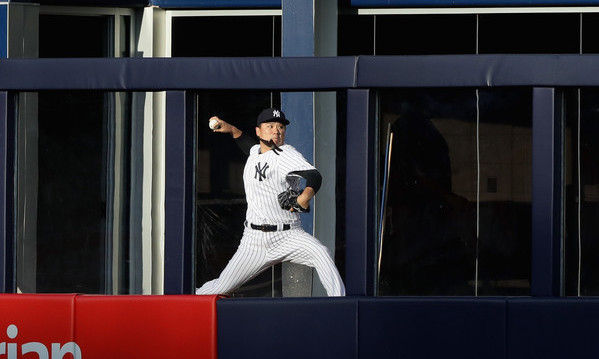 Brad asks (short version): Will the elbow injury stop Tanaka from opting out?

As long as Masahiro Tanaka is healthy and performs well, I fully expect him to opt-out after next season. He is almost two full years removed from the elbow injury now, and as we've seen this year, his performance hasn't suffered much if at all. Tanaka is still pretty awesome. He's among the league leaders in almost every significant pitching category.
These days $67M isn't a whole lot of money. Guys like Mike Leake ($75M) and Ian Kennedy ($70M) signed for similar money this winter, albeit over five years rather than three. Jeff Samardzija was coming off a miserable 2015 season and he still landed five years and $90M. As long as the elbow doesn't act up, I don't think it will hurt Tanaka much in free agency. He might not get $22M a year, but clearing $67M guaranteed seems totally doable.
Dan asks: We constantly hear from RAB write ups and other spots about the 2014 international signing class "coming state side" what does that exactly mean? When the Yankees sign an international player they stay in their home country until a specific date, birthday, or visa process?
Rich asks: The top International signings by the Yankees in 2014 (Dermis Garcia, Nelson Gomez, etc) played a bit last year, but have yet to play in a game this season. Is there a reason that they haven't played yet? Is it in part to them being so young? Thanks in advance. Just curious how the Yankees go about this with the kids that are still very young (like those listed above).
Going to lump these two together. Players who sign as international free agents each summer usually sign contracts that begin the following season, so guys like Garcia and Gomez signed 2015 contracts in July 2014. Because these kids are 16 years old, they usually spend a year or two in the Dominican Summer League before coming to the U.S. to continue their careers. Very few international signees come over to the U.S. right away. They're simply not ready for baseball at that level yet.
As for Garcia and Gomez specifically, they started this season in Extended Spring Training in Tampa. ExST is exactly what it sounds like. It's basically a longer version of Spring Training. Once the various short season leagues begin in late-June, ExST ends and players head to the various affiliates (or get released). Lots of young prospects — not just international kids, but recent high school draftees too — start in ExST because teams can give them more personalized instruction. Simply put, the DSL and ExST are for players not yet ready for the day in, day out grind of full season baseball.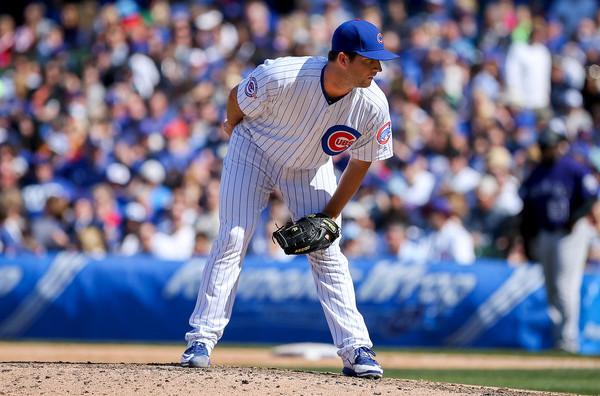 Several asks: What about getting Adam Warren in a trade?
Oddly enough, a few people sent in this question this week. They all came out of nowhere. Warren has not had a particularly good season (4.56 ERA and 5.23 FIP), and in fact the Cubs optioned him to Triple-A earlier this week. They're going to stretch him out so he can make a spot start before the All-Star break. Chicago's in the middle of a 24 games in 24 days stretch due to a makeup game.
Warren, now 28, was very good for the Yankees from 2013-15 and that heavily skews my opinion of him. I put more stock in his 287 innings from 2013-15 than his 25.2 innings in 2016. As long as Warren's healthy — I suppose the poor performance this year could be the result of an underlying injury — I would definitely have interest in him in any trade with the Cubs. Not as the center piece for a guy like Aroldis Chapman or Andrew Miller, but maybe as the second or third piece in a package. Warren is forever cool in my book.
Paul asks: How many 80 tools are on the Yankees? What about in the minors?
The only slam dunk, no doubt about it 80 tool on the Yankees right now is Chapman's fastball. Miller's slider is pretty damn close to an 80 if it isn't one. Same with Dellin Betances' fastball and breaking ball. Tanaka's splitter is the best individual pitch among the starters, but as good as it is, it's not an 80 splitter. I guess Nathan Eovaldi has 80 velocity, but his fastball plays down overall because of a lack of command.
What's the best tool among the position players? I'd say Didi Gregorius' and Aaron Hicks' throwing arms. They might be closer to 70s than 80s though. Peak Alex Rodriguez had 80 power, but peak A-Rod was a decade ago. Maybe you could argue Mark Teixeira is an 80 defender at first. As for the farm system, MLB.com gives only two 80s in their top 30 Yankees prospects list: Jorge Mateo's speed and Domingo Acevedo's fastball. Not coincidentally, those are measurables. You can put a stopwatch on someone's speed and a radar gun on his fastball. Putting an 80 on, say, command or power potential involves much more guesswork.
Jeff asks: With Jake Cave seemingly having a breakout year, is he a legit prospect and someone we should be excited about?
Oh sure, Cave is definitely a legitimate prospect. He's always had tools, but now he's hitting for more power than ever before, and he's doing it at Triple-A too. The Reds opted not to keep him as a Rule 5 Draft pick this spring, which is their loss. Now the Yankees have to figure out what they're going to do with Cave and all their other upper level lefty hitting outfielders, like Ben Gamel and Mason Williams and Dustin Fowler.
Fowler won't be Rule 5 Draft eligible this winter, but Cave will be again, and will the Yankees really carry him, Gamel, and Williams on the 40-man roster? Something has to give. My guess one of these guys gets traded away at some point, perhaps as soon as the deadline. Williams is hurt, so trading him probably won't happen. I prefer Gamel to Cave but you could easily argue otherwise. Cave's legit though. He's just stuck in the middle of a lefty hitting outfield logjam.
Dan asks: Apologies if you've answered this before, but how long does Severino need to be in AAA for another year of control? If they're going to be out of it and rebuild anyway, then doesn't it make the most sense to keep him down until they get that extra year? Rather than have him up at MLB to try to grab an extra win or two.
Luis Severino came into the season with 61 days of service time, meaning he'll need to be down in the minors for 73 days to delay his free agency another year. That's 73 days on an optional assignment, not rehab. The Yankees activated and optioned Severino on May 30th, so he's been down for 24 days already. Day 74 would be Friday, August 12th. The team insists Severino still has things to work on in the minors and I totally believe them. If it's possible — meaning the rotation doesn't get decimated by injuries or something like that — keeping Severino down until August 12th would be a smart move, especially if the Yankees continue slipping out of the playoff race. Gaining the extra year of control is a pretty big deal.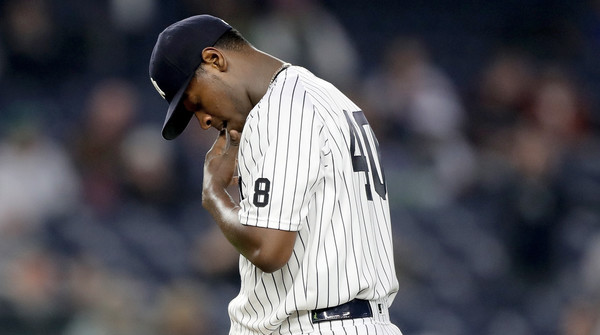 Joe asks: Given Didi's solid offense production, do you think the yanks should trade him? And what kind of return package can they get?
No offense Joe, but your question made me laugh. "The Yankees have a solid young player, so should they trade him?" It's funny how our first thought is to trade anyone of value. Gregorius is still pretty young (26) and he's developing into an average-ish hitter while playing premium defense at short. That a nice player to have, no?
Anyway, the Yankees do have a ton of shortstop prospects in the minors, including one reasonably close to the big leagues in Tyler Wade. Trading Gregorius should not be off the table — as far as I'm concerned, no player in the organization should be untouchable — but I don't think the Yankees should be out shopping him either. Listen to offers and see what comes along. Didi can be part of the solution.
What would I want in a trade? That's tough. You'd be trading three and a half years of an above-average shortstop — average bat plus above-average glove equals above-average player — who's shown he can power through some big time pressure. He did a nice job replacing Derek Jeter last year. My trade proposal sucks, but how about one top 100 prospect plus a secondary piece for Gregorius? The Padres stand out as a club in need of a long-term shortstop.
Anonymous asks: If the Yankees are to somehow become Buyers at the trade deadline, what do you see them adding, based on how the roster looks and performed as of now? Impact bat (Carlos Gonzalez?) A top reliever (Will Smith on the Brewers?) Maybe even another Starter (Julio Teheran?) Or possibly even all 3?!?!? (Just using those 3 as examples)
The Yankees need like three bats, two relievers, and one starter to be serious contenders in my opinion, and that's just too much for one trade deadline. I'd say a bat and some middle relief help is the biggest need. Where could they put that bat? I guess right field or DH if they're willing to move on from A-Rod (spoiler: they won't), or maybe first base if Teixeira's knee doesn't cooperate.
David asks: Can you please explain how the red Sox have designated Castillo and Craig and were able to send them to aaa. While Reyes is going to be able to find another team.
This is something I learned over the offseason: when players with five or more years of service time are outrighted, they can elect free agency and keep their entire contract. The Rockies could have tried to outright Jose Reyes and send him to Triple-A, but he would have instead elected free agency, picked his new team, and keep collecting his contract. Neither Rusney Castillo nor Allen Craig (remember him?) have five years of service time, so the Red Sox were able to outright them to Triple-A and they had to accept the assignment. In fact, Craig has been outrighted twice, and although players can elect free agency starting with their second outright, Craig would have forfeited whatever was left on his contract because he has less than five years of service. They're paying him $9M this season plus another $11M next season, so yeah, he wasn't walking away from that.
Paul asks: In the past, pitchers became relievers when they failed as starters. These days, some pitchers are groomed as relievers from the minors. How does that end up? What are the chances there are quality starters sitting in the bullpens across the league?
I have no doubt there are quality big league starters wasting away in the bullpen around the league. Maybe wasting away isn't the right way to put it, because quality relievers are valuable too. A lot of times guys will have instant success in the bullpen and they get stuck there forever. That's what's happening with Roberto Osuna, who has starter stuff, but is too valuable to the Blue Jays as their closer.
Looking around MLB, Sam Dyson seems like a reliever who might be able to start because he throws three pitches regularly (fastball, curveball, changeup) and has good control (5.6 BB%). Then again, there's the question of how well his stuff will hold up over 180+ innings. Some guys are just better in the bullpen. Wade Davis is a perfect example. He was a mediocre starter and is now a dominant reliever. I'm sure there are some relievers out there who could be quality starters if giving the chance. Good luck figuring out who they are.
Jim asks: As of this email, CC's FIP sits at 3.27 while his xFIP sits at 4.53. Can you explain the discrepancy and what we should expect moving forward?
Remember that home run CC Sabathia allowed to Nick Hundley the other day? That was only the third dinger Sabathia has given up this season. He owns a 0.39 HR/9 and 4.2 HR/FB% this year, which is insanely low. It was 1.51 HR/9 and 16.6 HR/FB% last year. Yes, the new cutter explains some of the improvement because Sabathia is better able to bust righties inside, but it doesn't explain all of it.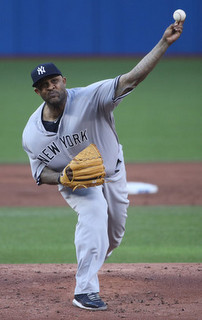 FIP reflects Sabathia's crazy low home run rate. His xFIP is higher because it normalizes the pitcher's homer rate based on their fly ball rate. In English, that means xFIP takes the pitcher's fly ball rate (36.0% in Sabathia's case) and says this is how many homers he would have allowed with a league average HR/FB% (12.8%). FIP is telling us what Sabathia has actually done, and that's allowed three homers. xFIP is telling us what Sabathia would have done with a league average homer rate given his fly ball tendencies.
I don't love xFIP because pitchers do not have the same home run rate. We know that. Some are better at limiting the long ball than others, so why would we assume they'll all give up homers at a league average rate going forward? At some point Sabathia is going to give up more homers. It's inevitable given his home ballpark. So that shiny 3.27 FIP? I wouldn't expect it to last all year. Sorry. I don't think he'll be as bad as his xFIP going forward though because the cutter explains his improvement against righties, who clobbered him last year.
Michael asks: How about the Astros as potential landing spot for Chapman or Miller? Back at .500, they have been running Luke Gregerson out there as closer until recently, now using Will Harris. Ken Giles has been a bust so far.
I wouldn't count on the Astros trading a big package for a reliever again after the Giles trade, especially so soon. He's been better of late, but still, that first month was ugly. Also, the Astros have a pretty good bullpen. They're sixth in bullpen ERA (3.22) and first in bullpen FIP (3.08) among the 30 teams. There's always room for a guy like Chapman or Miller though. I just wouldn't expect Houston to big for another reliever via trade so soon after the Giles deal.
Kyle asks: What do you think the Yankees will do with Vicente Campos? If I'm not mistaken he is out of options next year so it's big leagues or bust. Will they keep him a starter this year to rack up innings and put him in the big league bullpen next year like the O's did with Bundy, or will they promote him to AAA this year and put him in the pen to see how he does? He seems too good to lose for nothing. Thanks! Love the site.
I was under the impression this is Campos' final option year too, but it looks like that's not the case. Here is the quick timeline:
November 2013: Added to 40-man roster for the first time.
2014 Season: Spent in minors, burns first option.
December 2014: Non-tendered, re-signed to minor league deal.
2015 Season: Spent rehabbing from Tommy John surgery and in the minors. He wasn't on the 40-man roster, so he didn't burn an option.
November 2015: Re-added to 40-man roster.
2016 Season: Spent in minors, burns second option.
Unless I'm missing something, Campos has one final minor league option remaining for next season. That's good news, because I'm not entirely sure he would be ready to stick in the big leagues come next April.
Campos, who will turn 24 next month, just got to Double-A for the first time. I imagine he'll spent the rest of the season there — the Yankees might give him a September call-up if he pitches well the rest of the way — and then open next season in Triple-A Scranton. Once you're in Triple-A, you're a big league option. Campos could end up spending next year going up and down before sticking for good in 2018.
Now, if I did miss something and Campos will indeed be out of options next year, then the Yankees would have no choice but to stick him in a long relief role and bring him along slowly. I can't imagine Campos will be ready to assume an MLB rotation spot next April. I'm not even sure he's a starter long-term. He maybe wind up a bullpen arm. It looks like he has an option left though. That's good.