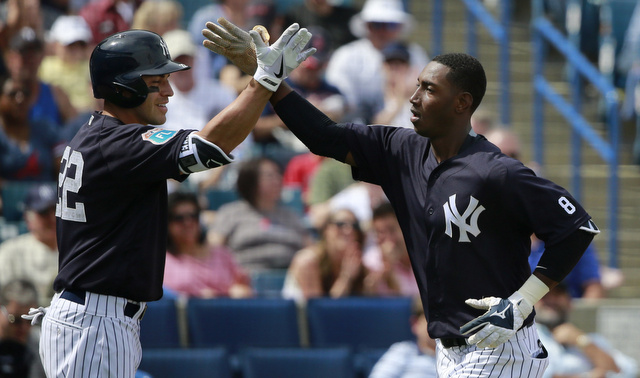 The Yankees and Orioles continue their three-game series with an always annoying Saturday night game today. Blargh. Hate those. Give me day baseball on the weekend. Anyway, check out these two recent Players' Tribune posts from Jorge Posada and Carlos Beltran, then check out these links and notes as you wait for first pitch.
Yanks offered Mateo for Reyes?
According to Jon Heyman, last summer the Yankees were "willing to send" top shortstop prospect Jorge Mateo to the Rockies for Jose Reyes and cover half the $44M left on Reyes' deal. This was right after Colorado picked up Reyes in the Troy Tulowitzki trade, before all the domestic violence stuff in the offseason. This isn't the first time we've heard the Yankees talked to the Rockies about Reyes.
This one doesn't pass the sniff test at all. Mateo would be a Rockie right now if the Yankees were indeed willing to make that trade. The Rockies didn't want Reyes — they took him in the trade as a way to offset some money — and they tried to flip him at the deadline and again in the offseason. Reyes has been in obvious decline for a few years now. You mean the tell me the Colorado turned down a top 100 prospect and a ton of cash for a player they didn't even want in the first place? C'mon. I don't buy this rumor at all.
Ticket revenue dropped again in 2015
The Yankees' ticket and suite revenue dropped for the sixth straight year in 2015, reports Jim Baumbach. The team reported $276.9M in ticket revenue to bondholders last year, which includes $36.6M in postseason sales. (That includes ALDS and ALCS tickets that were sold in advance but we're needed.) Ticket revenue was $396.9M in the first year of the new Yankee Stadium. Even though they're down 30% in six years, the Yankees still generated more ticket revenue last year than they did in the final year of the old Yankee Stadium ($266.9M).
It's no secret attendance is lower this year than it has been at any point since the new Stadium opened. We see it every night. (To be fair, the park does seem to fill up in the second and third innings as people get out of work, make their way up to the Bronx, and get through the metal detectors.) The Yankees are averaging 38,457 fans per game this season, down from 39,894 last year and 45,918 in 2009. At the same time, they still lead the AL in attendance this year and are fourth in MLB overall.
"There was a real identification with those players who were great players and won a lot of championships. They were big stars, big attractions. There's no doubt about it. I think the fact that they all retired in a period of time had an impact," said Randy Levine to Baumbach, referred to Derek Jeter, Mariano Rivera, Andy Pettitte, and Jorge Posada. An attendance and ticket revenue drop was inevitable once those guys were gone. But the Yankees kinda suck now too, so it seems like things are going to get worse before they get better.
Nova being sued by landlord
It's been a while since we had a good hard-partying Yankee story. According to Emily Saul, Ivan Nova is being sued by his former landlord for trashing his former White Plains home. The lawsuit alleges Nova and his wife lived in the house from 2014-15 and left the place "uninhabitable" due to "raucous partying." They smashed lights, broke appliances, all sorts of stuff.
The landlord is suing Nova for more than $150,000 to recover damages and lost income. Ivan told Julie Kayzerman he is fighting the lawsuit because he didn't live there during that time. He was in Tampa rehabbing from Tommy John surgery. "I haven't done anything. People want to take advantage of opportunities, but you have to understand that I'm good and I had nothing to do with that and I'm going to fight it," he said.