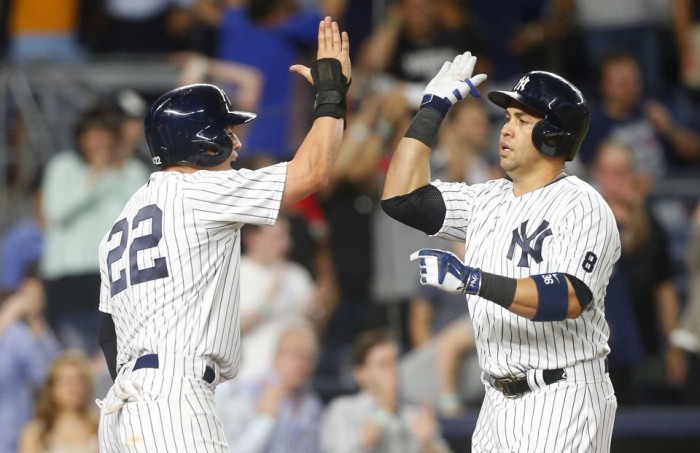 Call it a comeback
For the first two-thirds of Monday's series opener against the Angels, it looked like the game would follow a familiar script: yet another strong effort by the starting pitcher wasted because of a lack of run support …
… And then suddenly everything changed in the span of three pitches. Brian McCann and Starlin Castro hit back-to-back homers in the seventh inning, tying the game at 2-2. Carlos Beltran capped the comeback with a three-run shot in the eighth inning that gave the Yankees one of their most stirring wins of the season.
Beltran flashed rare opposite field power with that blast. It was his 67th homer as a right-handed batter over the last 10 seasons, but just the third time in that span that he's sent the ball over the right field fence.
Masahiro Tanaka didn't have his best stuff but he grinded through seven innings and held the Angels to two runs. It was his 10th start allowing two earned runs or fewer this season, the most among AL pitchers through Monday. The last Yankee to post double-digit starts with two earned runs or fewer allowed — this early into the season (57th team game) — was Ron Guidry during his Cy Young-winning campaign of 1978.
Carlos in charge
It is a question that has been asked many times this season: Where would the Yankees be without Carlos Beltran in the middle of their lineup? They most definitely would not have two wins in the first two games of this series.
For the second night in a row, Beltran hit a game-changing homer to help the Yankees beat the Angels, and this one was most notable because it was also his 1,000th career extra-base hit. We know that Beltran in his prime possessed that rare combo of power, patience and speed. And there's proof in the numbers, too:
Beltran is just the seventh player in major-league history to compile at least 1,000 extra-base hits, 1,000 walks and 300 stolen bases. The others on that list are Willie Mays, Ty Cobb, Alex Rodriguez, Barry Bonds, Tris Speaker and Craig Biggio.
Two weeks ago, Michael Pineda's spot in the rotation was seemingly in jeopardy. But after Tuesday's promising seven-inning, three-run performance, there is a glimmer of hope that maybe he's finally turned the corner.
Thanks to a lower arm slot that has added depth to his slider, Pineda has a 61 percent whiffs-per-swing rate on the pitch in his two June starts (up from 42 percent in April and May), and has given up just three singles – while netting 10 strikeouts – among the 71 sliders he's thrown this month.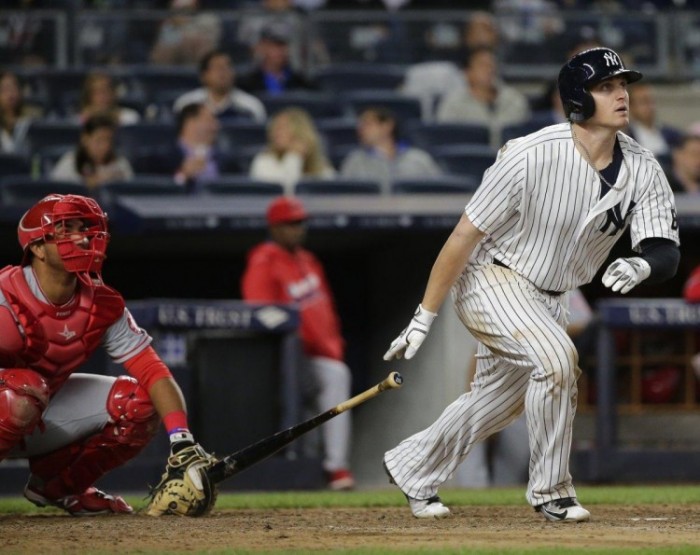 C-Parm, the newest True Yankee®
The Angels were once the Yankees' kryptonite — the were the only American League team that had a winning record against them during the Joe Torre era — but since then have become their punching bag, especially in the Bronx.
With Tuesday's win, the Yankees improved to 23-8 against the Angels at the new Yankee Stadium, their best record against any AL squad at the ballpark.
The Yankees also continued to beat up on the Angels pitching staff on Wednesday night, belting out nine extra-base hits and 17 hits overall en route to a 12-6 win.
The nine extra-base hits tied the most they've ever hit against the Angels (also in 1997), and was the Yankees most in a home game against any team in nearly five years. That last happened in the second game of a doubleheader against the Orioles on July 30, 2011, a 17-3 rout that included six doubles, a triple and two homers.
Chris Parmelee, making his first start in pinstripes, wasted no time in getting started on his campaign for a plaque in Monument Park. He went 3-for-5, hitting two homers and a double, while driving in three runs.
In the last 100 seasons, the only other player to hit at least two homers in his first start with the Yankees was Roger Maris. Acquired from the Royals in December 1959, Maris had four hits — two homers, a double and a single — and four RBIs in a 8-4 win over the Red Sox on Opening Day in 1960.
Broom, broom
Remember when the Yankees couldn't even win three games in a row? With their 6-3 victory on Thursday night, they now have two four-game sweeps on their ledger this season. Amazing facts, I tell ya.
This was their first four-game sweep of the Angels since July 21-24, 1994, and the victory was also their ninth in a row against them in the Bronx. That's the Yankees second-longest home win streak in this rivalry, behind only an 11-gamer spanning the 1961-62 seasons.
Something that is not shocking … Carlos Beltran was once again in the middle of another Yankees offensive outburst. His tie-breaking RBI double in the fifth inning was his fourth go-ahead hit in this series, and team-leading 15th go-ahead RBI of the season — nearly twice as many as any other Yankee has in 2016 (Starlin Castro and A-Rod are second with eight).
He's also now driven in at least two runs in each of his last four games, matching the longest multi-RBI streak of his career, a mark he set in the 2006 season with the Mets. The last Yankee with two-or-more RBIs in four straight games was Mark Teixeira in 2010.