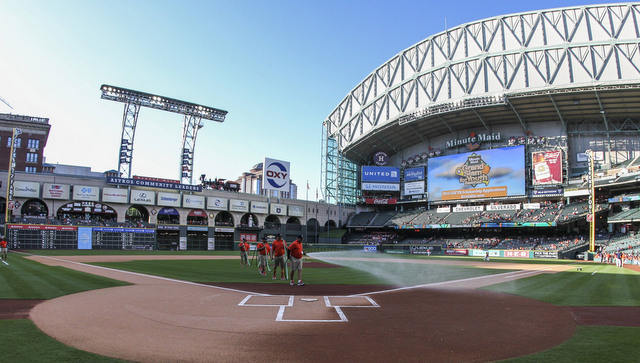 The Yankees are out on the road for the first time in the second half. They're opening an eight-game road trip in Houston tonight, with the first of three against the red hot Astros. These two teams met in the very first series of the season back in April. The Yankees took two of three at Yankee Stadium.
What Have They Done Lately?
Goodness are the Astros hot. They started the season poorly, going 17-28 in their first 45 games, but they've gone 37-16 in 53 games since. The 'Stros were ten games back in the AL West as recently as June 28th. Now they're only 2.5 games back. Houston just swept the lowly Angels and they've won four straight overall. They're 54-44 and only a half-game back of the second wildcard spot. If the Yankees are going to make a miraculous run at a postseason spot, beating the Astros this series is essential.
Offense & Defense
Reigning AL Manager of the Year runner-up A.J. Hinch has a comfortably above-average offense (in terms of runs scored) at this disposal. The Astros are averaging 4.61 runs per game with a team 100 wRC+, and their 126 homers are sixth most in the league. Houston has two players out with day-to-day injuries: C Jason Castro (99 wRC+) and UTIL Marwin Gonzalez (86 wRC+). Castro has a hand contusion and Gonzalez has an ankle sprain.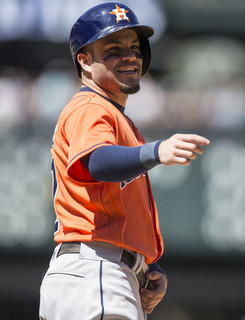 Hinch has a fairly set lineup. RF George Springer (126 wRC+) leads off, Gonzalez typically hits second, 2B Jose Altuve (166 wRC+) hits third, SS Carlos Correa (127 wRC+) cleans up, and 3B Luis Valbuena (116 wRC+) bats fifth. Altuve is very much in the early AL MVP mix right now. He's hitting .360/.428/.575 with 26 doubles, 17 homers, 25 steals, 44 walks, and 40 strikeouts. Goodness. C/DH Evan Gattis (92 wRC+) and LF Colby Rasmus (82 wRC+) are regulars as well. (Yes, Gattis has been catching lately.)
C Carlos Gomez (59 wRC+) has been pretty terrible both this year and since coming over at least year's trade deadline. Not the best year for the impending free agent. OF Jake Marisnick (49 wRC+) and OF Preston Tucker (74 wRC+) are on the bench. And finally, the Astros announced they are calling up top prospect IF Alex Bregman (174 wRC+ between Double-A and Triple-A) today. Bregman, the No. 2 pick in last year's draft, is arguably the best prospect in the minors. He's expected to play short, third, and even some left field.
In the field, the Astros are excellent in the outfield and on the middle infield. They have good to great defenders at all five of those positions. Gonzalez has been playing first base of late and is okay there. So is Valbuena at third. Gattis is a disaster behind the plate; he's 8-for-18 (44%) throwing out runners this year, which is out of line with his career average (23%). Bregman's a good defender at short, though he's going to end up playing out of position somewhere.
Pitching Matchups
Monday (8:10pm ET): RHP Michael Pineda (vs. HOU) vs. LHP Dallas Keuchel (vs. NYY)
Keuchel is the AL West version of David Price. Whenever the Yankees play a series against his team, he's going to pitch. They can't escape him. Keuchel, 28, is not having a very good follow-up to his Cy Young winning season a year ago. He owns a 4.70 ERA (3.94 FIP) in 20 starts and 126.1 innings, and his strikeout (20.5%), walk (7.5%), grounder (56.8%), and homer (1.07 HR/9) rates are all quite a bit worse than they were in 2015. He's also getting hammered by righties. Keuchel has never been a hard thrower and he typically sit 88-90 mph with his trademark sinker. A mid-80s cutter and an upper-70s slider are his go-to secondary pitches. He'll also throw a low-80s changeup, though for some reason he's not throwing it as much this year. Weird. The Yankees saw Keuchel on Opening Day and scored two runs in seven innings.
Tuesday (8:10pm ET): LHP CC Sabathia (vs. HOU) vs. RHP Doug Fister (vs. NYY)
The Astros signed Fister to a one-year "prove yourself" deal over the winter, and for the first few starts, it looked like a disaster. He allowed 14 runs in his first four outings and 22.1 innings before settling down and getting into a groove. The 32-year-old has a 3.42 ERA (4.63 FIP) in 19 starts and 118.1 innings, and while his underlying numbers stink (15.2 K%, 8.2 BB%, 47.3 GB%, 1.14 HR/9), Fister is quite good at getting soft contact when things are going right. Lefties have hit him a ton harder than righties. A ton. Load up that lineup with lefties tomorrow night. These days Fister sits 85-88 with his sinker and 69-72 mph with his curveball. Those are his two main pitches. He'll also mix in some mid-80 cutters, low-80s sliders, and upper-70s splitters per start, but not many. The Yankees did not see Fister in the first series with the Astros this season.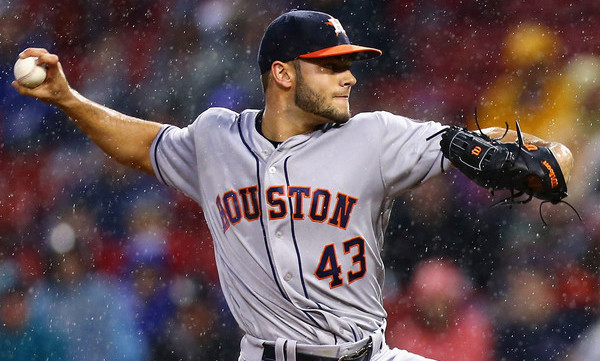 Wednesday (8:10pm ET): RHP Masahiro Tanaka (vs. HOU) vs. RHP Lance McCullers Jr. (vs. NYY)
Over the winter, when the Yankees were fielding offers for Andrew Miller, they reportedly wanted McCullers from the Astros. Houston wouldn't give him up, and now the 22-year-old has a 3.33 ERA (2.74 FIP) in 12 starts and 70.1 innings after starting the season on the DL with a minor shoulder issue. He's got fantastic strikeout (29.3%), grounder (57.2%), and homer (0.26 HR/9) numbers, but he walks way too many (13.7%) and lefties can give him a hard time. McCullers sits in the mid-90s with his four-seam fastball and in the mid-80s with his power curveball. A mid-80s curveball! Not only does it sit in the mid-80s, but McCullers throws it a ton too. A whopping 48% of the time, in fact. He's thrown more curveballs than fastballs in ten of his 12 starts, including each of his last four. That's insane. In. Sane. McCullers also throws a low-90s cutter and upper-80s changeup, but very rarely. Less than 10% of the time combined this season, on average. Lance Sr. played for the Yankees from 1989-90, by the way.
Bullpen Status
At +6.1 fWAR, the Astros have the most productive bullpen in baseball this season. (The Yankees are second at +5.6 fWAR.) Houston's relief crew ranks third in bullpen ERA (3.06) and first in bullpen FIP (3.00), so yeah, they're good. Here is Hinch's eight-man bullpen:
Closer: RHP Will Harris (1.76 ERA/1.85 FIP)
Setup: RHP Luke Gregerson (3.27/2.44), RHP Ken Giles (4.08/3.07)
Middle: RHP Chris Devenski (2.27/2.75), LHP Tony Sipp (4.91/5.48), RHP Pat Neshek (2.64/3.86), RHP Michael Feliz (4.04/3.10)
Long: RHP Scott Feldman (2.40/3.79)
Giles was expected to be the closer, Gregerson started the year as the closer, and Harris went to the All-Star Game as the closer. Bullpens, man. Nothing ever goes according to plan. Giles has already allowed more homers (five) and nearly as many earned runs (18) in 39.2 innings with the Astros than he did the last two seasons with the Phillies (three and 20, respectively). He had a disaster start to the season but has been much better of late.
Houston's bullpen has a ton of different looks. Harris is a cutter pitcher, Giles and Feliz are the hard-throwers, Gregerson is the slider specialist, Neshek is the funky delivery guy, and Feldman is the finesse veteran. Hinch has all sorts of options in his bag of tricks. Feldman threw 30 pitches in yesterday's blowout win over the Halos. No other relievers had to pitch, so the 'pen is fresh. Our Bullpen Workload page can keep you updated on the status of Joe Girardi's relief crew.