I've seen more entertaining ballgames. Let's put it that way. The Yankees dropped Friday's series opener 5-1 to the Rays and the game was not terribly competitive. The Rays took a quick lead and New York never really came close to putting together a sustained rally. A blah game all the way around.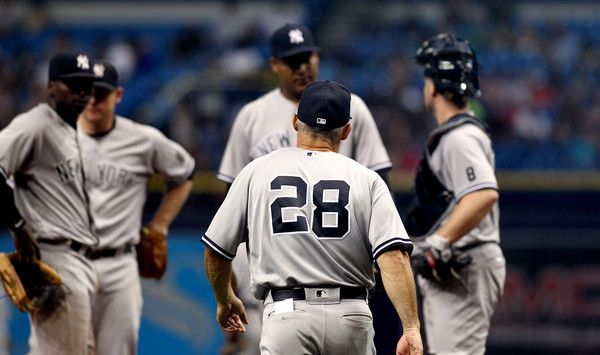 Nova, For The Last Time?
In what was possibly his final game as a Yankee, Ivan Nova couldn't make it out of the fifth inning and he left jawing with home plate umpire Laz Diaz. To be fair, Diaz has been one of the worst umps in the game for years. Anyway, Nova got hammered Friday, and the damage would have been a lot worse than if not for some nice defense by Chase Headley and several great blocks by Brian McCann.
It took all of three pitches for the Rays to take a 1-0 lead, and after 12 pitches, they were up 2-0. Nova allowed first inning dingers to Logan Forsythe and Corey Dickerson, so he got the #obligatoryhomers out of the way early. He's allowed a homer in 14 of his 15 starts this season, totaling 18 homers in 83.1 innings. That's a 1.95 HR/9 for a guy who is supposed to be a sinkerballer. Not great, Bob.
The Rays scored their third run two innings later on what was ultimately scored a Didi Gregorius throwing error, but that had more to do with Starlin Castro flipping the ball too casually to second on a potential 4-6-3 double play, forcing Didi to rush the throw. Tampa should have had a runner on third with two outs after the double play. Instead they had a run home with a runner on second and one out.
Tampa's other two runs came on back-to-back doubles in the fifth, and later a sac fly. They scored their five runs on six hits and three walks in 4.1 innings against Nova, and five of the six hits were for extra bases (two doubles, two homers, one triple). That's pretty indicative of how hard they were hitting him. There were lots of rockets all over the field. Even the outs. It was not pretty. Nova's location was awful, even by his standards.
The trade deadline is Monday, and based on everything we've heard the last few days, it seems inevitable that Nova will be traded before then. The pitching market is pretty wild right now — the Rangers trade for Lucas Harrell on purpose this week — so maybe the Yankees will get something more than nothing. Nova's trade value wasn't all that high and this game didn't help matters.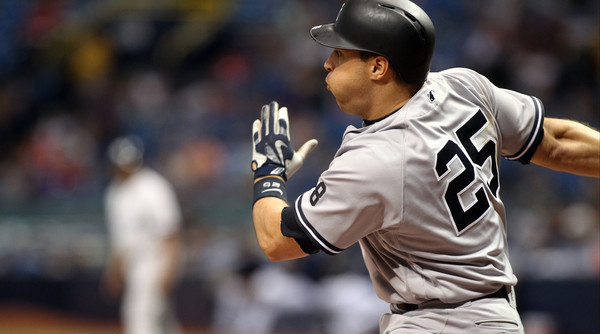 One Run, Again
For the 23rd time this season, the Yankees failed to score at least two runs Friday night. Those 23 games with zero or one run are the most in the AL and the third most in MLB, better than only the Mets and Brewers (24 each). The Yankees did have ten hits in this game, but all ten were singles. They are dead last in the AL with a .391 SLG as a team — that's even sadder when you consider their home ballpark — are their ten games with no extra-base hits are tied for the second most in baseball. Only the Braves (14) have more. Yuck.
The Yankees put two runners on base with one out in the first and didn't score, because of course. Their 35 first inning runs are the second fewest in baseball. Only the Phillies have fewer. They have 34. Gross. Jake Odorizzi predictably settled down and retired 18 of the next 20 batters, and one of the two baserunners reached on an infield single. The Yankees finally broke through against the bullpen, scoring their run on a walk (Brett Gardner) and two singles (McCann, Mark Teixeira), but by then it was too late. I miss runs. Those are fun. This team isn't. They're boring.
Leftovers
Chad Green threw 3.2 shutout innings after Nova and honestly, I don't think he looked as good as his pitching line (3.2 IP, 1 H, 0 R, 0 ER, 3 BB, 5 K). He allowed some very hard hit balls that just so happened to be right at people, and only 35 of his 67 pitches were strikes. Green faced 15 batters and threw only five first pitch strikes. Six of the 15 saw a hitter friendly 2-0 or 3-1 count. I still really like Green's arm. This was one of those games that looks much prettier in the box score than it did in real life though.
Headley had two hits and Castro had no hits. The other seven starters had one hit apiece, and Alex Rodriguez came off the bench to provide a pinch-hit single. It was A-Rod's first game action since last Friday. I wish I was joking. He just sat on the bench for an entire week. It's pretty amazing the Yankees would rather play with what amounts to a 24-man roster than release him, eat the rest of his contract, and use the roster spot on someone else. They have to pay the rest of the contract anyway.
And finally, the Yankees are 8-6 since the All-Star break against a pretty tough schedule, and according to FanGraphs their postseason odds have dropped from 8.1% to 7.4%. That recent hot streak was a total mirage built on unsustainably great pitching. The trade deadline is Monday and hopefully the Yankees do the smart thing and don't stop selling at Aroldis Chapman. This isn't a postseason team. Not even close.
Box Score, WPA Graph & Standings
For the box score and updated standings, go to ESPN. MLB.com has the video highlights and we have Bullpen Workload and Announcer Standings. The bullpen page is pretty useful. The announcer page? Not so much. Anyway, here is the win probability graph:

Source: FanGraphs
Leftovers
The Yankees and Rays will play the second game of this three-game series Saturday evening. That's a 6:10pm ET start for whatever reason. Nathan Eovaldi and Drew Smyly are the scheduled starters.