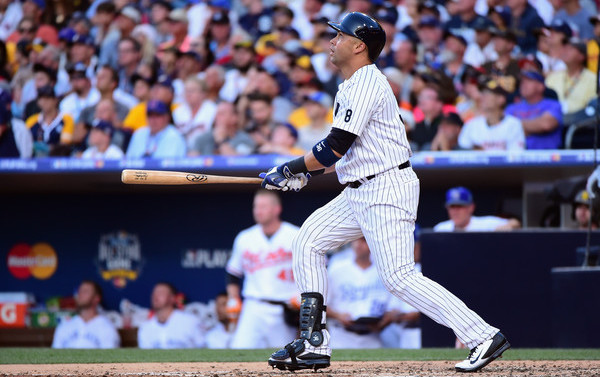 Thanks to last night's win over the BoSox, the Yankees improved their postseason odds to … 5.2%. That's not so good. Ownership still has not whether to buy or sell at the trade deadline according to Buster Olney, which is no surprise. I'm guessing they won't make that decision until the very last moment. I just hope none of their top trade chips get hurt between now and then. Anyway, here are some miscellaneous trade notes.
Yankees, Royals talked Beltran
According to George King, the Yankees and Royals discussed a trade involving Carlos Beltran earlier this season. Apparently reliever Luke Hochevar's name came up. The Royals are short on offense at the moment and they have a huge hole in right field, so while Beltran doesn't fit their mold as a premium defender, he'd sure as heck improve their lineup. Remember, Kansas City tried to sign Beltran as a free agent two offseason ago.
Hochevar being part of trade talks is interesting if not a little weird. He's a solid middle reliever (3.86 ERA and 3.83 FIP) and an impending free agent, but trading rental Beltran for a rental reliever makes no sense for the Yankees. I think Hochevar would have been part of the deal as a way to offset money on Kansas City's end. (He's making $6M total this year.) Beltran for Hochevar and a prospect or two seems like the final outcome there. There's no word on whether talks were serious or are ongoing.
Yankees scouting Nationals, Triple-A affiliate
The Yankees spent the weekend scouting the Nationals' Triple-A affiliate and will cover the big league team this week, reports Barry Svrluga. It's hard not notice Washington will be calling up pitching prospect Reynaldo Lopez from Triple-A to make his MLB debut tomorrow night. Pitching prospects Austin Voth and A.J. Cole are currently with Triple-A Syracuse as well.
Lopez, who Baseball America ranked as the 48th best prospect in baseball in their midseason top 100, has long been speculated as a possible trade target for New York. That said, he didn't pitch in Triple-A this weekend, so Yankees' scouts in Syracuse didn't see him. He threw an inning in the Futures Game in San Diego on Sunday. Voth and Cole pitched Friday and Saturday in Triple-A, respectively, for what's it worth. The Nationals have interest in Andrew Miller and Aroldis Chapman, so it's no surprise the Yankees are scouting their system. They're scouting everyone's system.
Rangers want Yankees to take on money in potential Miller trade
According to Jeff Wilson, the Rangers would like the Yankees to eat some money in a potential Miller trade. Miller is owed whatever is left of his $9M salary this season plus another $9M in both 2017 and 2018. That's certainly very reasonable given his on-field production, but who knows what Texas' financials look like. A $9M a year reliever may not be feasible to them.
Of course, given their financial might, the Yankees should be willing to eat money to facilitate any trade as long as it means a greater package of players coming back. It seems silly to pay someone as good as Miller to play elsewhere, but you know what? If it's the difference between getting a very good prospect and an elite prospect, why not? The Yankees have the money. That's a good way to leverage their financial firepower.
Cubs, others continue to scout Yankees
Yet another high-ranking Cubs official was at Yankee Stadium this weekend, presumably to scout their bullpen pieces, reports George King. They've now had three different scouts and pro scouting director Jared Porter watch New York's end-game relievers in recent weeks. That ain't routine coverage. The Cubs are getting multiple eyes on these guys because they want as much information as possible before getting serious about a trade.
King says the Braves, Rangers, Marlins, Cardinals, Nationals, Royals, and Giants have also been scouting the Yankees recently. I'm not quite sure what the Braves were doing there. Maybe they were checking guys out in the case the Yankees decide to buy or something? The other five clubs all make sense though. They're all contending and they all have some kind of clear need New York may be able to address via trade. The deadline is exactly two weeks away.