The Indians have been one of the best teams in all of baseball this season, so, naturally, the Yankees have beaten them four times in five tries. Go figure. The Yankees took Friday night's series opener 13-7 at Yankee Stadium. That was an enjoyable game. Would watch again.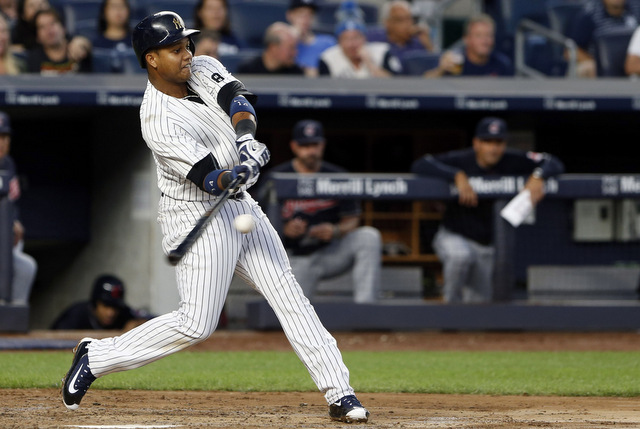 Score Early, Score Often
It had been a long time since the Yankees had a game like this, where they come out and score a bunch of runs early to take all the stress out of the game. They scored a first inning run for only the second time in their last ten games, and they scored the first two runs of the game for the first time since July 24th, the final game of the Giants series. It's been that long since the Yankees took a 2-0 lead in a game. Gosh.
The Yankees scored their first inning run thanks largely to the suddenly retiring Mark Teixeira, who whacked a double to put runners on second and third with one out. Jacoby Ellsbury had singled earlier in the inning. Brian McCann got the run in with a ground ball for a quick 1-0 lead. The score remained 1-0 until the third inning, when the Yankees really broke things open against Josh Tomlin.
Ellsbury and Teixeira started the rally this time as well, as they strung together a double and an infield single. Ellsbury with a double and Teixeira with an infield single rather than the other way around? Mass hysteria. Dogs and cats, living together. The infield single was a ground ball into the shift that the second base/short right field guy had to range too far to his right to corral. Teixeira beat it out without a throw.
McCann cashed the run in again, this time with a line drive double into the right-center field gap. Most players would have scored from first on that play, but not Teixeira. Not with his balky knee. The Indians followed that by intentionally walking Chase Headley, and Starlin Castro made them pay with his first career grand slam. It was an opposite field job a row or two back in right-center. Just like that, the Yankees were up 6-0 in the third.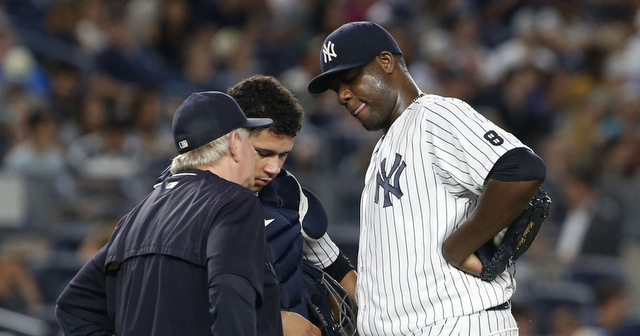 Pineda's One Big Mistake
The Yankees finally gave Michael Pineda some run support and they picked a good night to do it. He started the game pretty well and kept the Indians off the board until the fifth inning, when a single and a double give Cleveland runners at second and third with two outs. Rather than limit the damage, Pineda threw one of his trademark two-out, two-strike, hanging sliders. Sigh.
Light-hitting catcher Chris Gimenez — he came into the game hitting .198/.234/.267 (32 wRC+) — sent that hanging slider into the left field seats for a three-run home run. SIGH. That cut the lead to 6-3. Pineda allowed a fourth run later in the game and he wasn't even on the mound for that one; the bullpen let an inherited runner score. He finished the night with four runs allowed on six hits and one walk in six innings. Pineda struck out six. The quintessential Pineda outing, this was.
Tack On Runs
Gimenez's three-run home run really stunk and it made it seem like the late innings would be tight. Instead, the offense went back to work. First, Gary Sanchez hammered a run-scoring double over the center fielder's head in the fifth, then, in the sixth, Headley drove in a run with a single and Sanchez drew a bases loaded walk to give the Yankees a 9-3 lead. Indians southpaw Shawn Morimando walked four batters in that sixth inning, and it took a tremendous play by third baseman Jose Ramirez on a weakly hit Rob Refsnyder grounder to get out of the jam.
The Yankees scored two more runs in the seventh inning to stretch the lead to 11-3. Aaron Hicks socked a solo homer and Brett Gardner scored when the Indians outfield let Ellsbury's routine fly ball drop in. They scored that a hit, but come on. It was a routine fly ball that should have been caught, but wasn't due to miscommunication. That's Anyway, Gardner tripled earlier in the inning to set that up. He singled in another two runs in the eighth. Tack on runs are great. The Yankees took an early big lead and they kept adding to it. We haven't seen nearly enough of that this season.
Gary The Great
This was Sanchez's fourth career start overall and his first start behind the plate, which is kind of a big deal. I thought his receiving was solid and he made one really nice block on a Pineda slider on the dirt. It was textbook. He dropped to his knees and kept the ball in front of him with a man on base. Perfect. Sanchez also threw not one, but two runners out. Here's the first: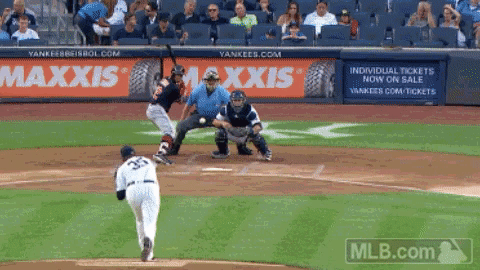 Look at that throw. Just perfect. Right on the money. We've been hearing about Sanchez's rocket arm for years now — MLB.com gives him a 70 arm on the 20-80 scouting scale — and he showed it off Friday night. Twice.
Is Sanchez going to be Yadier Molina back there? Nope. But based on these nine innings, he looks like an adequate big league catcher. I didn't notice any glaring deficiencies — he wasn't stabbing at the ball or anything like that — and that's good. It's good when you don't notice a catcher. Nice night for Gary behind dish. I'm looking forward to seeing more.
Leftovers
Johnny Barbato made a nice mess of things in the eighth inning by allowing all four batters he faced to reach base. Not good, Johnny. Adam Warren had to bail him out. Three runs scored in the inning to trim the lead from 11-4 to 11-7. Not the end of the world. Just annoying. Richard Bleier, Tyler Clippard, and Nick Goody all pitched as well. Five relievers in a game the Yankees scored 13 runs. Blah.
Every single starter had a hit. In fact, every starter reached base multiple times. Ellsbury led the way with four hits while Castro had two hits and two walks. The Yankees had 16 hits and drew eight walks against only four strikeouts. Those eight walks are a season high. Pretty great night for the offense. They scored in six of eight offensive innings and never once went 1-2-3.
Box Score, WPA Graph & Standings
Go to ESPN for the box score and updated standings, and MLB.com for the video highlights. Don't miss our Bullpen Workload and Announcer Standings pages either. Here's the win probability graph:

Source: FanGraphs
Up Next
The Yankees and Indians will play game two of this three-game series Saturday afternoon … hopefully. The forecast isn't looking too great at the moment. We'll see. CC Sabathia and Corey Kluber, a pair of former Cy Young award winners with the Indians, will be on the mound. RAB Tickets can get you in the door for either of the two games left on the homestand.