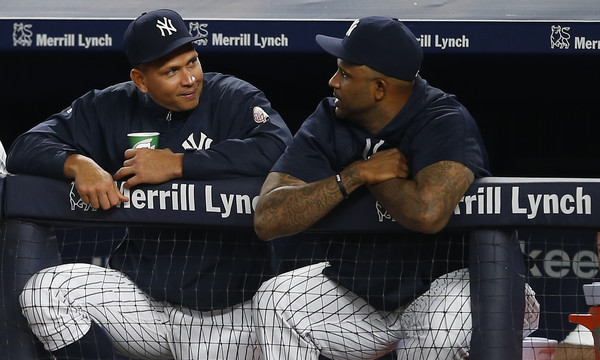 The Yankees and Indians will play the middle game of their three-game series this afternoon, and on the mound are two pitchers who won the Cy Young award with Cleveland: CC Sabathia and Corey Kluber. Kluber remains one of the best pitchers in baseball while Sabathia is in the middle of a nice bounceback season (4.15 ERA and 4.20 FIP). CC hasn't been great, but he's been much better than I expected.
The key to Sabathia's effectiveness is a short leash. Opponents are hitting .303/.372/.495 against CC after pitch No. 75, and we've seen Joe Girardi leave Sabathia in a little too long in recent starts. He allowed two runs in five innings against the Mets last time out, then gave up three runs in the sixth. He allowed two runs in six innings against the Orioles two starts before that, then allowed two more in the seventh. The start before that Sabathia allowed two runs in five innings against the Red Sox, then allowed three runs in the sixth.
Girardi had a short leash with Sabathia last season, or at least a shorter leash, but this year he seems to be trying to squeeze that extra inning out of him more often than not. For most of Sabathia's career, he was up to the task. Not anymore. Girardi should be on high alert once Sabathia gets to 80 pitches or so, especially in close games. Here is the Indians' lineup and here is the Yankees' lineup:
LF Brett Gardner
CF Jacoby Ellsbury
1B Mark Teixeira
DH Brian McCann
2B Starlin Castro
SS Didi Gregorius
C Gary Sanchez — day game after a night game? let's get weird
RF Aaron Hicks
3B Ronald Torreyes
LHP CC Sabathia
It's hot and humid in New York today, and the forecast says there's rain on the way a little later this afternoon. Hopefully it holds off long enough for them to play nine innings. This afternoon's game will begin at 1:05pm ET and you can watch on YES locally and MLB Network nationally. Enjoy the game.
Roster Update: Johnny Barbato has been sent down to Triple-A Scranton and Chasen Shreve has been called up, the Yankees announced. Barbato did not retire any of the four batters he faced with a seven-run lead last night. That'll do it.