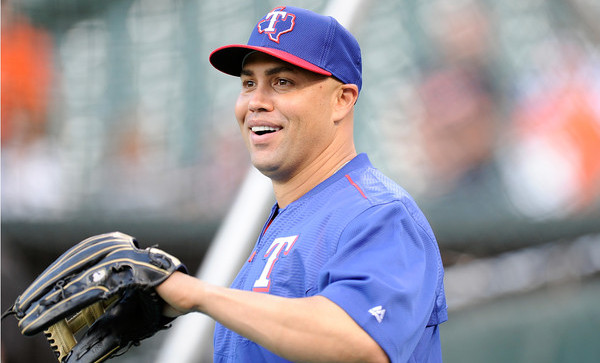 The Yankees and Indians will continue their three-game series later this afternoon, assuming the weather cooperates. Here are some stray links to help you pass the time until first pitch.
Chapman, Beltran open to re-signing with Yankees
After being traded last week, impending free agents Aroldis Chapman and Carlos Beltran told reporters they would be open to re-signing with the Yankees after the season. "I would love to come back again," said Chapman to Mark Feinsand while Beltran simply told Jared Diamond he would "gladly" return to the Yankees if the opportunity presents itself.
As good as he has been this year, I don't love the idea of bringing Beltran back next season, even on a cheap-ish one-year deal to DH. There are lots of young position players in Triple-A Scranton waiting for an opportunity. Chapman's a different story because he's still right smack in the prime of his career, and there's always room for another high-end reliever in the bullpen.
I feel like it's inevitable the Yankees will sign a top reliever this offseason, and I'd prefer Kenley Jansen or Mark Melancon to Chapman. I just have no interest in rooting for the guy following the domestic violence stuff. You're welcome to feel differently. Anyway, it's no surprise Chapman and Beltran are open to coming back. Why would any impending free agent rule out the Yankees?
Baseball America's best tools survey
One of my favorite features each season is Baseball America's best tools survey. They poll managers and coaches about the players in their leagues, then put all the results together. Here are the Yankees at each level. The links go to each article and they're not behind the paywall.
Chapman (best fastball) and Andrew Miller (best slider, second best reliever) both made appearances in the survey as well. Sanchez being voted as the best defensive catcher in the International League is pretty darn interesting. I'm not sure if that's because he's made a lot of improvement, or because it's just a weak year for IL catchers. I choose to believe the former. Go Gary!
No plans to release A-Rod
To the surprise of no one, Brian Cashman said the Yankees have no plans to release Alex Rodriguez during a recent radio interview (via George King). If the Yankees had any plans to release A-Rod, I think they would have done so already. Here's what Cashman said:
"It's not an easy circumstance, but there are no plans right now to do anything but give some reps to other people and see where it takes us, and if matchups or injuries hit, you might see him back out there,'' Cashman told ESPN Radio. "First and foremost, you just have to admit it's not easy to go ahead and eat — meaning release — that kind of money. It's not something you come to a quick decision on … There's a very large financial commitment through next year on a player of Alex's caliber that was productive as [recently] as last year. Now, he's being put in a position where sporadic play to try to get it going makes it more difficult. It's fair to ask why and it's fair to understand why it's not a quick, rash decision, especially with September around the corner."
Rosters expand in three weeks and five days, and I expect the Yankees to just ride this out with Rodriguez until then. They could release him in the offseason, but right now my guess is they hang on to him through the winter, then evaluate him in Spring Training. If he hits, they can give him a shot. If he stinks, they'll cut him loose. And if he gets hurt, they'll collect insurance on his contract.