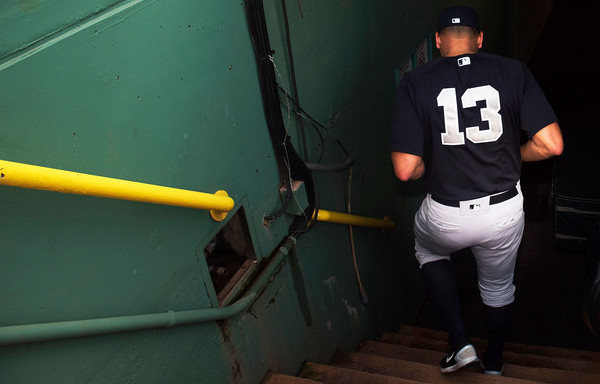 Last night, for the 15th time in the last 16 games, Alex Rodriguez was not in the Yankees' starting lineup. A-Rod has started only nine of the team's last 33 games now, so seeing him on the bench was not unusual. He hasn't hit since last August and the Yankees have benched him, understandably so. The circumstances were slightly different last night, however.
Over the weekend the Yankees and A-Rod announced he will play his final game this Friday before joining the front office as a special advisor and instructor. Listening to the press conference Sunday, it was pretty clear Alex feels he still has some quality baseball left in him. You can tell this isn't what he truly wants, but it is his best option, so he's taking it.
During Sunday's press conference Joe Girardi said he will talk to A-Rod to see what he wants to do this week as far as playing time. The team only promised him a start on Friday, in front of the home fans at Yankee Stadium, but they have to play three games in Boston before that, and Girardi did say he'll play Alex in those games if he wants to play.
"I'm going to talk to him as we move forward here," said Girardi on Sunday (video link). "Probably sit down and talk to him Tuesday when we get to Boston — maybe today after the game — and see where he's at mentally … He's earned the right to have the conversation with me and (say what) he wants to do here … If he wants to play in every game, I'll find a way."
And yet, A-Rod was not in the lineup last night, and not because he didn't want to play. He told reporters before the game he wanted to play these three games in Boston. During the game YES showed a clip of Alex's pregame chat with reporters and he looked totally bummed he wasn't in the lineup. It was kinda sad. The guy just want to play some games before his career ends, you know?
"I came to the stadium really excited, hoping I would play all three games or maybe two out of three," said A-Rod to reporters yesterday, including George King. "He just said, 'We're trying to win games.' It was surprising and shocking … He has his opinions and I have mine. But like I've said from the time I came back from my suspension, it's up to Joe and I'll do whatever he wants."
Girardi justified his decision to sit A-Rod despite his "if he wants to play in every game, I'll find a way" declaration by saying he got caught up in the emotion of Sunday. He said something at the time and regretted it, basically. "I'm an emotional guy and my heart can get tugged at. I think I got caught up in the emotions. I'm human," said Girardi yesterday. "I'm not saying he won't play these next two days, but I'm managing to win the games. This is a very important series for us."
Going back on that promise is pretty damn weak, isn't it? One day Girardi says if Alex wants to play, he'll play. The next day he says they can't play him because they're trying to win, which is a load of crap because the Yankees traded most of their good players at the deadline. Mark Teixeira still bats third. The wholly unproductive Aaron Hicks plays every day. Anthony Swarzak is a trusted reliever. They aren't trying to win anything, and if they are, holy cow are they doing a bad job.
Girardi has been extremely supportive of A-Rod over the years, whether he was under fire because he didn't get The Big Hit in the postseason or was returning from his 2014 suspension or something else entirely. Remember when Girardi almost punched Brian O'Nora as part of his tirade when Ryan Dempster threw at Alex back in 2013? (GIF via SB Nation)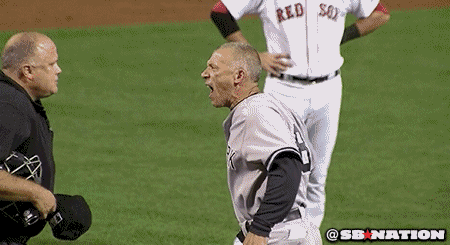 All that unwavering support over the years is part of what makes the sudden change of heart this week so odd. I can't help but wonder if Girardi is getting orders from above to not play A-Rod this week, or maybe something happened behind the scenes that caused him to change the way he feels about Alex. Or maybe he never truly cared about him and only had his back out of obligation. Who knows?
All I know is that on Sunday I heard A-Rod will play this week if he wants, and now that's not happening. That's not cool. The Yankees will be the first to tell you they're a classy organization and all that, but we're not seeing it here. The "we're trying to win games" reasoning is dubious at best and a straight up lie at worst. A-Rod's no saint. We all know that. But that's not a reason to pull the rug out from under him this week.
It's important to note the Yankees don't own Alex anything. Well, other than the $20-something million left on his contract, but you know what I mean. They didn't have to offer him an advisor/instructor job. They didn't have to agree to let him play one final home game Friday. They didn't have to do any of this. The Yankees could have released A-Rod on Sunday and it would have been 100% justifiable.
But they did do all of this. They offered him the advisor/instructor job, they agreed to let him play Friday, and Girardi stood at the podium Sunday and told everyone "if he wants to play in every game, I'll find a way." Now that's not happening, and it reflects poorly on Girardi and the Yankees because they're backtracking. This is the team making one of the veteran leaders a promise and then reneging. How does everyone else in the clubhouse feel about that?
I want to see A-Rod play these final three games because he's one of my all-time favorite players and his career will be over in less than 64 hours. I want to see him try to sock a dinger one last time. I want to see him play the field and show off the rocket arm one last time too, but maybe now I'm asking too much. Either way, if A-Rod strikes out five times and makes an error instead, well, who cares? The Yankees aren't going anywhere and that's not how I'll remember Alex anyway.
I didn't think this was possible, but the Yankees have managed to turn A-Rod into a sympathetic figure these last few weeks between the benching and the forced retirement and not playing him these final few games against his wishes. I doubt that was their intention, but it happened. Alex is the one who has come out of this looking good. Now it's the Yankees who are saying one thing and doing another, and as A-Rod showed all these years, that no way to win over fans.