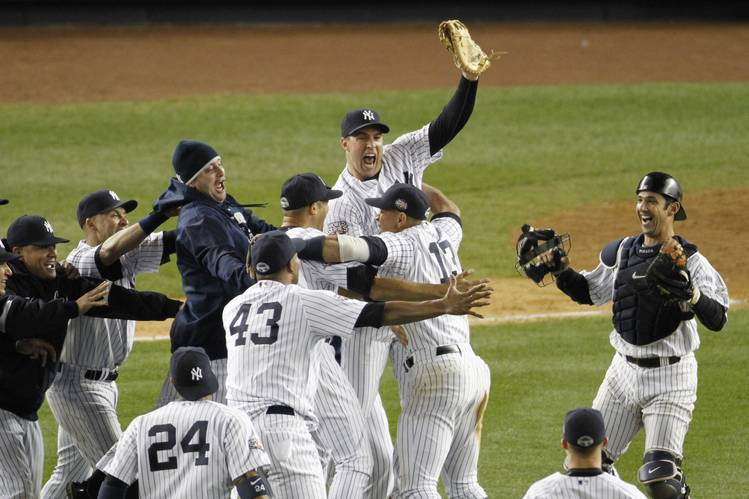 Tribute to Teix
The first stunning news conference of the weekend came just a couple hours before the opening game of this Yankees-Indians series, when Mark Teixeira announced that he will retire at the end of the 2016 season.
One of the defining numbers of Teixeira's legacy is his unprecedented combination of power and defense, at a position where most players either excel in one of those two tools, but rarely both. Teixeira is the only first baseman with at least five Gold Gloves (awarded since 1957) and at least 400 homers.
Teixeira was also unique in that he produced at a high level right out the gate as a rookie, and showed impressive consistency during the prime years of his career. He reached the 25-homer mark in each of his first nine career seasons (2003-11), one of four players in major-league history to do that: Darryl Strawberry, Albert Pujols and Eddie Mathews are the others.
The next season he hit 38 homers and drove in 112 runs, kicking off an incredible eight-year run of 30-plus homers and 100-plus RBI. Among players that played at least 50 percent of their games at first base during the season, the only other guys to match that streak are Lou Gehrig and Jimmie Foxx.
Teixeira was in the Bronx for less than a decade, but he still has a place alongside the all-time great first basemen to wear the pinstripes. He is one of three Yankee first baseman to compile at least 200 homers and 800 hits with the franchise. You might have heard of the others: Don Mattingly and Lou Gehrig.
Just hours after Teixeira's emotional announcement, the Yankees took the field and produced one of their finest offensive performances of the season in routing the AL Central-leading Indians, 13-7.
Starlin Castro delivered the biggest blow of the game with his first career grand slam in the third inning. Thanks to that blast, Castro upped his batting average with the bases loaded this season to .429 (6-for-14 plus a sac fly), the second-highest in the majors among players with at least 15 plate appearances through Friday.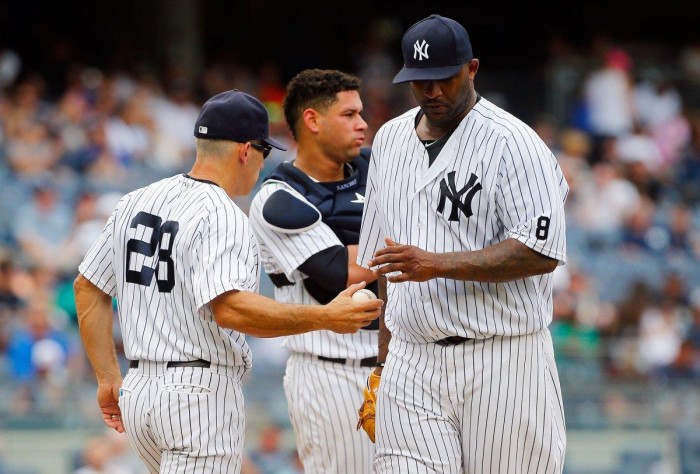 The letdown
The Yankees rollercoaster-like offense continued its up-and-down path, while another so-so performance from their starting pitcher doomed them in a 5-2 loss to the Indians on Saturday afternoon
Since the calendar flipped to August (and through Saturday), the Yankees game-by-game run totals have been as follows: 6, 1, 9, 1, 13, 2. For the season, that's 44 games with two or fewer runs scored, by far the most among AL teams (no one else in the league even has 40 such games).
CC Sabathia retired the first 10 batters faced, but once again was victimized by the longball, giving up solo shots to Jason Kipnis in the fourth and Mike Napoli in the sixth inning. This was the third straight start that Sabathia has given up multiple homers, the first time in his career he's done that.
After a shaky second inning during which he coughed up two runs, Corey Kluber dominated the Yankee lineup the rest of the way, facing the minimum number of batters over his final six innings while striking out eight batters. It was his third straight win over the Yankees, and in each of those games he's given up no more than two runs and gotten at least eight strikeouts.
Only four other players in major-league history have fashioned such a streak — three straight games pitched with a win, eight-plus strikeouts and two or fewer runs allowed — versus the Yankees: Felix Hernandez (2010), Pedro Martinez (1999-00), Bob Feller (1946) and Lefty Grove (1926).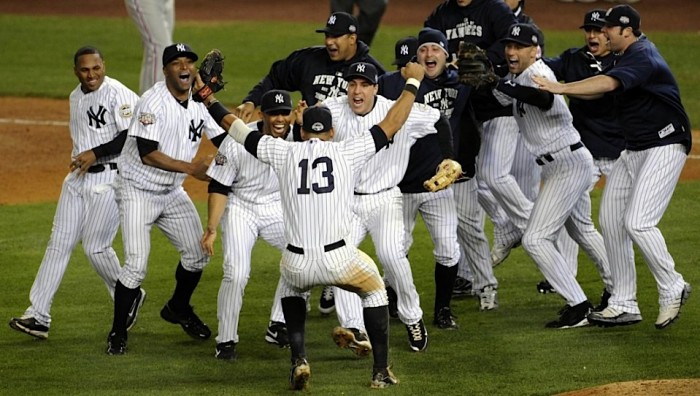 An A-bomb from A-Rod
For the second time in three days a shocking off-field news item grabbed the headlines in Yankeeland. Just hours before Sunday's series finale, Alex Rodriguez and the team announced that the 41-year-old would play his final game on August 12 and then join the front office in a special advisor/instructor role.
A-Rod might be one of the most complicated and polarizing figures in baseball, but it's hard to ignore his staggering (though tainted) statistical pedigree. He's compiled numerous historic feats during his 22-season career, but most notably, he arguably possessed the best power/speed/run-producing combo tool of any hitter.
His 11 seasons of at least 100 RBI, 30 homers and 15 steals are the most all-time (and four more than anyone else), and he is the only player in major-league history with at least 2,000 RBI, 500 homers and 300 steals in a career.
Most people would agree that A-Rod's signature moment in pinstripes was his incredible production during the Yankees' 2009 World Series run. He hit .365/.500/.808 with six homers and 18 RBI, putting together one of the greatest single-postseason hitting lines in franchise history.
Among Yankees with at least 25 at-bats in a postseason, his 1.308 OPS ranks third behind only Mickey Mantle in 1960 (1.345) and Reggie Jackson in 1978 (1.315). Additionally, he is the only Yankee with more than five homers and more than 15 RBI in a single postseason.
There was still a game to be played after A-Rod's announcement, and the Yankees once again rode the momentum of yet another tearful and emotional press conference, beating the Indians 3-2.
Masahiro Tanaka was masterful on the mound, scattering six hits across six innings while striking out eight and allowing just one run. He is now 5-1 with a 2.07 ERA in 10 starts following a Yankee loss. Among MLB pitchers with at least nine such starts this season, only Jacob deGrom (1.99) has a better ERA than Tanaka.
Tanaka's final strikeout — the result of winning a 12-pitch battle with Lonnie Chisenhall to end the sixth inning — was also the 400th strikeout of his career. The only other Yankee to reach that milestone this early into his major-league career (67th game) was Al Downing.