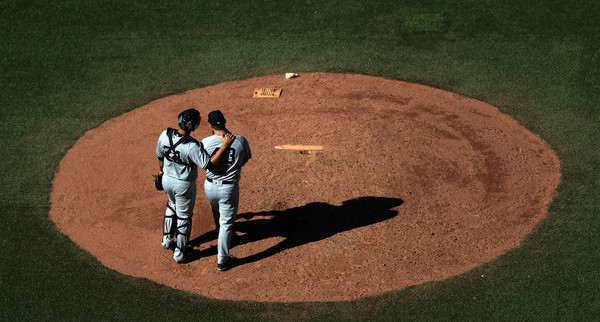 After six months of red-eye flights and swanky hotels, the Yankees are playing their final road game of the 2016 season tonight. They're an awful 35-45 on the road, which is their worst record away from Yankee Stadium since going 35-46 in 1992. Things aren't so bad at home. The Yankees are 44-31 with a +21 run differential in the Bronx.
Anyway, Luis Severino returns to the rotation tonight because someone had to replace the injured Masahiro Tanaka, and the Yankees consider him the best man for the job. Severino hasn't thrown more than 52 pitches in a game in a month now, and his changeup remains non-existent, so we'll see how this goes. Good thing there are 13 pitchers in the bullpen tonight. Here is the Blue Jays' lineup and here is the Yankees' lineup:
LF Brett Gardner
CF Jacoby Ellsbury
C Gary Sanchez
DH Billy Butler
3B Chase Headley
1B Mark Teixeira
SS Didi Gregorius
RF Aaron Hicks
2B Ronald Torreyes
RHP Luis Severino
I have been informed by the internet that it is a cold and rainy day in Toronto, so chances are the Rogers' Centre roof will be closed. Tonight's road schedule finale will begin at 7:07pm ET and you can watch on YES locally and MLB Network nationally. Try to enjoy the game.
Roster Move: The Yankees have outrighted J.R. Graham off the 40-man roster, the team announced. He is still with the organization, and I'm pretty sure Graham isn't eligible for minor league free agency this offseason, so he'll be back next year too.