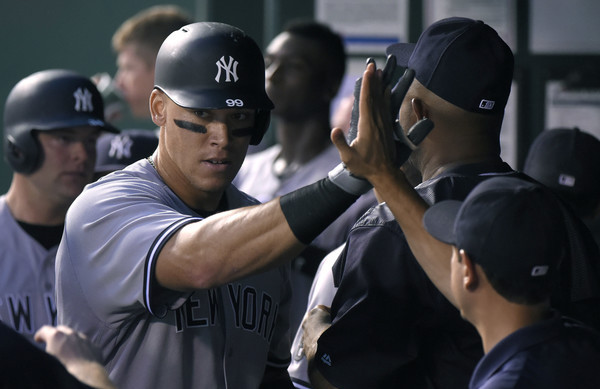 Last night the Yankees won the second game of their three-game series with the Dodgers, but they also lost an everyday player to injury. Right fielder Aaron Judge tweaked his right oblique taking a swing, and although he stayed in to finish the at-bat, he was pulled from the game after the inning was over. Judge will go for an MRI today to determine the severity of the injury.
"It's possible (he's done for the season)," said Joe Girardi following last night's game. "It's his right rib cage. He'll have an MRI. We won't see him for a while … I just told him, 'You're out.' I called him over and he didn't really argue. We've got to get this checked out and see where you're at."
Judge's first month or so in the big leagues has been a mixed bag. He's hitting .179/.263/.345 (61 wRC+) overall with a 44.2% strikeout rate, so for the most part his at-bats have been unproductive. At the same time, every once in a while Judge will do this …
… and remind you exactly why he's been so highly touted the last few seasons. That's not even the longest home run Judge has hit in his short time as a big leaguer. He hit one over the windows of the restaurant in center field last month. Between the power and the strikeouts, it's amazing Judge ever sees a fastball. It really is.
Anyway, the injury means the Yankees are down not only their starting right fielder in Judge, but also their backup right fielder. Aaron Hicks is still out of action with a Grade II hamstring, remember. At the moment the Yankees have only three healthy true outfielders on the active roster: Brett Gardner, Jacoby Ellsbury, and Eric Young Jr. That's it. (I won't blame you if you forgot about EYJ. I did too.)
Even if the MRI today reveals good news, chances are the Yankees will be without Judge for at least a few days. Oblique strains usually don't heal overnight. Also, they're very easy to reaggravate, and Judge isn't a nobody. The Yankees are going to play it very safe with him. The last thing they want is him to suffer a setback that throws his offseason workouts out of whack. Here are the team's options with Judge sidelined.
Short-Term Fix
Girardi all but confirmed Rob Refsnyder will step in as the every right fielder for the time being. They really have no other choice. "That's what I'll go with now and obviously I've got to talk to (Brian Cashman) to see if we're going to make a move here," said the manager last night. The only other option is Tyler Austin, who is the most-of-the-time first baseman, so Refsnyder it is.
In sporadic playing time this year Refsnyder has a .268/.342/.333 (81 wRC+) batting line in 159 plate appearances. That's … unique. He's drawing walks (10.1%) and making contact (13.2% strikeouts), but he's also hit for zero power. Refsnyder's yet to hit a home run and he has only nine doubles too. He works a quality at-bat almost every time up and that's great. Some extra-base pop would be cool though.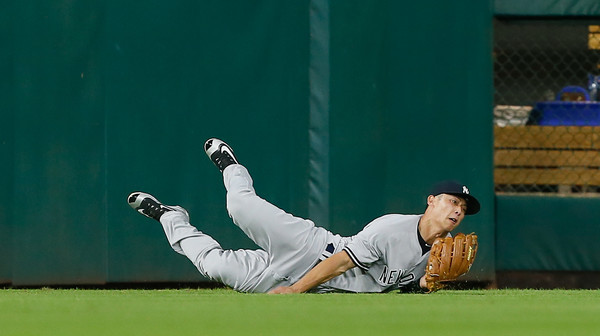 Hopefully the doubles and homers come now that Refsnyder will get a chance to play everyday. His defense is not great in right field — maybe this will press Young into defensive replacement duty in tight games? — but again, the Yankees are pretty much out of options. Based on the guys they have on the active roster, Refsnyder is the best right field solution.
Returning Soon?
Grade II hamstring strains can be pretty serious and they tend to lead to prolonged absences, but Hicks is already back performing baseball activities. He got hurt on August 31st and he's already started running in the outfield and taking batting practice. Hicks is going to Tampa later today to ramp up his rehab, and it sounds as though the goal is to activate him off the DL when the Yankees arrive for their series with the Rays next week.
As crappy a year as he's had, getting Hicks back as soon as next week would be pretty huge. At the very least, he could replace Refsnyder for defense in the late innings. Best case scenario is Hicks picks up where he left off in August — he hit .280/.330/.439 (106 wRC+) in fairly regular playing time last month — and takes over right field everyday. A little friendly competition between Refsnyder and Hicks would be good for both, I think. Either way, there's a chance Hicks will return as soon as next week. That would be pretty awesome.
The Call-Up Candidate
The Yankees have one outfielder on the 40-man roster who is not in the big leagues right now: Mason Williams. Williams returned from shoulder surgery at midseason and hit .317/.335/.410 (112 wRC+) in 46 regular season minor league games, almost all at Triple-A. Typical Mason Williams, basically. At least when he's going good. Williams has carried that performance over into the postseason with the RailRiders too.
Girardi acknowledged a Williams call-up was possible last night — "It's going to be really difficult (with a short bench) … There's outfielders down there that we're going to have to talk about because we're short," he said — and given where the Yankees are in the postseason race, everything has to be on the table at this point. They surely want Williams to get as many at-bats as possible following shoulder surgery, but playing with a short bench in a postseason race makes no sense.
Remember, the Yankees originally planned to give Bryan Mitchell one more Triple-A start to iron things out earlier this month, but as soon as Chad Green got hurt, they called Mitchell up because he was the best option. The same applies to Williams. Would they like him to get more at-bats with the RailRiders? Surely. Judge's injury has forced their hand though, and with a playoff spot within reach, having the best team possible has to be the priority.
Scranton's season will end no later than Saturday — it can end as soon as tomorrow — and I'm guessing Williams won't make it that far. He'll be up before then, perhaps later today. The RailRiders would be pretty screwed during the International League Championship Series, but the big league team is the always the priority. Chances are we'll see Mason very soon.
The Long Shots
The three other outfielders with Triple-A Scranton are not on the 40-man roster: Clint Frazier, Cesar Puello, and Jake Cave. I can't see them calling Frazier up a year before he's Rule 5 Draft eligible. That would be a big time panic move. Puello and Cave are a different story because cutting them loose in the offseason wouldn't be a big deal. If the Yankees do decide to give Williams more at-bats in Triple-A following surgery, Puello or Cave could get the call instead. This section is called "The Long Shots" for a reason though. I don't see this happening. Puello, Cave, and Frazier are all options available to the Yankees. They're not that desperate yet though.
* * *
The Judge injury isn't devastating — he wasn't hitting much outside the occasional dinger — but it further thins out the Yankees' outfield. Refsnyder is a short-term solution and Hicks might be back next week, which would be cool. My guess is we'll see Williams sooner rather than later too. There's a clear need and he can be useful, even if he's only a defensive replacement for the time being. The Yankees may not want to use Refsnyder in right or call up Williams before the end of the Triple-A season, but they're short on outfielders at the moment, and those two are their best immediate options with Judge and Hicks out.