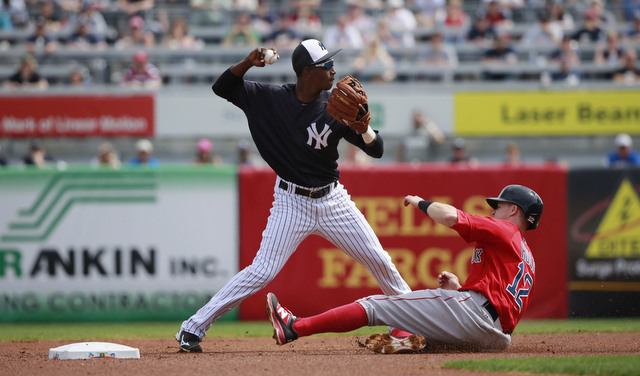 The Yankees and Red Sox will continue their four-game series with the third game later this afternoon. Here are some bits of news and notes to hold you over.
Mateo among Law's most disappointing prospects
After blazing start to the season with High-A Tampa, shortstop prospect Jorge Mateo hit a wall in June and never really recovered. He finished the year with a thoroughly disappointing .254/.306/.379 (99 wRC+) batting line despite setting a new career high with eight homers. Mateo went 36-for-51 (71%) in steal attempts one year after going 82-for-99 (83%).
It's no surprise then that Mateo is one of eight top 100 prospects who took a step back this season, according to Keith Law (subs. req'd). "Getting suspended for two weeks for an unspecified violation of team rules was just the tip of the iceberg … multiple scouts have told me they haven't seen Mateo make anywhere near enough hard contact," said his write-up. "(The Yankees) seem to have soured a little on his makeup and have clearly superior shortstop options elsewhere in the system."
The Yankees were ready to trade Mateo to the Padres for Craig Kimbrel at the trade deadline last year and it wouldn't surprise me to see them shop him for pitching this offseason. They have a ton of shortstops in the farm system, including the superior Gleyber Torres, and Mateo still has enough top prospect shine to headline a package for a quality young pitcher. Right now I think there's better than a 50/50 chance Mateo is traded this winter. We'll see.
Instructional League roster released
Earlier this week Baseball America (no subs. req'd) posted the Yankees' Instructional League roster. Instructs start later this month and run through mid-November. The roster looks the same as always. Some top prospects but mostly recent draftees and international signees, and players who missed time to injury. Blake Rutherford is apparently healthy enough for Instructs after missing the end of the season with a hamstring injury, so that's cool.
Yesterday we heard James Kaprielian faced hitters for the first time since being shut down with an elbow injury way back in April. He's not on the Instructional League roster but could always be added and get some innings there. The Yankees want Kaprielian to pitch in the Arizona Fall League and Instructs would be a natural stepping stone. Also, Greg Bird will face living pitching in Instructional League for the first time since shoulder surgery. He's not on the roster but that might have to do with the fact he's technically a rehabbing big leaguer, not a minor leaguer.
Gurriel holds showcase for MLB teams
Cuban infield prospect Lourdes Gurriel Jr. held a workout for teams earlier this week in Panama City, reports Jesse Sanchez. There were 60 scouts in attendance and Gurriel did the usual: fielded ground balls, shagged fly balls, took batting practice, ran sprints, that sort of stuff. "I have been waiting for this moment and now it became a reality. This was my first step to the big leagues, God willing. I'm grateful for everyone who helped me get to this point," he said.
Sanchez said scouts were impressed by Gurriel's arm and physicality, though the consensus is he needs more at-bats against live pitching. I mean, duh. He hasn't played in a competitive game in almost a year now. The expectation has always been that Gurriel will need to spend some time in the minors before helping a big league team, the same way his brother did. Yulieski, by the way, has hit .329/.350/.500 (129 wRC+) with three homers in his first 22 games with the Astros, so that's going well.
Lourdes is not Yoan Moncada, but he's pretty darn good. He's working out for teams now even though he won't sign until he turns 23 next month. Once he turns 23 he will no longer be subject to the league's international spending restrictions, so teams can pay him whatever they want. The Yankees haven't signed a big name Cuban player in a long time, not since Jose Contreras, so I really have no reason to think they'll sign Gurriel. Maybe they'll surprise me.
Refsnyder nominated for Marvin Miller award
Rob Refsnyder is the Yankees' nominee for this year's Marvin Miller Man of the Year award, the MLBPA announced earlier this week. The award is given annually to the player "whose on-field performance and contributions to his community inspire others to higher levels of achievement." Fans can vote to select one finalist from each division. Here's the ballot.
Refsnyder, who was born in South Korea and adopted by a family in California when he was three months old, has been helping raise money for a charity called A Kid's Place, which helps Tampa area children who have been removed from their homes due to abuse or neglect. Refsnyder designed and is selling a t-shirt through Athletes Brand, with all the proceeds this month going to the charity. Pretty awesome. Well done, Ref.