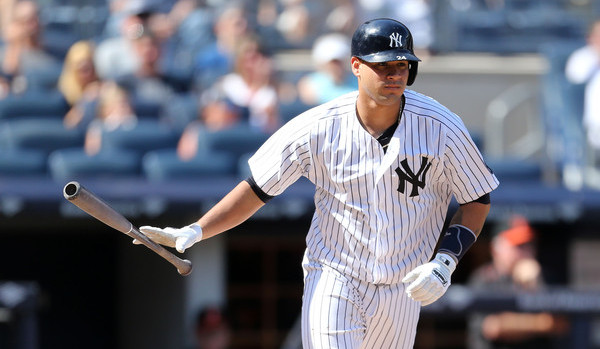 Earlier today, Baseball America wrapped up their annual look at the top 20 prospects in each minor league with the Triple-A International League (subs. req'd). Three big leaguers claimed the top three spots: Nationals SS Trea Turner, Twins OF Byron Buxton, and Yankees C Gary Sanchez. Hooray for that. OF Aaron Judge placed 19th.
"Sanchez stood out for his plus raw power even before mashing 11 home runs for the Yankees in August. He offers more at the plate than just raw power, however. He can use the whole field to hit, and he cut his strikeout rate this year," said the write-up. The scouting report also lauds his "top-of-the-scale arm strength" and improved receiving while noting there's still work to do defensively. Pretty much exactly what we saw this year, right? Right.
As for Judge, the scouting report says he is "more than just a masher" at the plate because he has discipline and uses the whole field, but "his size makes his swing long, and more advanced pitchers have been able to exploit some of his holes." He's also said to be a prototypical right fielder defensively, with a strong arm and better athleticism and mobility than you'd expect given his 6-foot-7 frame.
I didn't realize the International League was so deep this year. There are 19 legitimate top 100 prospects in the top 20. Guys like 2B Rob Refsnyder, 1B Tyler Austin, RHP Luis Cessa, and RHP Chad Green had no chance to make it. OF Clint Frazier certainly would have made the top 20 had he spent enough time in the league to qualify for the list. You can see the top 20s right here (no subs. req'd).