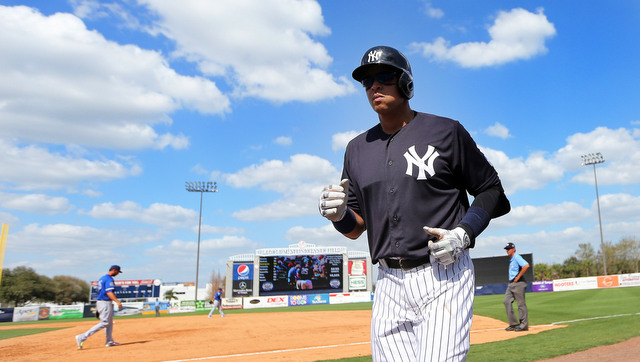 Assuming the weather cooperates, the Yankees and Orioles will continue their three-game series with the middle game this afternoon. Here are a few links — with a heavy dose of minor league stuff — to help you pass the time before the penultimate game of the 2016 season.
A-Rod arrives at Instructs
Alex Rodriguez's post-playing career is officially underway. A-Rod made his debut as a guest instructor in Instructional League yesterday and will be there today as well, report Kevin Kernan and Mark Didtler. A-Rod worked specifically with Clint Frazier, Blake Rutherford, and Jorge Mateo, three of the Yankees' very best prospects.
"It feels great to be back in pinstripes, to be with the young players. It's our debt. We owe the game. In many ways it's our responsibility to pay it forward," said Alex. "There is as much good young talent that I've seen here in all my years with the Yankees … The talent jumps off the page. Right now I'm just collecting a lot of information, trying to understand their strengths and weaknesses, and try to understand their personalities."
A-Rod, who will again be part of FOX's postseason coverage, is expected to address the 55 players at Instructs today. It sounds as though he spent most of his time yesterday working with players in the batting cage, not out on the field defensively. I've seen rumors that A-Rod is going to stop by the Arizona Fall League at some point, though that's unconfirmed. Either way, he's at Instructs now. (Brendan Kuty has some photos of the minor league complex, if you're interested.)
Kaprielian pitches, Mateo tries the outfield
Two other notes from Instructs: James Kaprielian, who missed most of the season with an elbow injury, threw two innings in an Instructional League game yesterday, Joe Girardi confirmed. The Yankees hope he'll complete his rehab in Instructs and then pitch in the AzFL. Weirdly enough, he was re-added to the Scottsdale roster soon after being removed earlier this week. Point is, Kaprielian is on the mend and pitching. That's good.
Also, the Yankees have had Mateo working out in center field in Instructional League, according to Kernan. That's pretty interesting. It's not necessarily a permanent move — it's not uncommon for players to try new positions in Instructs (someone sent me a photo of Gary Sanchez playing third base once) — but it makes sense to try it out. With so many shortstops in the system, center field would make better use of Mateo's speed and athleticism than second base.
Kaprielian among best unqualified prospects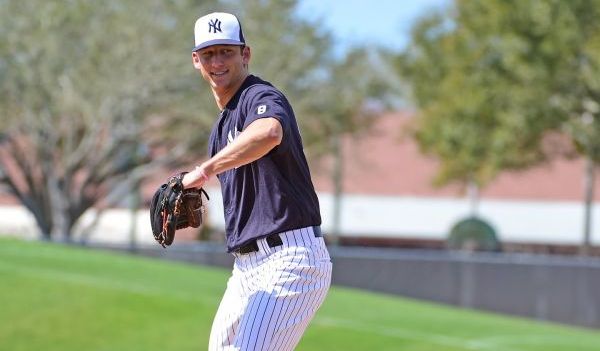 Baseball America is currently rolling out their top 20 prospects lists for each minor league, and in a companion piece (no subs. req'd), Kaprielian was listed as one of the best prospects who did not qualify for a top 20 list. He simply didn't throw enough innings. Here's a snippet of the write-up:
His fastball velocity, erratic in his junior college season and generally in the 89-92 mph range as an amateur, sat 92-96 mph and reached 97. His feel for his breaking balls was a key asset in his amateur days, and he was up to 87-89 mph with his slider on Opening Day, with a true power curve in the low 80s. All three pitches earned plus grades … Kaprielian has the highest ceiling of any Yankees pitcher and was the best pitcher in the Florida State League this season but essentially lost a year of development.
The lost season really stinks because it's not out of the question that a healthy Kaprielian could have made his MLB debut in September. If nothing else, there was a good chance he could have finished the season in Triple-A and been a big league option early next year. The good news is he's healthy now and pitching in Instructs. Hopefully Kaprielian gets some innings in the AzFL.
Adams among prospects to make most progress
With the minor league season now over, the folks at Baseball Prospectus (subs. req'd) broke down the prospects who made the most progress this season. The guys who developed best over the summer and finished the season as much better players than they started, basically. Chance Adams was included. Here's a piece of his write-up:
While starting, he still showed off the two plus pitches that got him drafted, but showed more feel for his changeup and curveball as the season progressed. His command also improved as the season progressed, having a better idea of where to locate and execute his pitches in specific counts … While I don't think durability will be an overall issue for him, it is just something to keep notice of for the following year.
I've yet to see a remotely negative scouting report about Adams this year. Usually you'll come across one or two throughout the season, especially with pitchers who might wind up in the bullpen, but there's nothing like that with Adams yet. He figures to start next season in Triple-A, which makes him a potential big league option. I'm looking forward to seeing how Adams' second season as a starter goes.
Torres among potential top ten prospects for 2017
Soon after the end of the minor league season, Jim Callis looked at players who could emerge as one of the top ten prospects in baseball next season. Nationals outfielder Victor Robles sat in the top spot. Gleyber Torres, who came over from the Cubs in the Aroldis Chapman trade, was fifth. "Torres is a very advanced hitter and his defense keeps improving," said the write-up.
On Twitter, Callis said he prefers Torres to Frazier because he believes in his bat more, plus he plays a more valuable position. I don't necessarily agree, but preferring Torres to Frazier is not in any way unreasonable. Either way, the Yankees have both these guys. It's not one or the other. They're both in the organization. The fact both are among the best prospects in baseball is pretty awesome. The Yankees built quite the prospect base these last few months.