Even though they've been eliminated from postseason contention, the Yankees are not going quietly this final weekend of the season. They erased a three-run deficit and scored seven unanswered runs Saturday afternoon to earn a 7-3 win over the Orioles. That creates some serious headaches for Baltimore's postseason push. Hooray for that.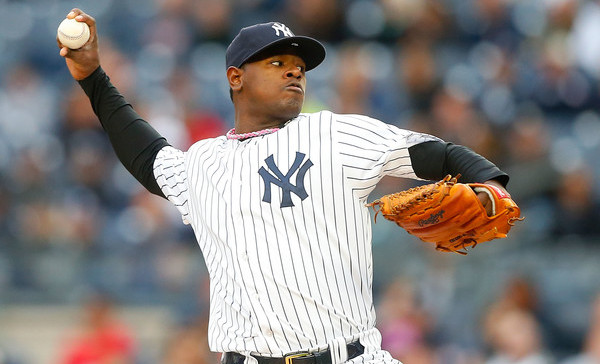 Sevy The Non-Starter
Luis Severino's final start of the season didn't go any better than the first ten. While on a strict pitch count, he allowed three runs on five hits and two walks in 3.2 innings. The first two runs came on Michael Bourn's two-out, two-strike single in the second inning. The third came on Manny Machado's solo homer. Meh. Machado's going to do that. But a two-strike hit by Bourn? Weak.
Severino finishes the season with an 8.50 ERA (5.41 FIP) in eleven starts and 47.2 innings. Opponents hit .337/.389/.587 against him as a starter. Severino basically turned every hitter he faced into a more powerful Jose Altuve (.337/.396/.533), at least when working as a starter. Woof. Severino was awesome as a reliever — 0.39 ERA (2.29 FIP) and a .105/.209/.158 opponent's batting line in 23.1 innings — but as a starter, he was historically terrible. He's only the 24th pitcher in history to make at least ten starts with an 8.50+ ERA, and more than a few of the other 23 were broken down old guys trying to hang on.
Severino's issues as a starter seem pretty obvious. He admitted he's lost confidence in his changeup — only three of his 66 pitches Saturday were changeups — and his location is generally poor. With everything, really, but especially with his offspeed stuff. Considering the expectations coming into the season, Severino was a colossal disappointment this year. Can't sugarcoat it. Hopefully he learns from this season and is better for it in the future.
The Comeback
After falling behind 3-0 early, I wouldn't have blamed the Yankees for packing it in and coasting to the finish line. This game means nothing to them. Guys are already planning their vacations and looking forward to some rest and relaxation. Instead, they battled back in a game that meant an awful lot to the Orioles. The Yankees scored runs in the fifth, sixth, seventh, and eighth innings. They chipped away.
Tyler Austin's one-out single drove in the team's first run in the fifth inning. A single (Mark Teixeira) and a walk (Chase Headley) set that one up. In the sixth, Headley doubled in the team's second run after Billy Butler and Rob Refsnyder singled with two outs. Love those two-out rallies. The Yankees tied the game in the seventh inning on Austin's solo home run. Yet again, it was an opposite field job.
Austin has hit five homers since being called up. All five have a) been opposite field shots at Yankee Stadium, and b) either tied the game or given the Yankees the lead. Clutch right field dingers seem to be Austin's specialty. Pretty cool. Can't believe Buck Showalter still had Wade Miley on the mound at that point. Ronald Torreyes followed the homer with a single against Miley too. He was at 99 pitches and set to face a bunch of righties. Why send him back out for the seventh? Their loss.
The wheels came off in the eighth inning for the O's. Brian McCann popped up to start the frame, then Showalter went to setup man Brad Brach, who's had a great season overall but has really struggled of late. Brach walked Jacoby Ellsbury on five pitches, then fell behind in the count 3-1 to Headley. Headley jumped on the 3-1 hanger and poked it by a diving Chris Davis at first base for a double. The Yankees were in business.
Brach again fell behind in the count, this time 2-0 to Austin Romine, and Romine sliced a hanging breaking into shallow left field for a two-run single. Headley actually bumped into J.J. Hardy while on the bases, which third base umpire Jim Reynolds saw, resulting in an obstruction call. Headley scored well ahead of the throw, so ultimately the obstruction didn't matter. Had he been thrown out, Reynolds could have awarded him home because of the obstruction.
Romine's single gave the Yankees a 5-3 lead. Torreyes drew a walk two batters later, then Brett Gardner slapped a two-run double to left field to stretch the lead to 7-3. September call-up Oliver Drake was on the mound at that point. The Orioles are fighting for their playoff lives, yet Zach Britton watched that inning from the bullpen. I do not understand. Well, no, I do. Closers are for closin'. Bullpen usage can be so stupid sometimes.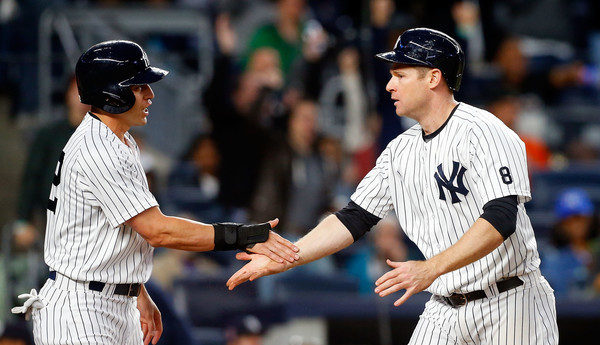 The Unsung Hero(es)
The bullpen made the comeback possible. Severino bowed out after 3.2 innings, then Jonathan Holder came in to get the next four outs without incident. Richard Bleier, Kirby Yates, and Tyler Clippard each followed with a scoreless inning to keep the O's at bay. Those four guys combined to allow three singles and two walks in their 4.1 innings. Weirdly, they did not strike a single batter out. Huh.
You know who did strike a batter out? Dellin Betances. Three of them, in fact. He came in to pitch the ninth inning with the 7-3 lead, allowed a dumb infield single — the throw got to him in time, but Dellin took a little stutter step that allowed Bourn to beat him to the bag — then struck out the next three batters on eleven pitches. Four of the eleven were swings and misses. Vintage Betances. Total domination. Great to see him finish the year on a high note. Enjoy the offseason, Dellin.
Leftovers
Teixeira got two at-bats and was out of the game That seems to be the plan this weekend. They did it Friday night too. Refsnyder took Teixeira's spot in the lineup and went out to right field — Austin moved from right to first — and he managed to throw Machado out at third to end the seventh inning. The throw appeared to be on time, but Machado overslid the bag anyway, so he was tagged again for good measure. Nice throw, Ref.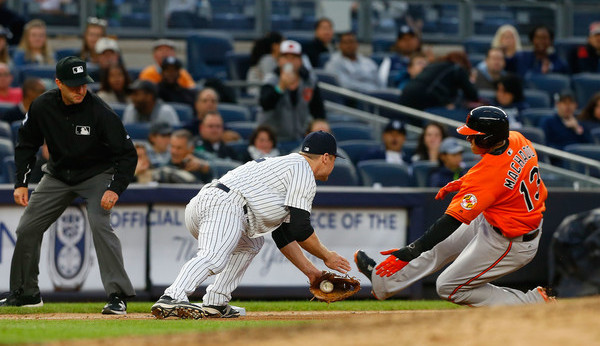 The Yankees had 12 hits as a team, and every starter had at least one except Starlin Castro. The 6-7-8-9 hitters (Headley, Romine, Austin, Torreyes) went a combined 7-for-14 with two doubles, a homer, five runs scored, and five runs driven in. The guys at the top of the lineup did well too. Those bottom four guys really carried the load offensively though.
And finally, the win means the Orioles were unable to clinch a postseason spot Saturday. Doesn't matter what the Tigers or Blue Jays do in their late games. The O's needed the win and one of those two teams to lose, and they didn't get the win. Showalter's boys will be playing for all marbles Sunday.
Box Score, WPA Graph & Standings
ESPN is the place to go for the box score and updated standings. MLB.com has the video highlights. Here are our Bullpen Workload and Announcer Standings pages, and here's the pretty awesome win probability graph:

Source: FanGraphs
Up Next
It's the final game of the 2016 season. Been a helluva ride. Luis Cessa and Kevin Gausman are the schedule starters for Sunday's game. That's a 3:05pm ET start. The Yankees will honor Teixeira with a pregame ceremony, so that'll be cool. RAB Tickets can get you in the door if you want to catch the final Yankees game until next year live and in person.