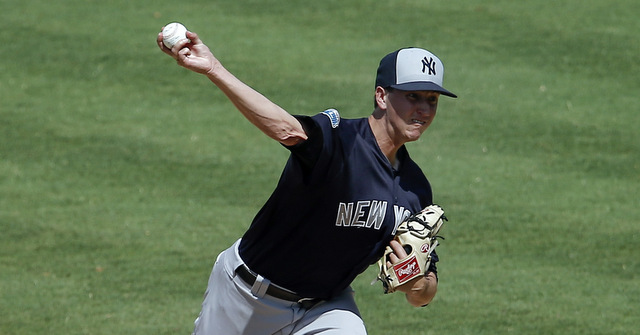 I missed this yesterday, but before they won the damn World Series, the Cubs claimed right-hander Conor Mullee off waivers from the Yankees, the team announced. Apparently the Yankees outrighted Mullee at some point earlier this week as part of their 40-man roster cleanup process.
Mullee, 28, made his big league debut this past season after spending parts of seven seasons in the minors. The Yankees selected him out of St. Peter's in Jersey City in the 24th round of the 2010 draft, but Mullee was limited to only 27 total innings from 2010-13 due to a series of elbow injuries that required surgery, including Tommy John surgery and a pair of avulsion fractures.
The Yankees called Mullee up in mid-May when a fresh bullpen arm was needed, and in three games with the Yankees, he allowed one run on no hits and four walks in three innings. Can't believe the Yankees cut the guy who literally allowed zero hits in the big leagues, you guys. Mullee's season ended in August because he needed another elbow surgery, this one to treat a nerve issue.
With Mullee gone and both Mark Teixeira and Billy Butler becoming free agents this morning, the Yankees now have seven open 40-man roster spots. They also have five players who need to be activated off the 60-day DL by next Monday (Nathan Eovaldi, Chad Green, Branden Pinder, Nick Rumbelow, Dustin Ackley), plus Kyle Higashioka will be added to the 40-man as well. Here's our offseason calendar.