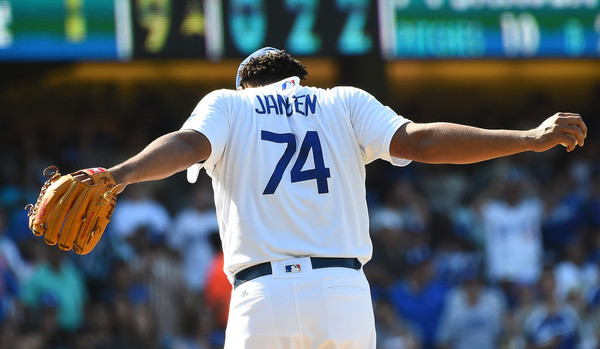 Yesterday afternoon the GM Meetings wrapped up in Scottsdale and everyone headed home to really get down to offseason business. This week we learned the Yankees have already been in touch with Aroldis Chapman's people, have some interest in Kendrys Morales, and have identified a possible trade partner for Brian McCann. Here are some more bits of news and notes from the GM Meetings.
Yankees willing to eat money to move McCann
According to Jeff Passan, the Yankees have expressed a willingness to eat up to half the $34M left on McCann's contract to facilitate a trade. The catch: they want better young players in return. That's usually how this works. I said yesterday I hope the Yankees are open to eating some money in exchange for a better return, and it appears they are willing to do just that. Hooray.
Yankees reached out to Jansen, Melancon
In addition to Chapman, the Yankees reached out to the representatives for both Kenley Jansen and Mark Melancon this week, reports Brendan Kuty. The Yankees are said to be targeting a top free agent reliever this winter, and those two along with Chapman are by far the best available. Jansen received a qualifying offer and will cost a draft pick. Chapman and Melancon will not. They were ineligible for the qualifying offer after being traded at midseason.
There's been some talk we could see the first $100M reliever this offseason — Jonathan Papelbon's $50M deal with the Phillies is still the largest contract ever given to a reliever, so we're talking about doubling that — but I don't think that will happen. I don't think teams are ready to commit that much to a 65-inning pitcher, even if they are 65 high-leverage innings. Andrew Miller's postseason usage is still fresh in everyone's mind. Once we get further away from that and people remember relievers don't get used like that all the time, contract expectations will change.
Yankees planning to talk to Hill
Amazingly, the best free agent starter on the market this year is journeyman southpaw Rich Hill, who reinvented himself two years ago by raising his arm angle and moving to the extreme third base side of the rubber. Brian Cashman told Kuty he intends to reach out to Hill, who pitched out of the bullpen for the Yankees in September 2014, at some point soon.
"I can't remember if I have (reached out to him) or not. Let's put it this way. I will be reaching out to Rich's agent if I haven't yet. I have a to-do list I'm working through," said the GM. Hill will be 37 in March and he hasn't thrown more than 120 innings since 2007, but the market is so light on starting pitching that he's going to end up with a three-year contract. When healthy this year, Hill pitched like an ace (2.12 ERA and 2.39 FIP). The Yankees need pitching too, so checking in on the best available starter only makes sense.
Yankees have checked in on Cespedes, Bautista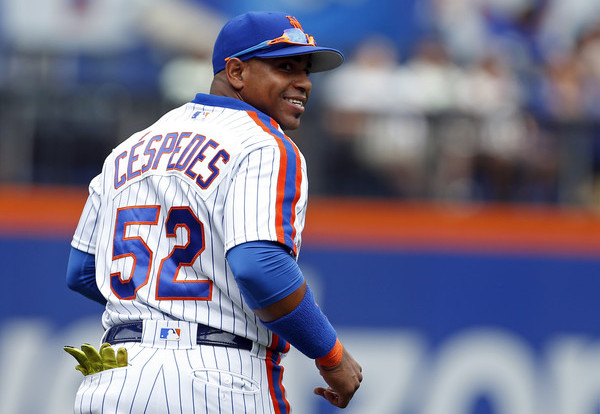 The Yankees have reached out to free agent sluggers Yoenis Cespedes and Jose Bautista, reports Jon Heyman. Both guys would give the team some much-needed middle of the order thump, but Cashman downplayed their interest and chalked it up to due diligence. "I'm open to anything. But as of right now, we're going to let the kids take a shot. Our current focus is to let the kids try to take the job," he said.
Bautista and especially Cespedes are true impact bats who change the entire complexion of the lineup. The Yankees could use a hitter like that! Right now, given the team's current situation, spending big on a corner outfield bat over 30 doesn't seem like the best idea. If they were ready to win right now, then yes, sign one of those guys. But the Yankees aren't. They're right to prioritize the kids, especially with Aaron Judge arriving this past season and Clint Frazier not far behind.
Yankees in on Logan
Blast from the past: The Yankees are among the teams interested in lefty Boone Logan, according to Joel Sherman. Right now Tommy Layne is New York's top lefty reliever, and he's followed on the depth chart by guys like Richard Bleier and Chasen Shreve. Eh. I don't blame the Yankees at all for looking at the bullpen lefty market. Here's 2016 Logan vs. 2016 Layne:
| | IP | ERA | FIP | AVG/OBP/SLG vs. LHB | K% vs. LHB | BB% vs. LHB | GB% vs. LHB |
| --- | --- | --- | --- | --- | --- | --- | --- |
| Logan | 46.1 | 3.69 | 3.23 | .139/.222/.255 | 33.6% | 7.6% | 60.6% |
| Layne | 44.2 | 3.63 | 3.93 | .214/.310/.261 | 20.8% | 9.9% | 51.6% |
The question really isn't whether Logan is better than Layne. It's whether Logan is better than Bleier and Shreve and James Pazos. Those guys. I don't love the idea of carrying two lefty specialists in the bullpen, especially with a rotation that doesn't pitch deep into games, but it is doable. My guess is Logan gets more money elsewhere and the Yankees are just kicking the tires out of due diligence.
Teams calling on Andujar
The Yankees are getting phone calls and receiving trade interest in third base prospect Miguel Andujar, reports Kuty. "I get a lot of compliments on him from other clubs, a lot of teams asking me about him. He's going to be a big leaguer," said Cashman. I'm guessing Andujar is not the team's only prospect generating trade interest. The Yankees have many quality players in their system at the moment.
Andujar, 22 in March, is currently hitting .309/.400/.392 (122 wRC+) with more walks (nine) than strikeouts (seven) through 16 Arizona Fall League games. He broke out with a .270/.327/.407 (108 wRC+) batting line and 12 home runs in 137 games split between High-A and Double-A during the regular season. Andujar is the closest thing the Yankees have to a third baseman of the future, and while I certainly wouldn't make him off-limits in trade talks, I am excited to see him take another step forward in 2017.